Enjoy this simply satisfying toast complete with fun spices, hearty beans, and a runny egg to top things off.
By Lynsey Walker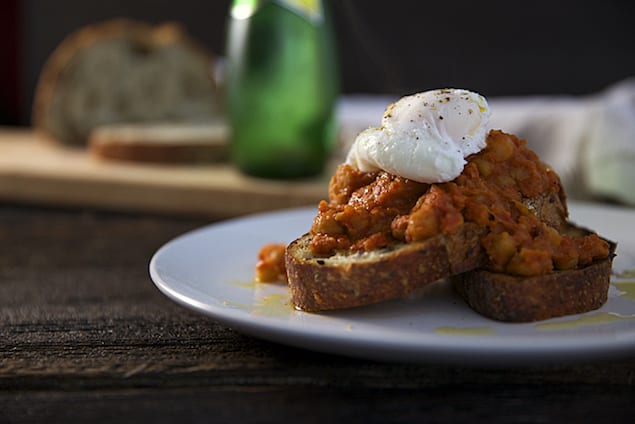 I read somewhere that a humble meal is an augur for prosperity. Beans, or rather chickpeas on toast, potentially the simplest most satisfying meal out there, non?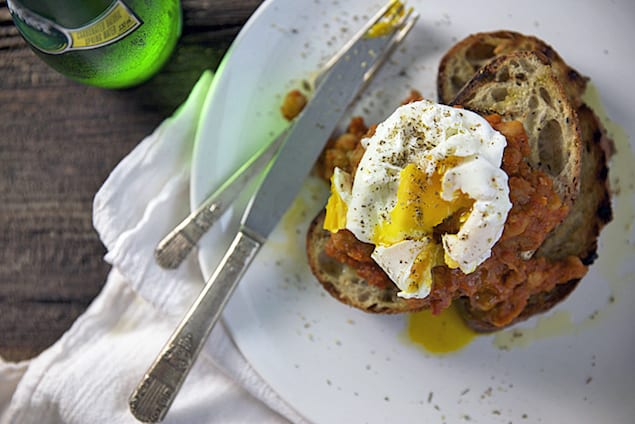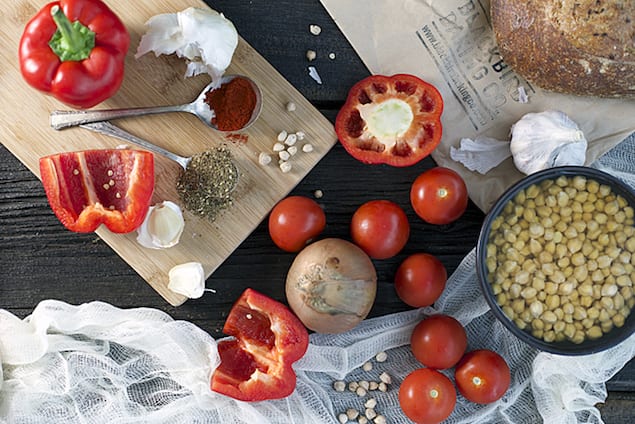 This recipe is inspired by the beautiful Plenty More. As a caution, this recipe does take its time, but is perfect for quite weekends at home, reading cookbooks, drinking tea, and settling into quietness.

Spiced and Roasted Chickpea Toast
Enjoy this simply satisfying toast complete with fun spices, hearty beans, and a runny egg to top things off.
Recipe Type:
Sides, Breakfast
Ingredients
1 cup dried chickpeas, soaked overnight with 2 tsp of baking soda
1 Tbsp olive oil + more for drizzling
1 medium onion, roughly chopped
3 cloves of garlic, peeled and crushed
1 ½ tsp tomato paste
¼ tsp cayenne pepper
¼ tsp smoked paprika
2 medium red pepper, roughly chopped in a large dice
1 large tomato, diced and roughly chopped (or you could try 1? cup canned diced tomatoes, drained)
½ tsp cane sugar
4 slices sourdough bread, grilled on both sides
4 eggs, poached
za'atar + salt and pepper (for finishing)
Instructions
Drain and rinse chickpeas. Place them in a large pot with plenty of water. Bring to a boil, skimming the surface of any sludge that may form. Boil for 5 minutes. Drain and set aside.
Place oil, onion, garlic, cayenne, paprika, red peppers and 1 tsp of salt + some black pepper in a food processor. Blend on high until a paste has formed.
Wipe out the chickpea pot. Return to the stove over medium heat and add the paste. Fry for about 5 minutes, stirring occasionally. Add chickpeas, tomato, sugar, and a scant 1 cup of water. Bring to a simmer, cover, and cook over very low heat for 4 hours, stirring from time to time, adding more water if needed.
Remove the lid and cook for a final hour. The sauce needs to thicken without the chickpeas drying out.
Place slice of grilled bread on each plate. Spoon chickpeas over bread. Lay a poached egg on top, followed by a sprinkle of salt, pepper, za'atar, and a drizzle of olive oil.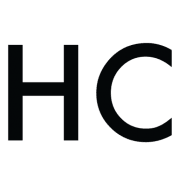 Lynsey Walker
Lynsey Walker has a master's degree in nutritional science and is currently finishing up her Registered Holistic Nutritionist designation. By inspiring people to start cooking and getting back to eating real food, as well as fostering healthy relationships what they put in their body she is on a mission to shake up the world of nutrition.