Rich Caramel and Coconut Ice Cream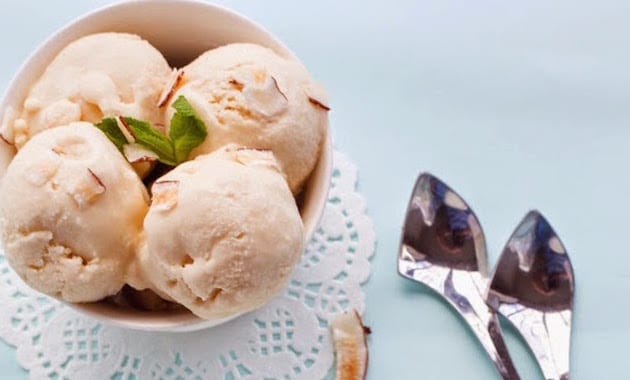 Use up leftover caramel and make this beautiful ice cream of caramelized sugars and smooth coconut cream, perfect to top any dessert or eat on its own.
By Nandita Nataraj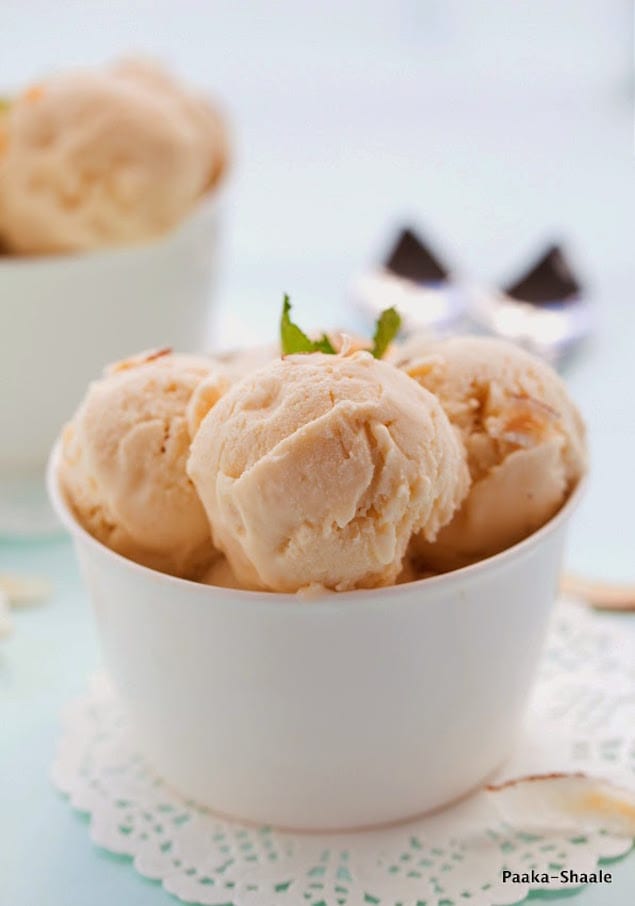 This magical, delicious and soft ice cream recipe came about when I decided to experiment with some left over caramel sauce and a tin of coconut cream. This experiment was a huge success and ice cream turned out to be extremely rich and delicious. The self proclaimed connoisseur of good food said it tasted like condensed milk with a tropical twist. And he couldn't stop eating it. To me, that is nothing short of a rave review. So if you are looking for new ice cream flavor, then I suggest, you give this recipe a try. I assure you, you will not be disappointed.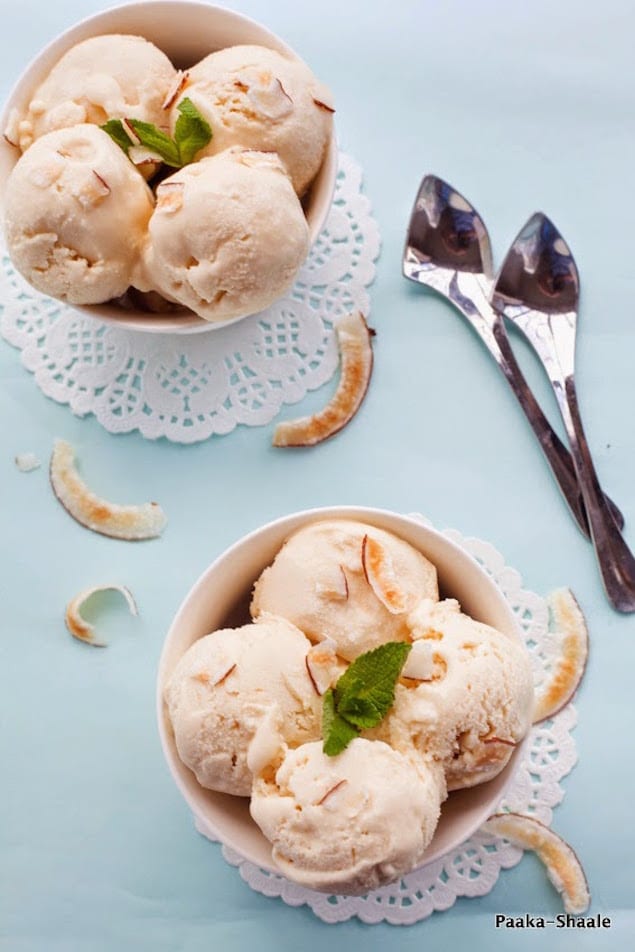 Rich Caramel and Coconut Ice Cream
Use up leftover caramel and make this beautiful ice cream of caramelized sugars and smooth coconut cream, perfect to top any dessert or eat on its own. Caramel ice cream with a tropical twist.
Ingredients
Coconut cream- 625ml (21 fluid ounces)
Cream- 250ml (8.5 fluid ounces)
Corn starch- 2 tsp
Milk- 2tbsp
Caramel sauce- ½ cup
For the caramel:
Condensed milk- ½ tin
Butter- ¼ cup
Sugar- ¼ cup
Golden syrup- 2tbsp
Instructions
To make the caramel sauce:
Combine the Condensed milk, butter, Sugar and golden syrup in a thick bottomed pan and mix well.
Allow the mixture to simmer over medium heat till the butter melts and the sugar is dissolved.
Increase the heat and allow the mixture to bring to a boil. Allow the mixture to bubble for 3-4 minutes, stirring continuously so that it does not burn. Remove the mixture and set aside.
For the ice cream:
Make a slurry by mixing the corn starch and milk and set aside.
Combine the coconut cream and cream in a thick bottomed pan and allow the mixture to simmer over medium heat.
Once the mixture comes to a gentle boil, stir in the slurry and the caramel and mix well.
Allow the mixture to simmer for 10-15minutes more or until the mixture is thick enough to cover the back of the spoon.
Transfer the mixture to a freezer safe bowl and set aside to cool completely.
Cover the ice cream with a cling film touching the top and then secure it with an air tight lid.
Freeze the ice cream for 4hrs or overnight and Enjoy!!!
Nandita Nataraj
Nandita was born, bred and spread in India, but right now lives in Tanzania where her quest for simple and exotic pleasures of food led to the creation of the blog Paaka-Shaale. She believes that food is not just a means to feed a body. But it is also meant to appeal the mind and satiate the soul.