Located in Boise, Idaho, State and Lemp creates a fine dining-style tasting menu with a beautiful atmosphere and innovative platings. Without the stiffness that is found in many multi-course restaurants, the team has created a relaxed, but engaging dining environment akin to an exciting dinner party with superb hospitality.
By Annelise McAuliffe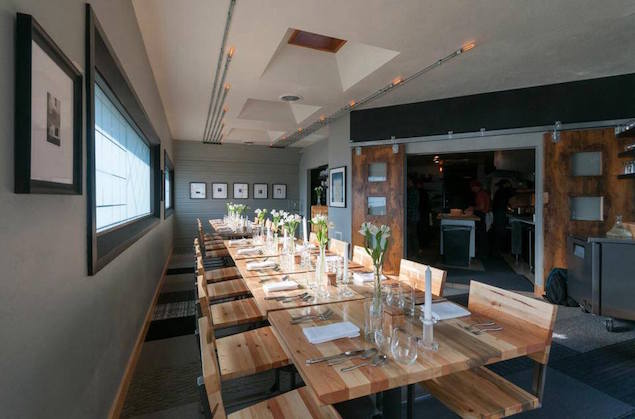 www.stateandlemp.com/
If you are a note-taking eater, and unless you will write about the dinner later or work in the industry I would assume most would leave their notebooks at home, you may notice that you depart a dinner at State and Lemp with just a few written tidbits about the food. More of your scribbles will regard the diners that sat around you at the community-style tables, what books where suggest during dinner conversation, and where you were recommended to eat next by locals. Owners Jay Henry and Remi McManus along with chef Kris Komori want just that. When Remi is asked what they hope to give Boise diners each time they set foot in the restaurant, not a mention of food was made.
"A great time. A dinner party in our house."
This is not a bad thing and not to say that the food it unimportant. On the contrary, it is the beautiful focal point that brings diners together for an evening and then takes them on an adventure that journeys far beyond the plate. The team at State and Lemp has created a refreshing environment where a meal goes beyond the physical act of eating and joins the guests on other levels, all while using food as the medium in which to connect on.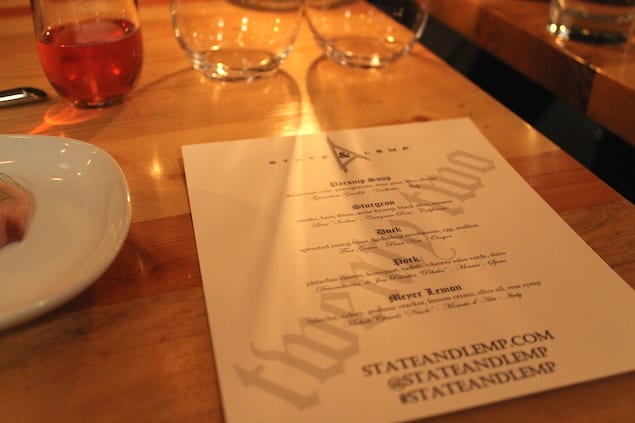 Upon arrival, State and Lemp whisks its diners away with a glass of bubbles. Mosey about the dining room gazing at the ever-changing artwork, meeting other guests that will perhaps be your neighbor at the communal tables, and trying not to be too eager when scoping out your seat. A five-course menu, not listing the amuse-bouche and a sorbet or two, at each seat outlines the course of the evening. But for your own sake, please do not sit down thinking you know what to expect. It seems even the most seasoned State and Lemp regular does not, but that is the charm of the meal, to be pleasantly surprised. Every diner knows they will be enjoying a delicious, well crafted dinner, but your dining companions will always be new and you never know what original element will be cleverly introduced.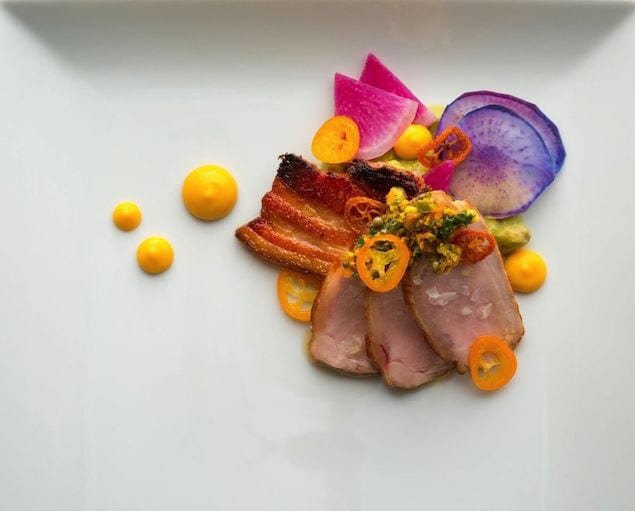 Image by Guy Hand
With a menu that may last for about three weeks depending on produce and the chef's whim, you could go back to State and Lemp each month to be amazed with a whole new dinner and new companions to enjoy it with. Paired with wine and simple explanations, the team at State and Lemp allows their unique flavor combinations and visually bright plates to take the diners and the conversations at the table on an adventure.
It was implied by some regulars that I am missing out on a sweet chunk of life if I never have the opportunity to try the beef course from menu sixteen. However, menu twenty-two more than satisfied palates with a beautiful pork and kumquat course. Vibrant kumquats and a delicious cilantro sauce cleansed the mouth of the rich, fatty pork that was served two ways. But before the pork dish and after the duck plate, a sorbet came to the table with each diner receiving a souvenir spoon to enjoy it with. The table chatter took off, the state or tourist destination depicted on the spoon predicted where your travels would lead you next, as the couple next to me explained. Apparently, I would be headed to Niagara Falls soon. Beyond the whimsical travel conversation that spawned from the extra bite, the sorbet was served between meat dishes to allow diners to enjoy each heavy protein component separately, feeling refreshed, rather than overwhelmed in between courses.
See Also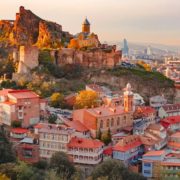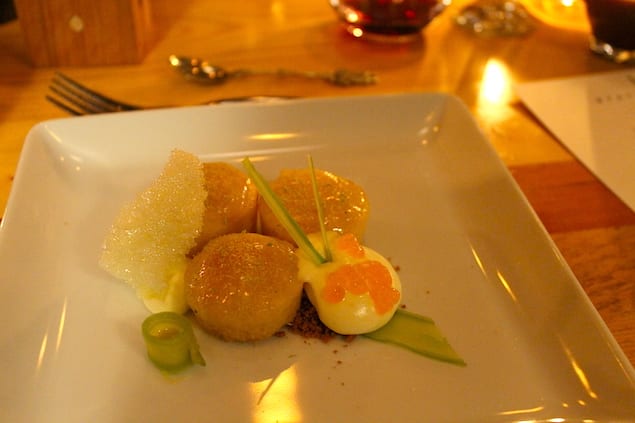 The meal concluded with a simple brioche dessert that was made intriguing with flavors of celery represented in a few ways and a tangy lemon cream and rose syrup. The tables came to a hush as the dessert was enjoyed and one of the restaurant's team members put her usual tasks to the side and serenaded the dining room to a beautiful conclusion. The regulars whispered this unique treat only happens when there is a birthday or other special occasion on the books. Your anniversary or not, it is always fun to hear a beautiful song while nibbling on sweets.
As an entertainer, Remi McManus prides State and Lemp on the ability to wow its guests with details they may not expect when they sit down for a meal. Beyond the intelligent food menu that will leave you blissfully full, the restaurant brings an entire experience in a comfortable setting that will conclude the evening with your mind and tongue buzzing.
Head to the Boise area to try Idaho wine, explore the surrounding hot springs or mountain areas, or even visit the state Capitol but be sure to end your day with an intriguing meal at State and Lemp that will satisfy your palate and mind in one entertaining social encounter.
State and Lemp
2870 West State Street
Boise, Idaho 83702
208-429-6735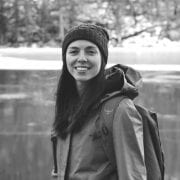 Annelise McAuliffe
Mandatory family outings to the Detroit farmers' market and nightly home-cooked meals cultivated Annelise's respect and curiosity for food. A graduate of The Culinary Institute of America, she spends her free time in New York City recipe testing, eating breakfast all day, and dreaming up international culinary adventures.