With over 450 wineries spread throughout Sonoma County, most oenophiles travel to this picturesque town filled with award-winning wine houses to increase their wine knowledge and pique their palate. However, for those looking to expand their drinking repertoire beyond wine, look no further, because Sonoma is burgeoning with distilleries and creative cocktail programs rivaling its vintage wines.
What makes the Sonoma beverage program special is not just the fresh ingredients, innovative formulas, and beautiful concoctions, it's the passion and sense of adventure that each restaurant and distillery brings to the art of supreme sipping spirits and specialty cocktails. 
Where to Stay
Before diving into Sonoma's stand out food and beverage scene, let's consider where you'll rest your head at night. There are a multitude of resorts, eateries, and wineries within walking distance of the famous plaza.  Consider The Lodge at Sonoma, a charming, mission-style resort with an open lobby and floor-to-ceiling windows that showcase the neutral tones of browns, creams, and grays, suggesting the earthy energy of Sonoma.  Indulge in a stay at one of the Lodge's signature cottages featuring a private outdoor soaking tub, with a cozy fireplace nearby, which will hit the spot after an arduous day of exploring, imbibing, and eating.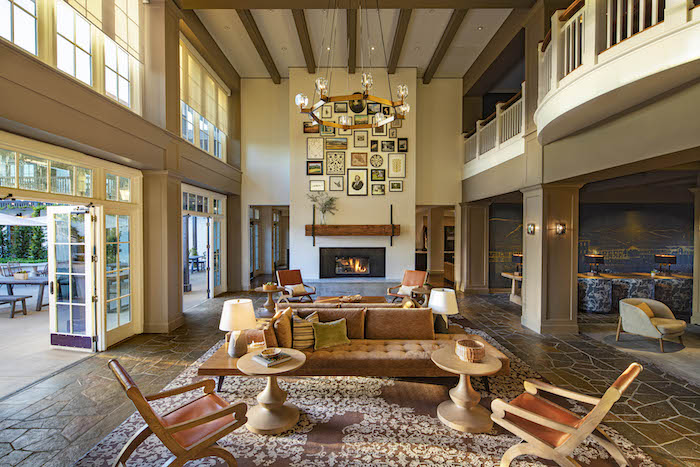 Speaking of imbibing, a notable experience that's not to be missed while staying there includes the High Horse Bar; a trailer turned poolside bar with a not so subtle jab at its fellow wine country city with a sign stating: "Napa get off your high horse. Giddy up." The Instagrammable drink here is the High Horse featuring a gin with hues of indigo made with butterfly pea blossom for its color mixed with tonic, dehydrated oranges, and a float of blueberries. Whether you enjoy it outside by the fire pit or inside at Benicia's Kitchen, the citrusy cocktail is an overture of what's to come during your Sonoma beverage journey. 
If you're looking for a healthy wine experience, try the Lodge's Pedal for Pinot program. Hop on a complimentary bike, grab a map and take the off-beaten path to some of the best pinot noir wineries in the country. If biking three miles through breathtaking vineyards isn't your cup of wine, shuttle to one of the oldest and top 10 most beautiful Sonoma wineries in California, the Buena Vista. Founded in 1857, it's California's first premium winery with an intriguing history that transports you to a time filled with stone walled tasting rooms, historic caves, and champagne cellars.
Distilleries
Hanson of Sonoma Distillery 
A short drive from Sonoma Plaza, (it's better to call a taxi because Ubers are far and few in the area) is Hanson of Sonoma Distillery. The spacious distillery looks like a major operation and it's an awe inspiring family affair consisting of four siblings who pulled dad out of retirement to create a vodka made from organic grapes. As you walk into the private tasting room, you'll see walls filled with accolades that the Hanson's have previously won. Stepping into the distillery where the magic happens is like boarding into a time-travel machine with copper bells and whistles. But the only thing traveling is premium vodka into bottles and then transferred to a very serious labeling process, where the last labeling step is done by hand.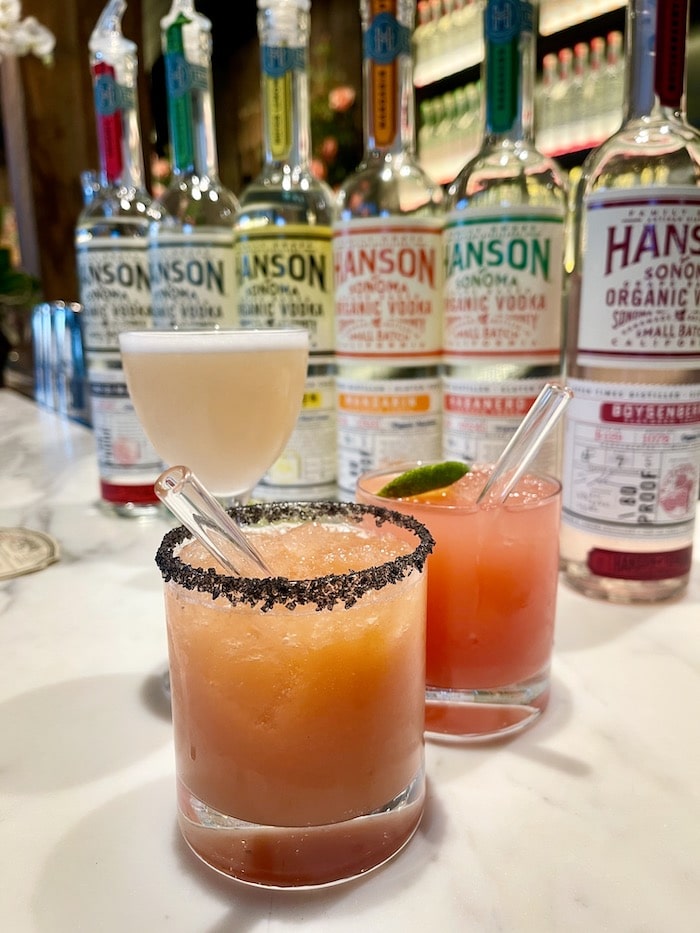 If you usually think vodka tastes like rubbing alcohol, you'll be pleasantly surprised. Be bold and try the original neat and then notice a nice smooth finish, or go for one of the organic vodka infusions made with real organic fruit like ginger, mandarin, cucumber, or whatever ingredient they're experimenting with that season, like habanero. The public tasting room also serves unique cocktails like the Guava Lava with Hanson habanero and mandarin vodka mixed with guava, agave, and lime.  And don't miss the Ladies in Lavender with Meyer lemon vodka, lemon, and lavender.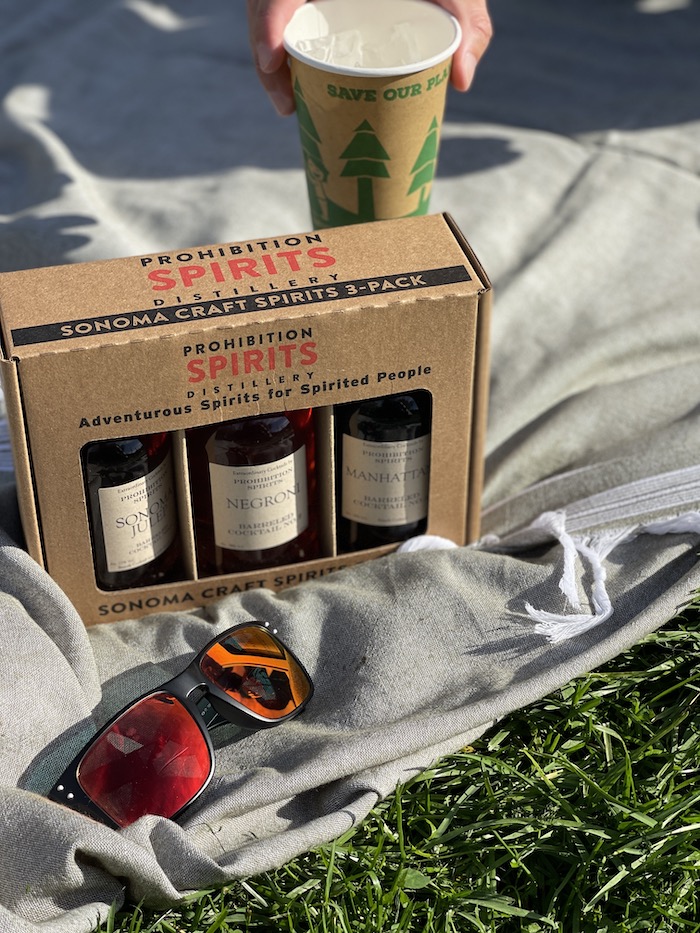 Prohibition Spirits
Another tasting room that should make the itinerary is Prohibition Spirits. Enter the bright store filled with cocktail paraphernalia preparing you for a tantalizing tasting of brandy-based liqueurs, highlighting fresh ingredients found in Sonoma. Husband and wife team, Fred and Amy Groth decided to move to Sonoma to make small batch products that reminded them of their time in Italy. They started with an award-winning Limoncello that catapulted to a variety of other cellos like Figcello di Sonoma (used at Girl and The Fig), and Orangecello. Now their kids (16 and 18 year olds) have product lines too, consisting of their own bitters, olive oils, and spices.
As for the tasting, good luck deciding which six to taste with over 30 different spirits to choose from. Get in the true Sonoma spirit and try the cognac-style brandy distilled from local Pinot Noir grapes and aged four years in French oak barrels.  Or try an amaro like the Nocino made from local unripe black walnuts, neutral brandy and a secret blend of botanicals. For a full list, check it out here.
After deciding your favorite spirits, buy a bottle, grab a blanket, and head over to the middle of the town plaza, which feels like a scene from the Back to the Future clock tower square. The best part? You can drink legally there from 11:30 a.m. to sunset.
Where to Eat & Drink
The Girl & The Fig
See Also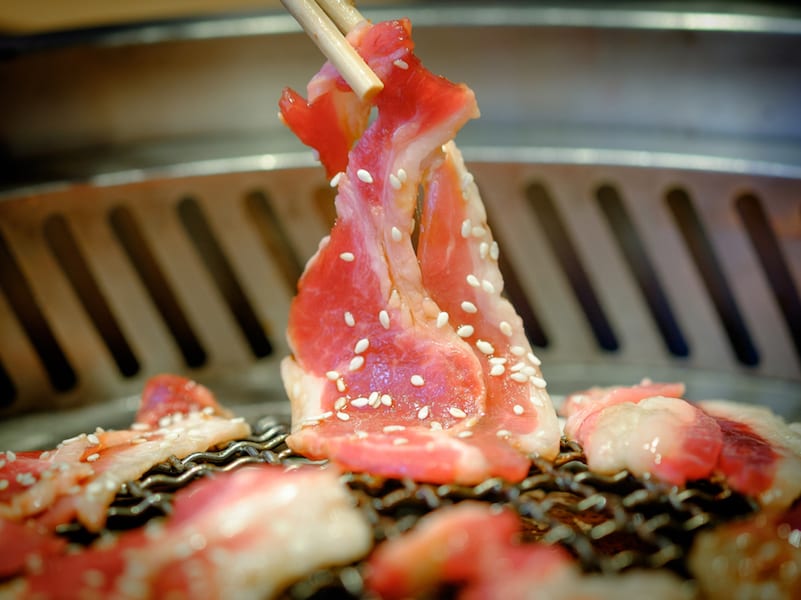 The Girl & The Fig, a beloved Sonoma French restaurant, 24 years young, highlights a seasonal farm-to-table menu way before the farm-to-table movement became the foundation to most restaurants.  One of the owners and chef, John Toulze, says that Girl and The Fig is "trend conscious but not trend forward," however, it's clear that the secret sauce to the restaurant's success is how serious and passionate the staff is in making sure each dining experience is special. After entering through the red doors, the wooden, yellow, accents, and the antique looking bar, this French bistro feels warm and welcoming.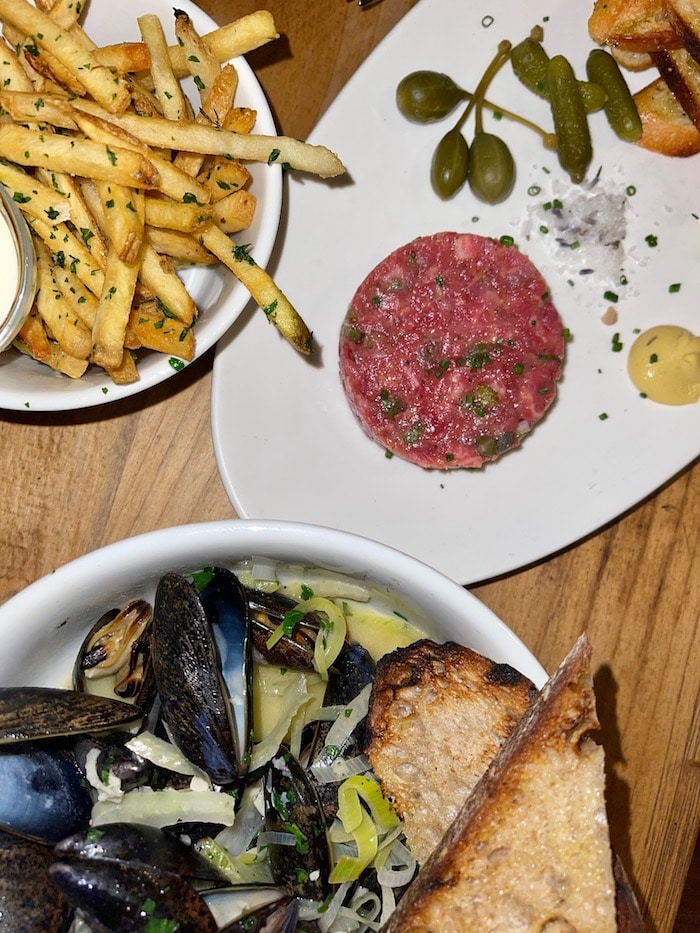 After you grab a seat, peruse the cocktail menu. Stay with the theme and enjoy a variety of fig drinks. Go for the Fig Kiss, with vodka, caramelized fig syrup, lemon, and mint or try the Fig Manhattan with bourbon, vermouth, caramelized fig syrup, and brandied cherries.  Both drinks are made with in-house ingredients and are wonderfully balanced. 
To avoid getting too buzzed, make sure to start with a traditional steak tartare enhanced with lavender sea salt. Spread it on crispy bread for an interestingly floral, crispy, and salty bite. Although the menu changes often, the pièce de résistance is the wild flounder meunière with fluffy mashed potato, capers, and spinach bathed in a luscious brown butter sauce. Make sure to save room for the best chewy homemade chocolate chip cookies with sea salt and if you have absolutely no room, don't worry, they package it to go for a sweet treat later. 
Layla 
For another idyllic dinner, make a reservation at Layla at MacArthur Place. Drop your car at the valet or if you're staying at The Lodge, a shuttle will drop you off from the lobby. Enter into a huge dining room with Victorian vibes, luscious plants, cream colored tables with wicker chairs, and hints of light blues and pale wood tones, which feels as comfortable as the town of Sonoma.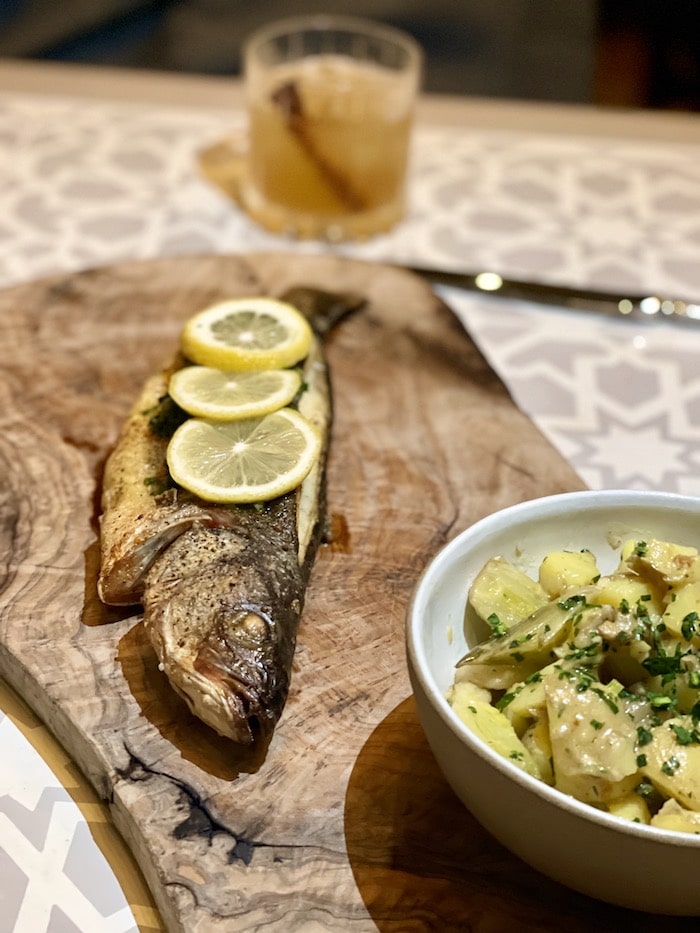 Enjoy a variety of craft cocktails with locally sourced ingredients. You can't go wrong with any of the drinks on the menu, like the Smoke & Barley with Woodford Reserve and apple cider.  Even better, ask for an off the menu drink called the Sonoma Square. Using Sonoma's Hanson lemon vodka made with Layla's homemade honey-lemon cordial and topped with ginger beer, it tastes like a less smoky Penicillin cocktail, and is a citrusy precursor to the meal. 
As for the dinner menu, it's sometimes risky to order octopus as it can lead to disappointment.  But Layla's tender Spanish octopus won't disappoint. Served crispy on a bed of "cassoulet," a hearty white bean stew of duck confit and Spanish chorizo, it's reminiscent of "feijoada," a Brazilian black bean stew that's just as smokey. As for the main course, the whole roasted sea bass tends to shine at every other table, so it'd be remiss to not order it. Dessert lovers, remember to save room because you'll want to order the fluffy churros immersed in cinnamon sugar and served aside a decadent chocolate dipping sauce. Don't stop there, the seasonal handmade ice cream complements the churros just the same and rotates flavors often. One more suggestion, let a few notches out of your belt before you begin.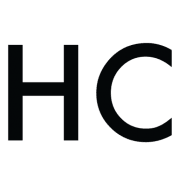 Keyla Vasconcellos
Keyla Vasconcellos is a passionate, freelance writer regarding all things food, lifestyle, and travel. She is usually searching the streets of Los Angeles for the next great bite, or she is shooting food photography for restaurant clients, or daydreaming about her next travel destination.