A great side dish that is both strikingly beautiful and has some nice health benefits.
Text And Photo By Nancy Lopez McHugh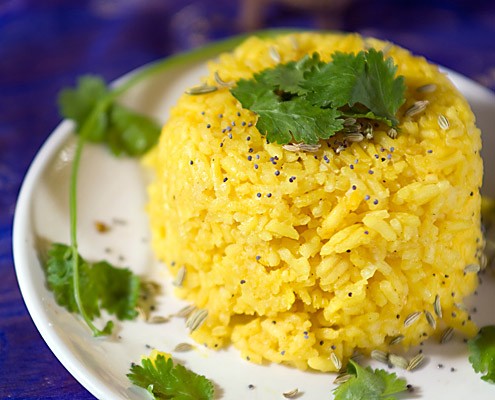 Ever wondered why many curries have a dark orangy-yellow color? Why is American mustard so yellow, or how commercial chicken broth gets a its yellow tint? Turmeric. Turmeric is a rhizome, the stem or roots of a plant that goes underground. Turmeric and ginger are in the same rhizome family. They actually look pretty much the same on the outside until you cut into it and see the ginger is a very light yellow and Turmeric is a vibrant orange color with a hint of yellow. WHFoods describe it as having a "peppery, warm and bitter flavor and a mild fragrance slightly reminiscent of orange and ginger," I find it to have a very mild smell and taste and therefore a great spice for culinary uses. Turmeric is used as a natural textile and culinary dye, as a condiment, and has been used for centuries in Indian and Chinese medicines for its healing properties. This vibrant spice doesn't only give food a striking color but it also has so many health benefits.
– natural antiseptic and antibacterial agent
– anti-inflammatory, so used as a natural treatment for arthritis and rheumatoid arthritis
– detoxifies the liver
– shown to be affective in fighting Alzheimer's
– natural painkiller
– may help in weight management
– used to treat depression
– used to treat multiple cancers
– antioxidant
– can be used as a Saffron substitute
And the list goes on and on, I suggest you read the WHFoods article for further health information. A very fascinating spice indeed!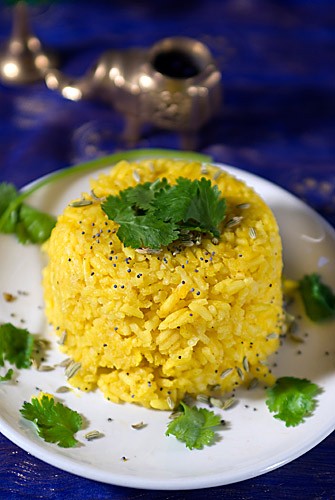 Today I have a simple recipe that can turn an ordinary rice dish into a vibrant and beautiful dish. I often prepare it as a side dish for curries, tandoori chicken but it can also be served as a side dish with any other type of food. I use long grain rice but you could also use basmati rice and adjust the liquid amount as needed.

Colorful Vegan Turmeric Rice
A simple vegan recipe that can turn an ordinary rice dish into a vibrantly beautiful dish.
Author:
Nancy Lopez-McHugh
Ingredients
1½ cups (275 grams) long grain rice
2 garlic cloves, minced
1 small yellow onion, finely diced
1 inch (2.5 cm) piece fresh Ginger, finely diced
½ tsp. Cumin seed
1 tsp. Turmeric powder
1 tbsp. sunflower oil or ghee
2 cups (500 ml) vegetable broth, low sodium & no MSG*
You could also use chicken broth for a carnivore version.
extra broth if needed
deep cooking pan or pot
Instructions
Heat the oil and once it's warm add the onion and saute until transparent, next add the ginger and garlic and saute for another 4 minute. Stir in the rice to the mixture, then sprinkle the cumin seed over the rice and fry for about 5 minutes. Next stir in the Turmeric and stir to distribute the spice throughout the rice. Pour the vegetable broth into the deep pan or pot.
Cover and over medium high heat bring the rice to a boil. Once the rice has boiled turn the heat to low heat . Leaving the pot partially covered, allow a small crack for a little of the heat to escape. Continue cooking until rice is soft and cooked through and all of the broth has been absorbed. This should take about 15-20 minutes.
You should check on the rice to make sure that it is softening and if all of the broth has been absorbed but if the rice is still raw you can add a little more broth at a time and continue to cook until softened.
Nancy Lopez-McHugh
Nancy Lopez-McHugh is a food blogger, photographer and published author. Most recently she has published "Yummy Pics: A Food Blogger's Guide To Better Photos".