Stephanie Russell sends France and Italy on a culinary tête-à-tête.
Text And Photo By Stephanie Russell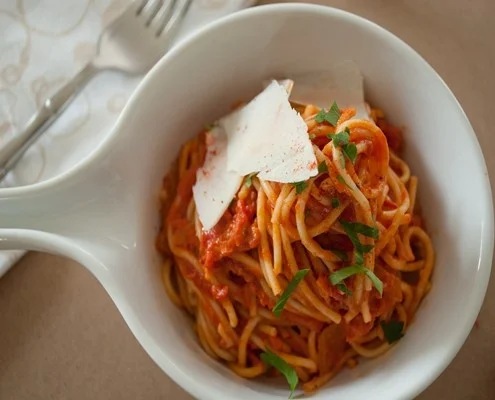 This, my friends is the lovechild of France and Italy.
In spaghetti form, of course.
If you've never heard of or tasted Piment d'Espelette I urge you to drop everything and sprint to your local specialty foods store. This chili pepper, cultivated in the commune of Espelette within southwestern France, has a fruity spice that leaves a hauntingly delicious warmth to the back of the throat. In powder form, this little baby can be sprinkled into whatever pleases you.
A few nights ago, I got a hankering for spaghetti. And not just any spaghetti. A mean spaghetti. A robust, mucho macho, show-me-your-guns spaghetti.
The marinara sauce started off just like any normal one would.
I chopped up some onions and garlic and threw them into a big pot with olive oil. As it shimmered, I added the requisites — salt and pepper. Next came the dried oregano and marjoram.
This is when it got crazy.
At the last minute, I decided to squeeze a bit of anchovy paste into the vegetable soiree. Within seconds of mixing it around it had melted into the onions and garlic, its savory scent wafting the kitchen. The inclusion of anchovies adds depth but I also wanted a sense of piquancy. I reached for the tin of Piment d'Espelette and tossed a fat pinch of the burnished spice into my now bubbling cauldron of marinara starter.
After a generous dollop of tomato paste to round out the flavors, I tumbled in a can of diced tomatoes and stirred everything together one last time before I allowed it to simmer on the stove for about half an hour.
See Also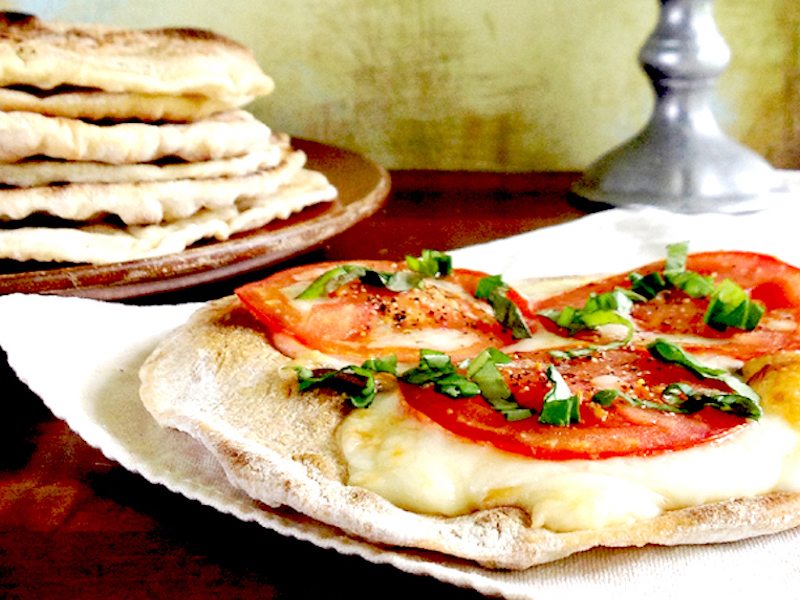 When my self-control could no longer be tamed, I splashed in some cream, took it off the heat and mixed in long strands of thin spaghetti noodles. The sound alone of marrying the sauce with the noodles, its sensual 'slip' and 'slop' as they intertwined, was enough cause for me to close my eyes in nirvana.
I tucked my knees underneath me and settled on the coach to take my very first bite of this special spaghetti. In retrospect, I don't think anything could have prepared me for the kind of exciting flavors the sauce had given birth to.
She was rich, and creamy, and delectable. The anchovies and tomato paste gave the sauce a sense of body and girth while the French chili pepper and cream perked it up and smoothed it out.
It was bold but subtle. Complex and nuanced.
As I chewed and slurped, basking in the glow of absolute deliciousness, I couldn't help but ruminate…
What would France and Mexico's lovechild look like?

French Spaghetti with Anchovies and Piment d'Espelette
This spaghetti is too good not to be had.
Author:
Stephanie Russell
Ingredients
1 - 1 pound box (450 g) thin spaghetti noodles
¼ cup (60 mL) good olive oil
1 small yellow onion; chopped finely
2 garlic cloves; minced finely
1 teaspoon (5 mL) sea salt
½ teaspoon (2.5 mL) freshly ground black pepper
1 teaspoon (5 mL) dried oregano
1 teaspoon (5 mL) dried marjoram
1 tablespoon (15 mL) ground Piment d'Espelette
2 teaspoons (10 mL) anchovy paste or 4-5 anchovy filets
1 tablespoon (15 mL) tomato paste
1 - 28 ounce can diced tomatoes
½ cup (120 mL) heavy cream
Pecorino Romano cheese; shaved for garnish
Fresh basil leaves; chopped delicately
Instructions
Fill a large stock pot with water and set to boil over high heat.
Toss in a handful of salt, stir, then add the thin spaghetti noodles.
Stir again to fully submerge the pasta and allow to cook for approximately 8-10 minutes or until the noodle still has a pleasant bite to it. Set aside.
Toss the onion and garlic into the olive oil in a large sauce pot set over medium-high heat.
Add in the salt, pepper, oregano, and marjoram and stir together, cooking until the onion and garlic have softened slightly, approximately 5 minutes.
Squeeze in the anchovy paste, tomato paste, and a dash of Piment d'Espelette, and mix together.
Cook for another 30 seconds to allow the flavors to meld.
Tumble in the diced tomatoes and stir.
Allow the sauce to come to a boil and then lower the heat to a simmer and let cook uncovered for about half an hour.
Take off the heat and stir in heavy cream.
Add in the thin spaghetti noodles to the large sauce pot and mix together.
Serve spaghetti with shavings of Pecorino Romano and chopped basil.
Notes
Piment d'Espelette can be found in specialty food stores, gourmet spice merchants, and online.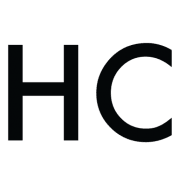 Stephanie Russell
Stephanie Russell is a personal chef and author of the food blog okie dokie artichokie. She is an advocate for all things gorgeous, sexy, and delicious -- the naughtier the better. Her vices include cold butter, sardines, cheap wine, and old mix tapes. She currently resides in Ann Arbor, Michigan.