School of Tapas: Sauteed Watermelon with Honey and Mint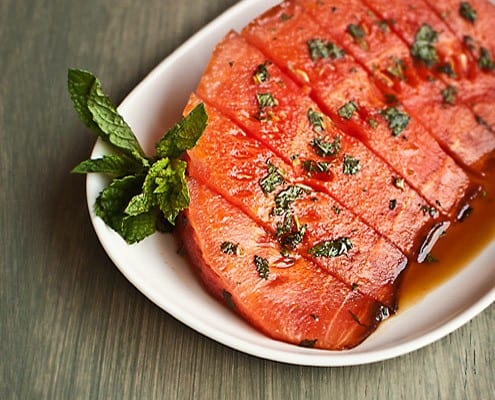 Serve this refreshing appetizer with a chilled beer and your guests will be delighted.
By Miriam Garcia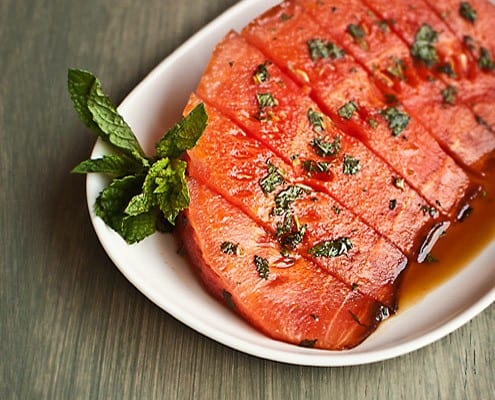 Watermelon marinated in honey, vinegar and mint, then sauteed. This watermelon fried with honey and mint is a recipe for Michelin-starred French chef Michel Trama, quoted by Spanish chef Miguel López Castanier, chef at the Madrilenian Taberna de Liria in one of his books. Alright, I can't say it is strictly a Spanish tapa, and it's not traditional at all, but it perfectly fits the modern tapa concept. It thrives on Mediterranean ingredients and it is strikingly delicious and refreshing. I'm no fan of watermelon, I find it bland (in any case, I 'm not much of a fruit lover ). But the marinade in this recipe gives the watermelon precisely the spark I'm missing.
The combination of flavors is amazing in this recipe. Especially the mint gives it a great twist. And do not think I'm overdoing the mint, the taste is diluted a bit with the heat of sauteeing. Anyway, it perfectly matches the flavor of watermelon. When warm weather starts to come in, you crave for these quick recipes. Serve this appetizer with a chilled beer and your guests will be delighted. Cross my heart. To the point:

School of tapas: Sauteed watermelon with honey and mint
Watermelon marinated in honey, vinegar and mint, then sauteed.
Ingredients
½ peeled, sliced watermelon
1 heaping tablespoon of honey
2 tablespoons Spanish Sherry vinegar (or plain white wine vinegar)
1 good bunch of mint leaves
Salt to taste
Olive oil for sauteeing
Instructions
Arrange slices of watermelon on a large dish. Wash and dry the mint, then mince finely with a knife.
In a bowl, mix honey, vinegar and chopped mint. Stir vigorously. Spread this marinade on the slices of watermelon and let stand at least 15 minutes.
In a nonstick skillet, pour a little oil and smear the entire surface with a kitchen brush. Put the pan on high heat and when hot, place the watermelon slices wetted in the marinade. Let the slices sautee 3 or 4 minutes per side; you'll notice them change to an orange-reddish color.
Once done, remove to a platter and cut into bite-sized pieces or the size you prefer. Serve as an appetizer on a hot day, barely warm or at ambient temperature.
Try another great Spanish recipe – Padron Peppers –
here
.
Miriam Garcia
Born in Madrid, Spain, Miriam lives in a small town North-West of Madrid with her family. Passionate foodie and amateur photographer, her liking for cooking originates mostly from her mother and her paternal grandmother. Miriam is the creator of the awarded Spanish food blog The Winter Guest.