You can make these delicious and healthy stuffed zucchinis in under 30 minutes.
By Nicole Medgenberg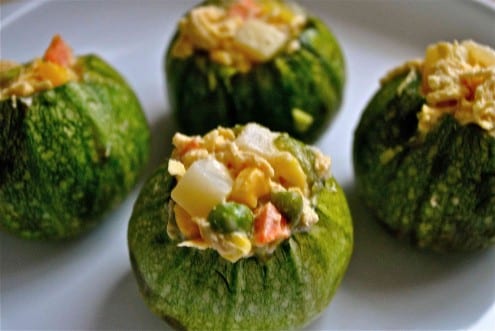 Mexican zucchini stuffed with chicken salad
You can make these delicious and healthy zucchinis in 30 minutes.
Author:
Nicole Medgenberg
Recipe Type:
Mexican, Main, Light, Entree
Ingredients
300 grams chicken breast, cooked and shredded
400 grams frozen veggies (I got a bag with potato, peas, corn and carrot), cubed
4 Tbsp low fat mayonnaise
Salt and pepper to taste
12 small zucchini
Instructions
For the chicken salad: In a bowl, mix chicken with vegetables, mayonnaise, salt and pepper with a fork.
Boil 2 cups of water and leave the squash cooking for only 1 to 2 minutes, until they turn very green, but don't turn soft.
Let cool pumpkins for 5 minutes. With a knife make a circle on top and take out filling with a small spoon.
Add half the filling to the chicken salad, mix. Fill the squash with the salad.