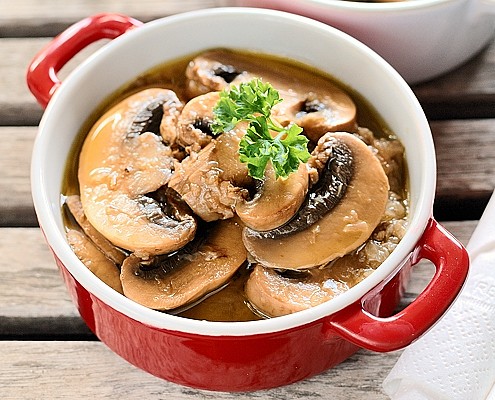 Escabeche is an ancient cooking and preserving method which originates during the Muslim rule of Spain in the Middle Ages. In Spain it usually consists in cooking the food in a mixture of vinegar, white wine and olive oil, seasoned with bay leaves and black pepper, among other spices, and most of the times accompanied by some vegetables like carrots and onion.  This method, used for fish and meat alike, easy and versatile as it can get, allows for the food to last at least a couple of weeks in the fridge. What's more, it is preferred to wait a couple of days before eating it, to allow for the flavors to fully develop. The finished dish is usually served at ambient temperature. Ingredients cooked in this way can be canned as well and kept for months after sterilization. I am a big fan of escabeches, as I enjoy those dishes that can be prepared in large amounts to slowly use them up along several days. The original recipe for this mushroom escabeche tapa is a signature recipe by the recently deceased 3-star Michelin Spanish chef Santi Santamaría.
This is a recipe that is easy and quick to make, very versatile as it is good not only as a tapa but also as a side dish and even in a salad on top of some greens, who could ask for more?
Print
School of tapas: Mushroom escabeche
---
Author:

Miriam García

Total Time:

1 hour 5 minutes

Yield:

8

1

x
Description
This mushroom escabeche consists of mushrooms cooked in Sherry vinegar, white wine and olive oil, seasoned with bay leaves, black pepper and herbs.
---
---
Instructions
Thoroughly clean the mushrooms, cut off their feet. Wash in a colander, rinse and slice. Set aside.
Finely chop the shallots and sauté in a heavy pot in 4 tbsp of the virgin olive oil until translucent.
Add the vinegar and reduce the liquid by half, until the shallots begin to brown and caramelize (10-15 minutes).
Add the white wine and the water, and again reduce by half (another 8-10 minutes).
Add the sliced mushrooms, the whole peeled cloves of garlic, the seasonings and remaining oil, and cook everything together 25 minutes.
Check the seasoning and add more salt if needed. Let cool the escabeche and keep it in the refrigerator for three days before eating, for the flavors to meld.
Notes
Well refrigerated it can easily last two or three weeks, because the oil rises to the surface and insulates the mushrooms from the ambient.
Prep Time:

15 mins

Cook Time:

50 mins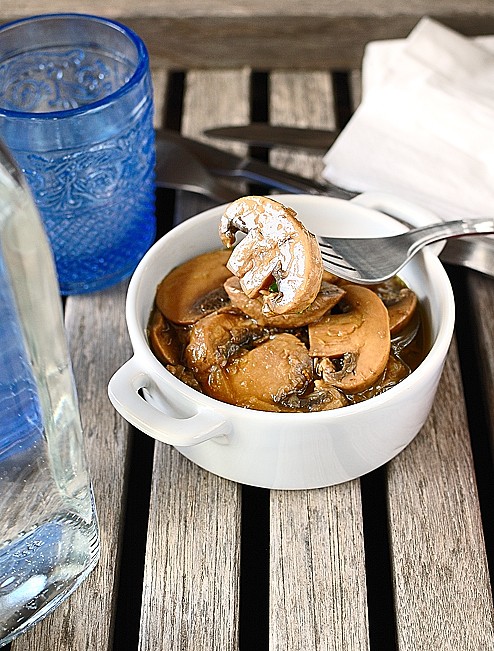 See Also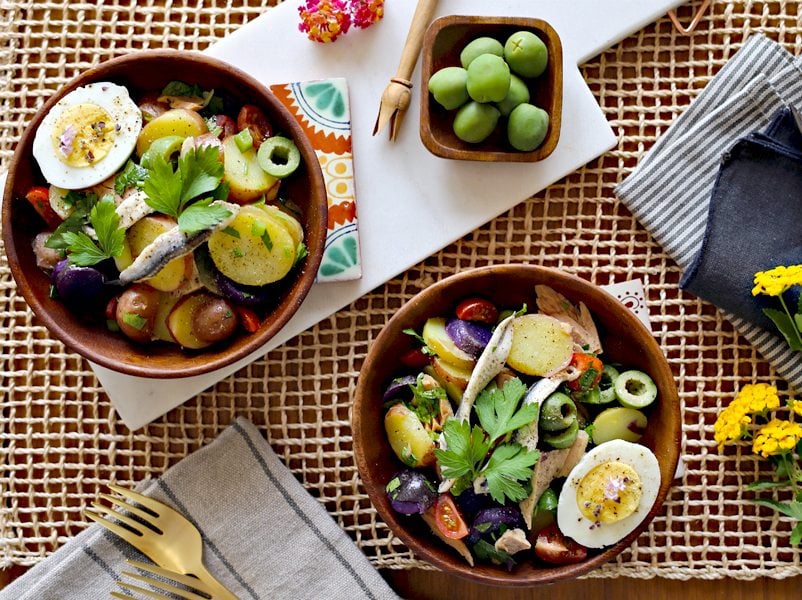 In my humble opinion, this escabeche has a master touch: the caramelized shallots. The mixture of caramel flavor with the taste of Sherry vinegar gives this escabeche a distinctly special character. Simply scrumptious. And if you wonder if you can use another type of vinegar I say yes, the result will be good too, but will not have that much character, because good quality Sherry vinegar has a very special bouquet. By the way, Sherry vinegar is one of the three vinegars protected by a designation of origin status in the European Union, the other two being Condado de Huelva vinegar, also Spanish, and the ubiquitous Italian Balsamic of Modena. I hope I have piqued your interest in this very delicious vinegar…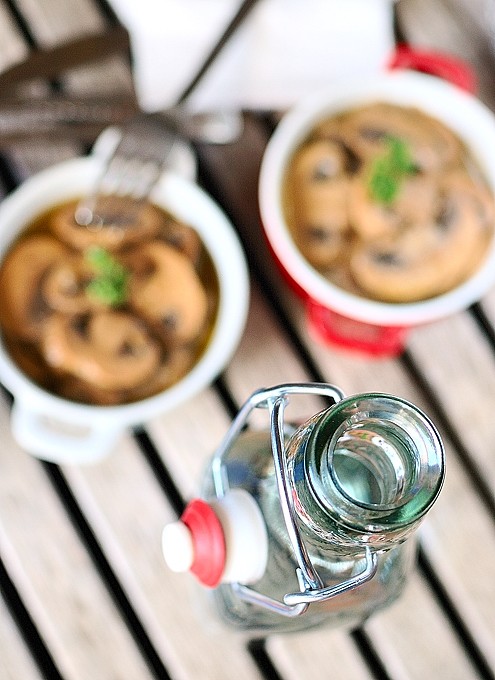 Miriam Garcia
Born in Madrid, Spain, Miriam lives in a small town North-West of Madrid with her family. Passionate foodie and amateur photographer, her liking for cooking originates mostly from her mother and her paternal grandmother. Miriam is the creator of the awarded Spanish food blog The Winter Guest.