Sweet and spicy, this salmon combines simple ingredients for a simply scrumptious meal.
By Christine Arel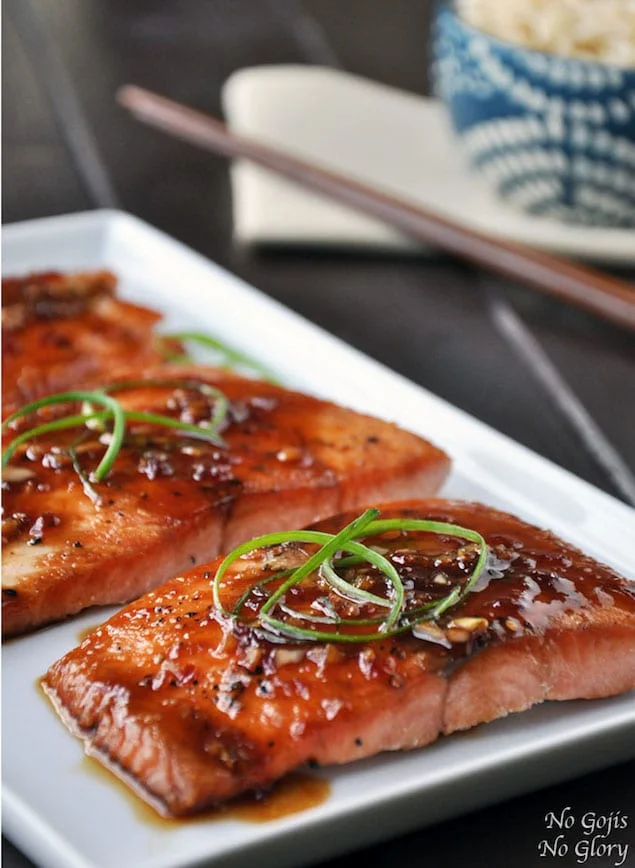 This week I decided to stop fighting my environment and cook with whatever I could find in my little neighborhood. Usually, I'll conjure up an idea for a recipe and head to the store full of optimism…and a few hours later return really annoyed and with only half of the ingredients. Getting all of my ingredients normally entails a trip to our neighborhood Target since we don't actually live near a real grocery store, a trip to Whole Foods for fruits and veggies, and if I need any Asian ingredients…well we kinda live in Chinatown so that's not really an issue. I'm sure I could save myself a lot of time and frustration by making substitutes, but if I do that, how am I supposed to know what my original recipe was supposed to taste like? I mean, what if I'm missing out on some serious goodness? Yea…I just can't take that chance… All it takes is one ingredient to send a dish to super star status.
So, the result of visualizing myself walking through the Asian grocery store is this Sumptuous Salmon. Is it too much to say that it's just short of amazing? Oh good! Now that we're in agreement, let's get to the good stuff…
QUICK TIPS
Salmon is sooo easy to overcook, so you can make things a lot easier by using a cooking thermometer. Cooking to about 125°F will result in medium-rare salmon that is so juicy and moist it'll knock your socks off! After that it starts to become a bit dry.
See Also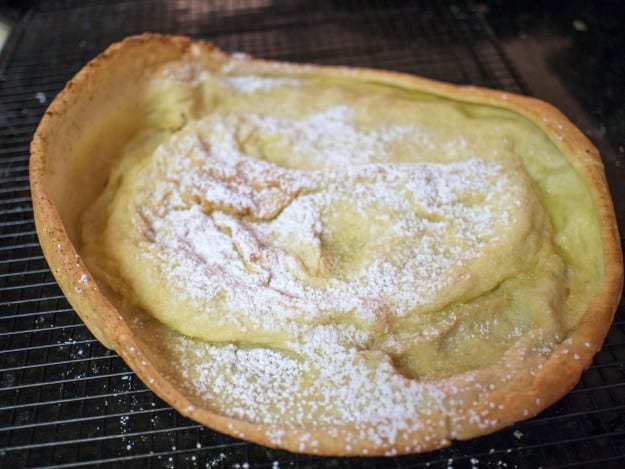 When making the arrowroot slurry, pleeease use cold water. When I made my Pineapple Glazed Chicken Teriyaki, I quickly learned how using warm water vs cold water made the difference between a lumpy mess and smoother sauce.
Don't overcrowd the pan. If necessary, cook the salmon in two batches as I had to do. Just split the amount of oil in half for each batch.

Salmon with Honey, Ginger and Chili Sauce
Sweet and spicy, this salmon combines simple ingredients for a simply scrumptious meal.
Ingredients
For the Fish
4 skinless salmon fillets
1 tbsp canola oil
¼ tsp sea salt
¼ tsp cracked black pepper
scallions for garnish (optional)
For the Sauce
2 tbsp rice vinegar
4 tbsp low-sodium soy sauce
3 tbsp honey
1 tbsp canola oil
2 tbsp sambal oelek (chili paste)
4 cloves garlic, minced
¼ tsp fresh ginger, grated
½ tsp arrowroot powder
Instructions
Start by making sure the salmon is dry by patting it with paper towels. Season evenly with salt and pepper, gently pressing seasoning into the flesh of the fish.
Warm a large nonstick skillet with 1 tbsp of oil over medium heat; swirl to evenly coat the pan.
Add salmon to the pan and cook on one side for 3½ to 4 minutes. You'll know it's ready to flip when the salmon easily lifts from the pan.
Carefully flip to the other side and cook for another 30 seconds to 1 minute. Cook time will depend on the thickness of your fillets, but here is where your thermometer comes in handy.
When fish is done, promptly remove from the pan.
To make the sauce, combine the vinegar, soy sauce, honey, oil, sambal, garlic and ginger in a small saucepan; turn on the heat and bring to a boil.
Meanwhile, combine the arrowroot with ½ tsp of cold water in a small dish. Once the sauce is boiling, lower the heat and slowly add the arrowroot slurry, slowly whisking for about 30 seconds. Immediately remove from heat.
Serve salmon topped with the sauce and garnished with scallions (optional)
Notes
Serve with brown jasmine rice and stir-fried veggies
Christine Arel
A family history of diabetes, high blood pressure and heart disease is what sparked Christine's interest in healthier cooking. As creator of the blog 'No Gojis No Glory', much of her time is spent whipping up healthier versions of everyday favorites. When not in the kitchen, exploring the culinary and fitness scenes in New York City are her favorite pastimes.