Like most great ramen dishes, this is a time consuming recipe in order to allow for the flavors to develop. The long process results in a really amazing noodle soup bowl with beautiful robust flavor.
By Raymund Macaalay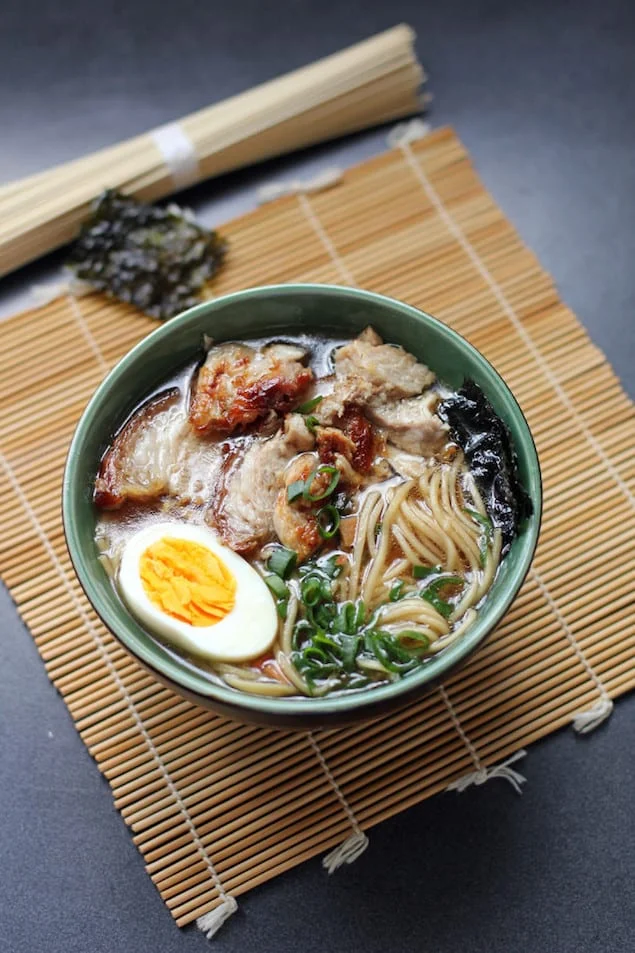 Shoyu Ramen is one of the many types of ramen distinguished by its clear brown soup made out of chicken and vegetable stock cooked together with soy sauce. It is usually topped with marinated bamboo shoots (menma), spring onions, kamaboko (fish cakes), nori (seaweed)-, boiled eggs and ch?sh?.
Like most good ramen dishes this is quite time consuming as every aspects in the dish is carefully prepared and letting some of the elements sit for some time for the flavours to develop. This process results to a really amazing noodle soup dish, the flavour is robust which you cannot get when you short cut the process. Having said that long waiting times does not equate to a complicated process as this recipe is still quite easy to prepare so I suggest making some of the first ingredients on the weekend so all you need to do during the week day is to combine them together and enjoy slurping the amazing dish you have brought together.
See Also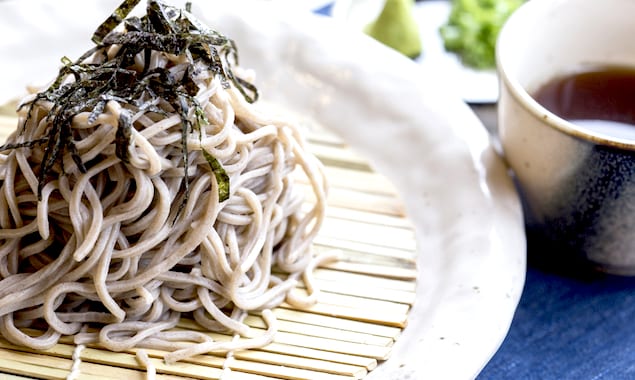 Print
Robust Shoyu Ramen
Like any good ramen, this is a time consuming dish in order to develop flavor. It results in a really amazing noodle soup bowl with beautiful robustness.
Author:

Raymund

Prep Time:

30 mins

Cook Time:

3 hours

Total Time:

3 hours 30 mins

Category:

Main

Cuisine:

Asian
Kombu Dashi and Tare
2

pieces dried kombu

3½

litres cold water

½ cup

reduced-sodium soy sauce

2 tbsp

sake

1 tbsp

mirin
Soup
800g

boneless roasting pork shoulder, do not remove the tie

1

kg chicken frames

500 g

pork bones

2

bunches spring onions, chopped

2

carrots, peeled, and cut into chunks

1

garlic, cut horizontally

1

thumb sized ginger, peeled

¼ cup

bonito flakes

2 tbsp

oil
salt
freshly ground pepper
Others
800 g

fresh ramen noodles

4

eggs, hard boiled

1

bunch spring onions, thinly sliced

3

seasoned toasted nori sheets, cut into squares
Chili oil
toasted sesame oil
shichimi togarashi
Instructions
Kombu Dashi and Tare
For the Kombu dashi combine kombu and 3.5 litres cold water in a large bowl then let it sit in a room temperature for a maximum of 12 hours.
For the Tare, on a small bowl combine soy sauce, sake and mirin. Cover then place in the refrigerator.
Soup
Season generously pork shoulder with salt and pepper.
In a large heavy pan add oil then brown pork shoulder on all sides for around 10 minutes on each side.
Prepare a soup pot then place the pork shoulder, chicken frames, pork bones, spring onions, carrots, garlic, ginger and bonito flakes.
Remove kombu from the water then pour half of it over the soup pot. Bring to a boil and cook for 1 hour, remove any scum that rises the top.
Add the remaining Kombu dashi and continue to boil for 1½ hours or until liquid is roughly half its original volume.
Remove pork shoulder from the stock then set aside.
Using a fine sieve strain stock into a clean soup pot to discard any solids, place in stove top in low heat.
Pork Shoulder
Remove pork shoulder from stock then let it cool.
Remove the string then thinly slice pork shoulder then set is aside.
Shoyu Ramen
Cook ramen according to package instructions. Drain noodles then place in individual bowls.
Top with sliced pork then ladle hot soup stock over noodles, add the tare.
Add the toasted nori sheets, spring onions and eggs.
Serve with chili oil, sesame oil, and shichimi togarashi.
Ang Sarap
Hi I am Raymund a Filipino living in New Zealand, I'm not a cook nor a chef but I love cooking and it is my passion. My real job is an IT Professional whose devotion is to develop applications (I have a Software Development blog for those who might be interested), my brain is abused at work on a daily basis so cooking at the end of the day acts as my therapy for stress release. I have been cooking since I was 7 years old and since then almost every day I prepare our dinner and weekend meals, I usually try to cook dishes that we had tried and ordered in different restaurants that's why you will see a lot of varieties at my blog Ang Sarap (angsarap.net). I learned cooking mostly by observing my Aunt who cooks for us when I was younger, I learned to bake by assisting my Mom during my younger years and for the native dishes I learned it from my Grandmother. My other passion is photography which explains the photos you see here and travelling which explains the variety of dishes and reviews of restaurants from all over the world.