Butternut Squash and Feta Strudel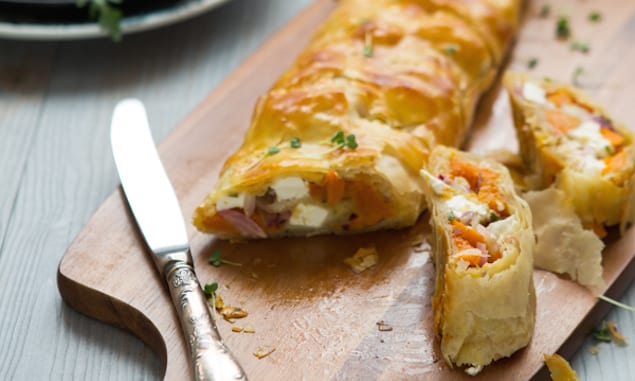 Savory, flaky strudel packed with butternut squash and cheese go hand in hand to create a classic combo spiced up with garam masala.
By Aniko Takacs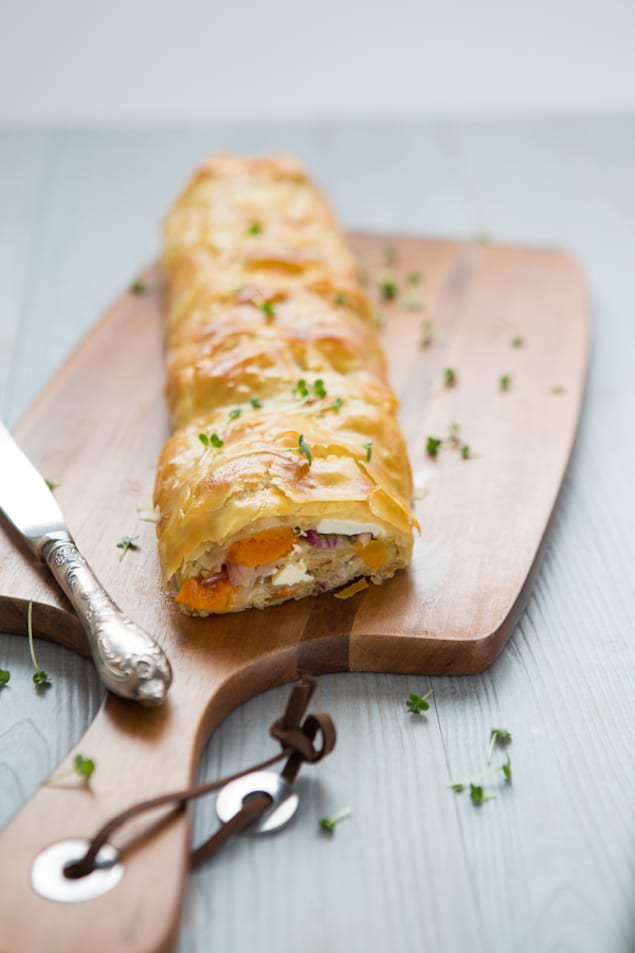 Strudel is a type of layered filo pastry which became popular in the 18th century through the Habsburg Empire in Austria and Hungary. It's usually made with sweet filling, but can be add a twist and make a savory filling, too.
Butternut squash and feta cheese go hand in hand and are quite classic combo, I just added some garam masala to spice them up!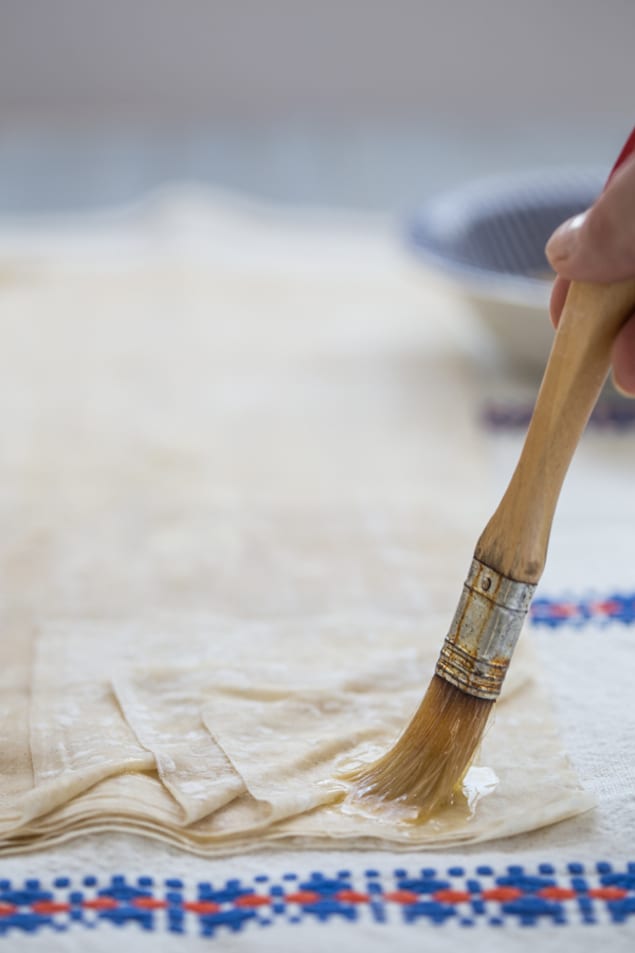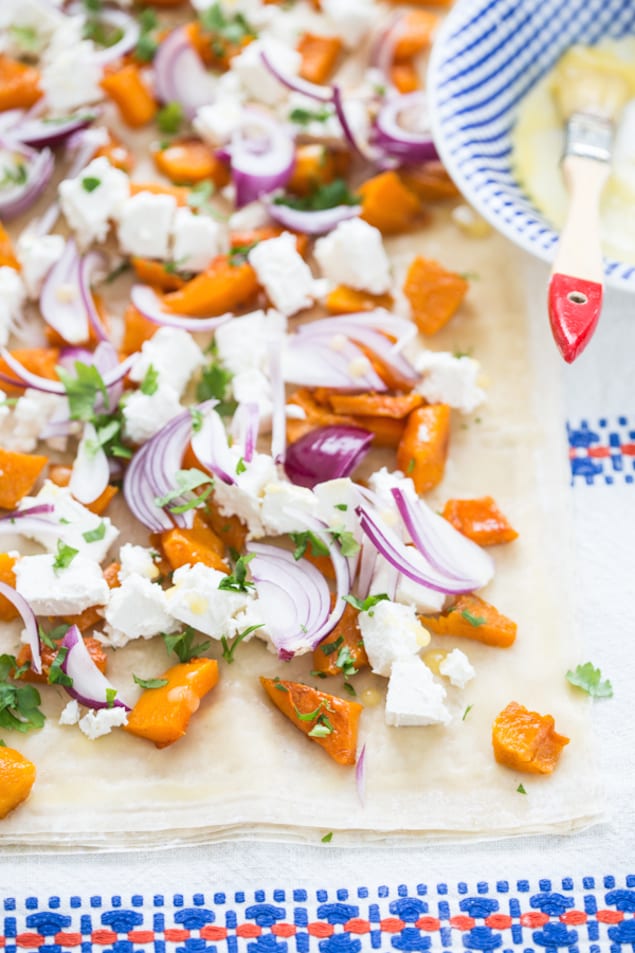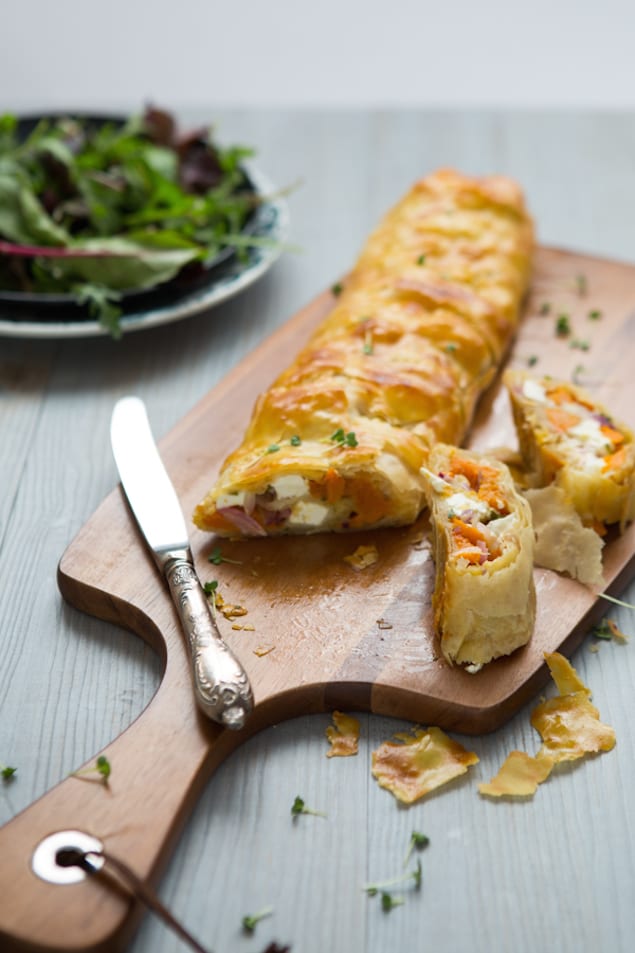 BUTTERNUT SQUASH FETA CHEESE STRUDEL
Savory, flaky strudel packed with butternut squash and cheese go hand in hand to create a classic combo spiced up with garam masala.
Ingredients
270 gr filo pastry (1 pack, 6 sheets)
100 gr (3.5 ounces) unsalted butter
1 small butternut squash
1 tbsp olive oil
1 teaspoon salt
1 heaped teaspoon garam masala
100 gr (2.5 ounces) feta cheese
1 red onion
1 egg yolk (for the eggwash)
some cress for garnish
Instructions
Preheat oven to 180 C (356 F). Line a baking tray with kitchen foil, and spread the olive oil on that.
Cut the squash into halves and deseed it. Dice it and put into a bowl.
Mix the salt and garam masala in a small bowl. Add it to the diced squash and stir gently to cover the squash evenly.
Put the dices on the baking tray and bake for about 20 minutes or until tender. Remove from the oven and leave to cool to room temperature.
Meanwhile peel the onion and slice finely. Dice the cheese. Melt the butter in a glass bowl.
Take the filo pastry. Line one sheet on a wet tea towel. Brush with melted butter than cover with an other sheet. Repeat the process with the remaining sheets.
Spread the squash dices over the sheet. Arrange the cheese and onion evenly then fold the edges up on the shorter end. Ten roll it up starting from the longer side.
Grease a baking tray then put the strudel on that. Break the egg and put the egg yolk into a small bowl. Brush the top of strudel then stick evenly with a fork.
Turn the heat of the oven up to 200 C (392 F). Bake for 15-18 minutes or until golden.
Serve with fresh salad, garnish the top with some fresh cress.
Aniko Takacs
Aniko Takacs is the author of the blog Multiculti Kitchen. Was born and raised up in Hungary and has been living in UK for many years. A mum of two boys and wife to a doctor. Her Mum was working as a chef for more than 40 years, so her interest in cooking and kitchen's secret life started in early childhood. She traveled a lot across Europe, US,Middle-East and so multicultural effects influence her all of dishes from many different part of the world. She has a passion for food photography and she's a regular contributor to Stocksy United photo stock agency.