After a dry brine, this pork cooks low and slow until caramelized and is served with sweet bacon cider jam and tart pickled apples.
By Chris Cockren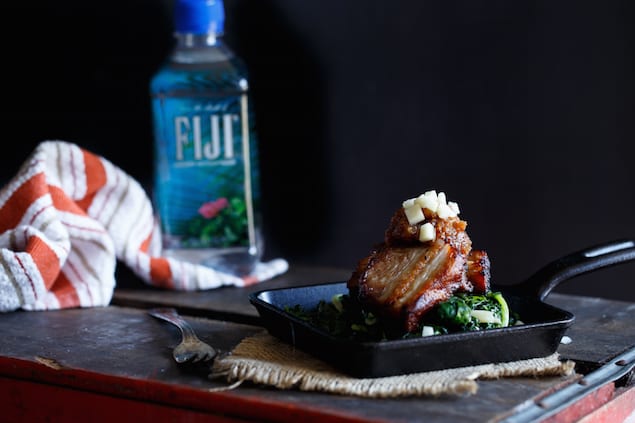 America is all about fast. We want what we want, and we want it now. Instant results. Immediate gratification.
Social media updates. 5 minute abs. One pot meals that take 30 minutes or less.
Now I'm not saying that's all bad. I'm all about fast… especially when it comes to exercise and weeknight cooking.
But sometimes, I like to slow it down and savor moments. Life has a way of passing us by if we let it, so I'm trying to learn to put on the brakes here and there.
If I have a relaxing weekend day free, I'm going to be cooking up an extravagant meal for family or friends. Something a bit special, that takes some time and care to prepare. Because sometimes, perfection takes time. Sometimes… slower is better :)
Exhibit A? This Slow Roasted Pork Belly with Cider Bacon Jam and Pickled Apples.
Because, hello, it's freaking out of this world good. Seriously guys.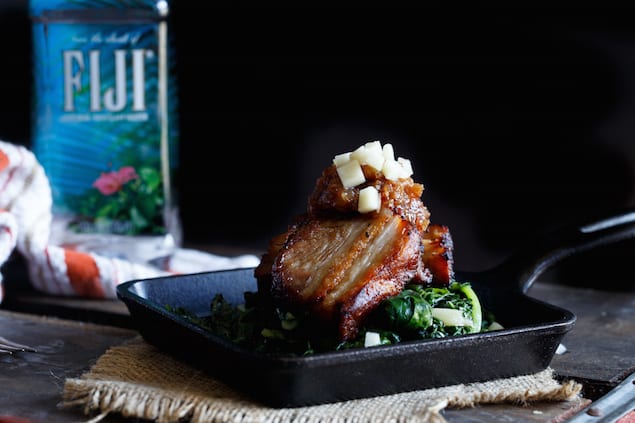 Let's talk about this pork belly. After a little dry brine action, it gets all hot and caramelized in the oven at a high temperature. Then, it's all about low and slow… roasting it to melt-in-your-mouth perfection. Man it's good.
The bacon cider jam is sweet porky goodness. I want to schmear that stuff on anything and everything. You better believe it'll be hanging out with some eggs in the morning come breakfast time.
And the pickled apples? It gives some great tart acidity, which totally helps cut through the richness of all that pork on pork action.
Ohhhhh yea.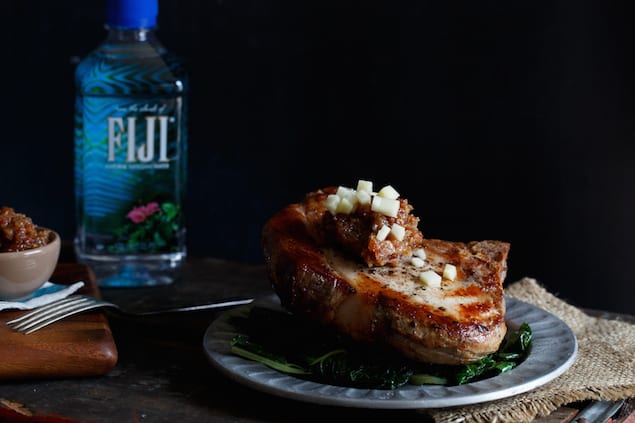 Not a fan of pork belly? Don't worry… you can totally substitute in some high-quality pork chops instead. Go for your favorite method of cooking, but I'm all about my sous vide immersion circulator right now. In case you want to give it a try, here's what I did…
See Also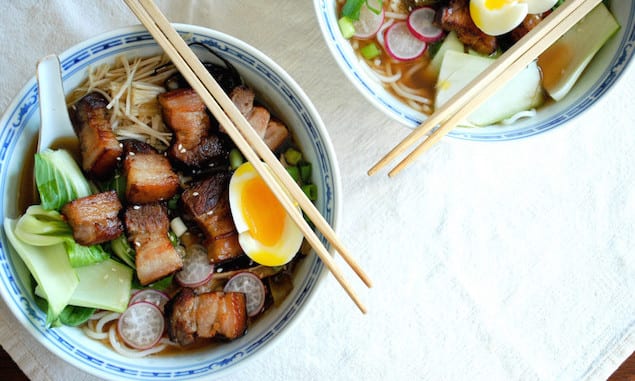 Season bone-in pork chops (at least 1″ thickness) with salt and pepper.
Seal individually in vacuum bags with a pat of butter in each.
Cook at 140°F for 2 hours.
Remove bags from water, let cool, and refrigerate until ready to eat (can be refrigerated for several days sealed in the bags).
Open bags and pat the pork chops dry.
Heat a bit of oil or butter in a heavy-bottomed pan over high heat. Sear pork chops on all sides until golden brown.
The pork chops come out ridiculously moist and tender, and the great thing about sous vide cooking is that you can cook it to the precise temperature you want… every time!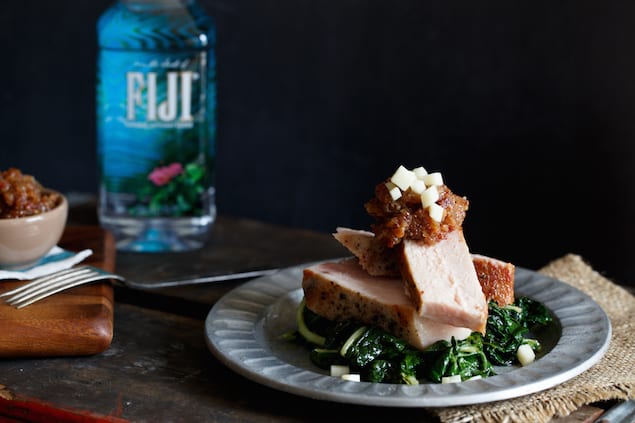 You know what else takes time? FIJI Water. It's not your average lame bottled water. It starts as rain from clouds high above the island of FIJI. Then it slowly trickles down through layers of volcanic rock and gathers up minerals and electrolytes that creates FIJI's signature soft smooth taste.
FIJI water rocks. And so does this Slow Roasted Pork Belly with Bacon Cider Jam and Pickled Apples.
The end.
Click here to view this recipe on Fiji Water!
Get this and many other Perfection Takes Time Recipes on Fijiwater.com
This post is part of "Perfection Takes Time", a partnership between Honest Cooking and FIJI Water
Chris Cockren
Chris is a New York based food blogger that loves bringing friends and family together through food. On his blog, Shared Appetite, Chris chronicles his culinary adventures of eating his way in and around NYC, as well as cooking and entertaining at home.