Serve alongside white rice and lots of crusty bread for a meal that is evocative of the French coastline.
By Maggie Cubbler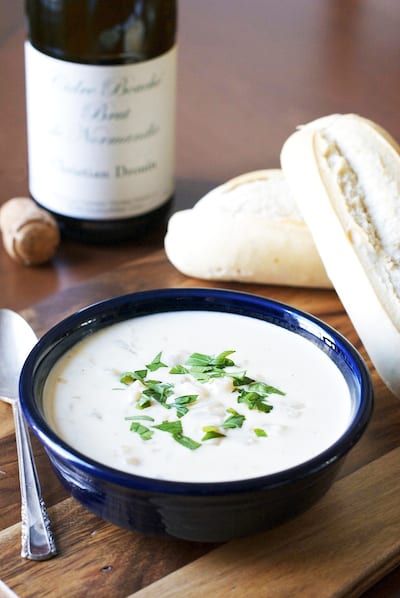 Normandy Cider Bay Scallops
Serve alongside white rice and lots of crusty bread for a meal that is evocative of the French coastline.
Ingredients
2TB (30g) unsalted butter
2TB (15g) all-purpose/plain flour
1 shallot, finely diced
pinch of salt
10 oz (285g) bay scallops
½ cup (110ml) cider
½ cup (110ml) heavy/double cream
salt and pepper
Chopped fresh parsley, for garnish
Instructions
Melt the butter in a medium saucepan over medium heat making sure to not let it brown.
Add the flour and cook, stirring constantly until a roux has formed but do not let it color.
Add the shallots and a pinch of salt. Cook, stirring occasionally, for 1-2 minutes. (Keep your eye on it so the roux does not start to brown.
Add the scallops. Cook for 2-3 minutes. Be careful not to stir too hard or you'll break the scallops up.
Add the cider. Stir gently but scrape the bottom and sides of the pan. Let cook for about 1 minute.
Add the cream. Stir and cook for 2 minutes more.
Remove from heat, season with salt and pepper.
Serve with a parsley garnish and with a side of rice or bread.
Maggie Cubbler
Maggie Cubbler is a beer-and-food-loving Yankee living in North Yorkshire, England. When she's not pulling pints at a traditional Yorkshire pub, she devotes her time to her Labrador, husband, and working on her blog: Loaded Kitchen. She loves to pair beer with food, cook with beer, and drink a (half) pint or two with the natives. Besides blogging and drinking, Maggie is currently studying to become a certified Cicerone while trying to figure out why Yorkshire men like lime cordial syrup in their lagers. Take a swing by her blog and check out the party in her pans.