This hybrid dessert combines the flaky, buttery crust of a pie and the the crispy, caramelized oat topping of a crumble.
By Colleen Hill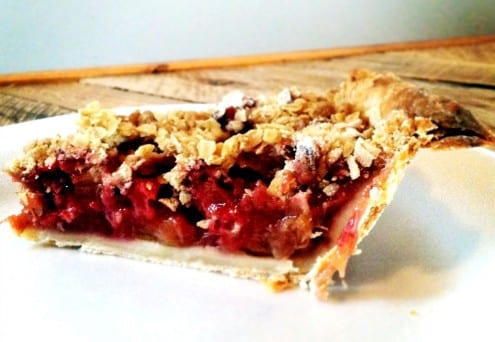 Strawberry Rhubarb Crumble Pie
This hybrid dessert combines the flaky, buttery crust of a pie and the the crispy, caramelized oat topping of a crumble.
Author:
Colleen Hill, crust adapted from Food & Wine magazine]
Ingredients
Crust
6 ounces bleached all-purpose flour (1¼ cups)
1 stick cold unsalted butter—5 tablespoons cut into ¼-inch dice, the rest left whole
¼ cup cold plain, non-fat Greek yogurt
½ teaspoon salt
3 T cold water
Filling
3 tall rhubarb stalks, rinsed and cut into ½ inch chunks
1 pint of fresh strawberries (stems removed, and cut in halves and/or quarters)
¼ light brown sugar
¼ cup honey
¼ cup cornstarch
2 teaspoons good red wine (Pinot Noir, Cabernet, or Port would work well)
½ T grated lemon zest
½ T fresh lemon juice
1/16 teaspoon baking soda (optional)
Crumble topping
½ cup all purpose flour
⅓ cup + 1 T light brown sugar
⅔ cup of rolled oats
1 teaspoon cinnamon
pinch of salt
4 T chilled, unsalted butter diced
Instructions
Crust
Measure the flour into a glass or ceramic bowl and freeze for 15 minutes. Freeze the 3-tablespoon-size chunk of butter for 15 minutes. Put the 5 tablespoons of diced butter on a plate and refrigerate for 15 minutes. In a glass measuring cup, combine the yogurt and salt with cold water; give it a quick stir and refrigerate for 15 minutes.
Using two butter knives, "cut" the diced butter into the flour until the mixture resembles coarse meal. Using your hands, rub the mixture between your hands until all of the butter is evenly distributed and the mixture resembles fine oat flakes. Using a sharp knife, thinly slice the remaining 3 tablespoons of butter and freeze the slices for 5 minutes. Remove them, and cut the slices into thin strips.
Add the butter slices to the bowl. Toss gently to separate the slices and cut once or twice to combine them with the flour; the slices should remain cold and intact. Drizzle the cold yogurt into the bowl, using a rubber spatula to stir and toss as you drizzle. Continue tossing the dough, scraping any off the spatula and the side of the bowl, until it is crumbly and evenly moistened. Press the dough into a 6-inch disk and wrap in plastic. Refrigerate the dough for at least an hour, if not two.
Filling
Combine all ingredients in a bowl and stir to combine. Refrigerate while the dough chills.
Crumble topping
Combine all ingredients except butter in a bowl. Stir with a fork and break apart any chunks.
Add butter to the mixture, and continue gently folding butter in using a fork. Use fork to incorporate diced butter evenly into flour mixture
Spoon mixture evenly over pie filling. Make sure butter is evenly distributed.
Baking and assembly
Pop the shell in a 400 degree oven for 6 minutes. [line the bottom of your oven with a sheet of aluminum foil to prevent any drips from burning sticking and burning!] Remove and turn oven down to 350 degrees. Spoon filling into pie dish and top evenly with crumble mixture. [at this point, make sure butter is evenly distributed to ensure proper browning!] Bake crisp for 1 hour. If you desire a more golden crumble topping, broil for an additional minute or two.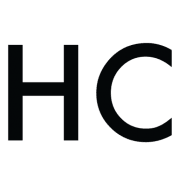 Colleen Hill
Colleen believes that good food doesn't have to be complicated to be delicious. She sees cooking as a labor of love, and whether it's a dinner party for 10 or an intimate meal for 2, there's no place she'd rather be than in the kitchen, with a glass of wine in hand, of course. On her lifestyle blog, Curated Corner, Colleen features her favorite recipes, in which she uses clean, bold flavors to put her own fresh twist on classic recipes. She draws most of her inspiration from seasonal, locally available ingredients, and enjoys scouting out the local Baltimore food scene.