Just like the rest of us, Joy Zhang has had enough of winter, and decides to make the perfect spring salad to lure summer out of hibernation.
By Joy Zhang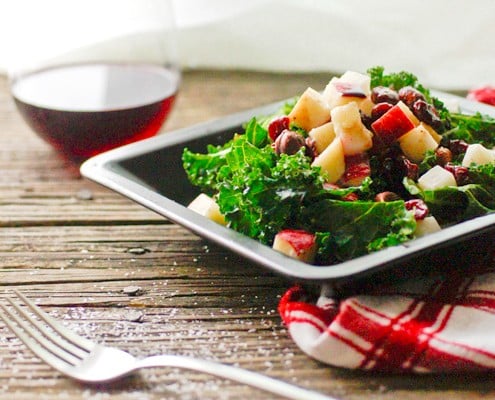 What a long and arduous winter it's been. It's unusual for Texas to get such cold winters, it was a bad one this year to say the least. With cold weather usually comes an intense craving for comfort food which then ultimately leads to an expanding waist line. How wondrous it was but now with Summer suddenly just around the corner, alas it's time to shed that hibernation suit and emerge as your once healthy and vibrant self again.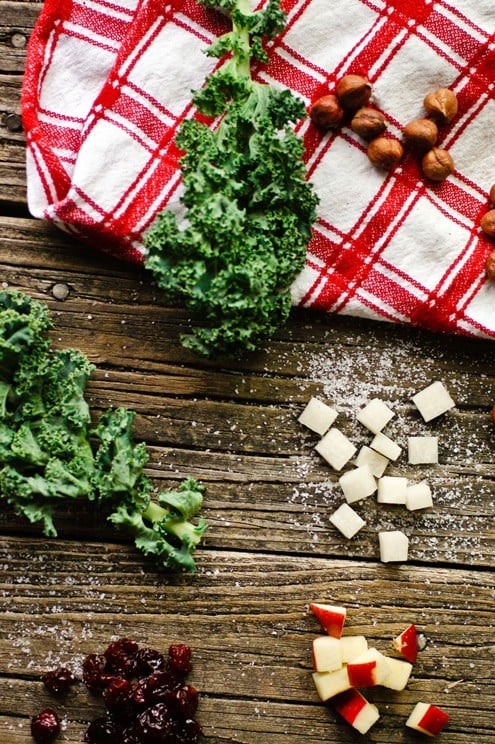 Is anyone feeling me on that thought? I'm ready to get out of these frumpy clothes and wear beautiful sundresses, cute bikinis and break out my favorite pair of jean shorts. It's the process of getting the motivation to put down that bowl of ice cream and replace it with an apple, jog an extra mile and push a little harder, revitalize your lifestyle and fill it with healthy activities. Here's the perfect way to start – a Raw Kale Salad with Honey Apple Cider Vinaigrette.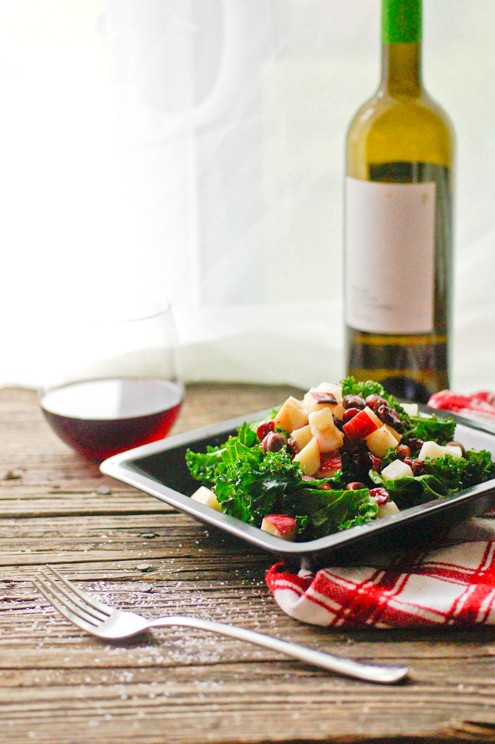 By rubbing salt on the leaves, it acts as a tenderizer and breaks down the sinuous veins of the kale leaves – leaving you with a soft, springy, and earthy salad green. It's absolutely delicious with some crunchy apples and jicama, sweet dried cranberries, and toasted hazelnuts tossed in a sweet and tart vinaigrette. I opted to leave the skin on the hazelnuts for more nutrients and plus, it also saves you a few steps in the kitchen. Choose to make this a raw vegan dish by using agave and for those who are anti-raw vegan, you'll love this salad anyways. It's really that good.
Ingredients for Raw Kale Salad with Honey Apple Cider Vinaigrette:
1 bunch kale
¼ cup dried cranberries (60 mL)
¼ cup Honey Crisp apples, chopped (60 mL)
¼ cup toasted hazelnuts, skin on (60 mL)
¼ cup jicama, chopped (60 mL)
½ c apple cider vinegar (120 mL)
¼ c extra virgin olive oil (60 mL)
2 teaspoon honey or agave (10 mL)
Pinch of kosher salt and pepper
1. Wash kale thoroughly and dry leaves with paper towels or salad spinner. Cut out the tough stems and set the leaves aside. Take 3-4 leaves and roll into a tube and slice into thin strips using a large knife. Repeat until all of the kale has been cut.
2. Place the kale in a large salad bowl and sprinkle over ½ teaspoon salt. Massage salt into the leaves until the kale begins to feel moist and darken a bit, about 3-4 minutes. Cover with salad wrap and leave at room temperature for an hour.
3. Meanwhile, chop your apples and jicama and place in a bowl. Add the cranberries and set aside. In a separate bowl, whisk the vinegar and honey together. Add a pinch of salt and pepper and whisk in the oil. Adjust flavors accordingly achieving a sweet and tart balance suitable to your taste.
4. When ready to serve toss kale with dressing and top with apple, jicama and cranberry mixture. Garnish with toasted hazelnuts and serve immediately.
Joy Zhang
A 25 year-old free-lance photographer, home-chef and writer from Dallas, Texas, Joy finds inspiration for her photography and recipes through music, art and nature. Her work has been featured on Elle Girl Korea and Gourmet Live. Join her culinary adventures through her kitchen and discover fresh, simple and delicious recipes.