Brooke Dowdy sings the praises of blood oranges, and gives the trendy blood orange olive oil cake a test run.
By Brooke Dowdy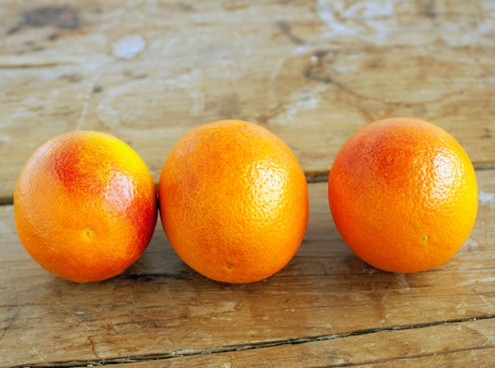 Blood oranges might be my favorite seasonal fruit (in a very tight competition with the meyer lemon). Not only are they beautiful, but they also taste amazing. The fruit is usually smaller than an average orange and has a beautiful crimson-colored flesh (hence the name "blood" orange…clever, right?). Sometimes there will be some crimson color on the outside of the orange but don't be fooled. A darker exterior does not a dark interior make.
Blood oranges have a unique flavor profile compared to other oranges, being citrusy and acidic with a distinct raspberry flavor. Plus they have little, if any, seeds, making them easier for people like me (who seem to always miss citrus seeds) to juice. You can swap blood oranges for sweet oranges in any recipe. They are especially beautiful in cocktails, sauces, salads, and desserts. So next time you see a blood orange at your market or store, pick one up but hurry! The season is ending much too soon. Can't find blood orange? The standard orange variety will work just fine in any recipe.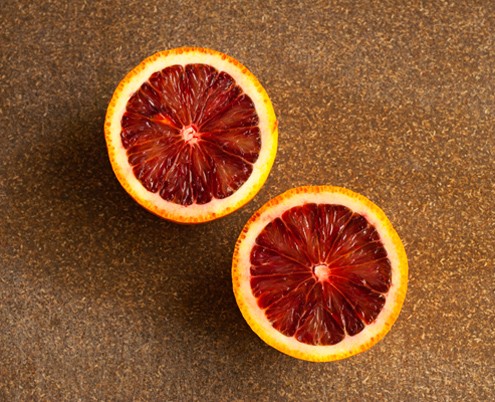 Spotlight on: Blood Oranges
Health Benefits
Blood oranges actually contain more antioxidants than all other oranges. Who knew? Apparently, the special pigments (called anthocyanin) give this fruit its power punch of antioxidants. Like other citrus fruits, blood oranges are an excellent source of vitamin C. They also provide 28% of the recommended daily intake of dietary fiber and are a valuable source of folate, calcium, and vitamin A.
How to Buy
Look for blood oranges from December to June in grocery stores and farmer's markets. As with other citrus fruit, look for an orange that is firm and feels heavy (meaning more juice!) with a sweet smell and no blemishes.
Today, blood oranges are grown in California, Texas, and Florida as well as Italy, Spain, and Malta. There are three types of blood orange varieties: Moro, Tarocco, and Sanguinella. Because Moro is most readily available in the U.S., that is what I use, but if you are lucky enough to find other varieties, the main differences are:
Moro: the most colorful with a distinct, sweet flavor with hints of raspberry, a little more bitter than the other two varieties
Tarocco: medium-sized, perhaps the sweetest and most flavorful of the three types; the most popular table orange in Italy; seedless, juicy, and a less pronounced crimson color
Sanguinello: flavor is similar to the Moro; fruit has a reddish skin and flesh with crimson colored streaks;
How to Store
Blood oranges will keep for a week at room temperature and about three weeks in the fridge.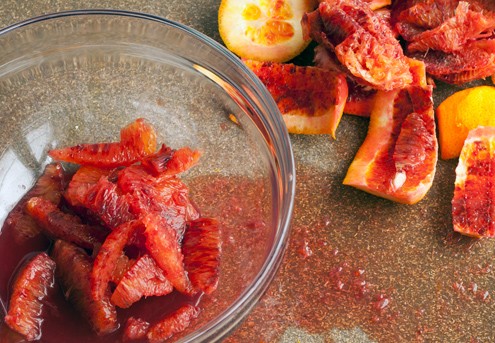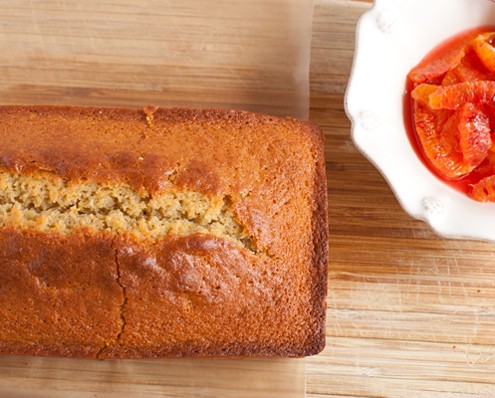 All over the blogosphere, people have been raving about this olive oil cake by New York Times food writer Melissa Clark. Made with blood orange segments, juice, AND zest, this moist cake has a zippy citrus taste and fruity notes thanks to the extra virgin olive oil. I had never actually made an olive oil cake before and was surprised by how easily it came together and how moist the cake was after baked. There are days when you want to spend hours in the kitchen kneading or chopping or beating, and there are days when you just want something simple, delicious and easy. This blood orange olive oil cake falls in the latter category. And even better, it can be eaten at all times of the day. A quick breakfast, an afternoon snack with tea, or a dessert topped with whipped cream, this cake is that versatile.
Blood Orange Olive Oil Cake
Adapted from In the Kitchen with a Good Appetite by Melissa Clark
See Also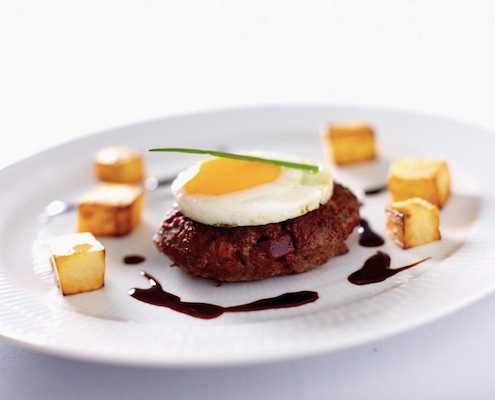 Butter for greasing pan
3 blood oranges
1 cup (200 grams or 7 ounces) sugar
Scant 1/2 cup (118 ml) buttermilk or plain yogurt (I used yogurt)
3 large eggs
2/3 cup (156 ml) extra virgin olive oil
1 1/4 cups (219 grams or 7 3/4 ounces) all-purpose flour
1/2 cup (63 grams or?2 1/5 ounces) spelt flour
1 1/2 teaspoons (8 grams) baking powder
1/4 teaspoon baking soda
1/4 teaspoon salt
Honey-blood orange compote, for serving (optional, below)
Whipped cream, for serving (optional)
1. Preheat oven to 350 degrees. Butter a 9-by-5-inch loaf pan. Grate the zest from 2 blood oranges and place in a large bowl with sugar. Using your fingers, rub ingredients together until orange zest is evenly distributed in sugar (sugar will be an orange color).
2. Supreme an orange: Cut off bottom and top so fruit is exposed and orange can stand upright on a cutting board. Cut away peel and pith, following curve of fruit with your knife. Cut orange segments out of their connective membranes and let them fall into a bowl. Repeat with another orange. Break up segments with your fingers to about 1/4-inch pieces.
3. Halve remaining orange and squeeze juice into a measuring cup; you'll have about 1/4 cup (One orange yielded ¼ cup for me). Add buttermilk or yogurt to juice until you have 2/3 cup liquid altogether. Pour mixture into bowl with sugar and whisk well. Whisk in eggs and then olive oil.
4. In another bowl, whisk together all-purpose flour, spelt flour, baking powder, baking soda and salt. Using a spatula or wooden spoon, gently stir dry ingredients into wet ones. Fold in pieces of orange segments. Pour batter into prepared pan.
5. Bake cake for 50 to 55 minutes, or until it is golden and a knife inserted into center comes out clean. Cool on a rack for 5 minutes, then unmold and cool to room temperature, right-side up. Serve with whipped cream and honey-blood orange compote (below), if desired.
Honey-Blood Orange Compote: Supreme 3 more blood oranges according to directions above. Drizzle in 1 to 2 teaspoons honey. Let sit for 5 minutes, then stir gently.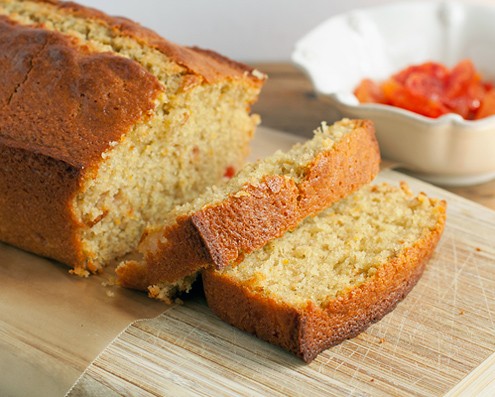 More Ideas
Arugula Salad + Blood Orange Vinaigrette from Simple Scratch Cooking
Roasted Halibut + Blood Orange Salsa from The Bitten Word
Blood Orange Margaritas from Plum Pie
Blood Orange + Clementine Galette from Pitchfork Diaries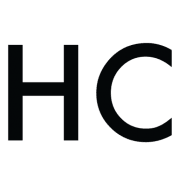 Brooke Dowdy
Brooke Dowdy is the creator and photographer behind the food blog, Plum Pie. Join her culinary adventures in the kitchen and discover fresh, seasonal recipes. Brooke lives in Charlottesville, Virginia with her husband Andrew and dog Henry.