Summer is the perfect season for quick, low- or no-heat meals. This slaw is the essence of easy, healthy warm weather cooking.
By Carly DeFilippo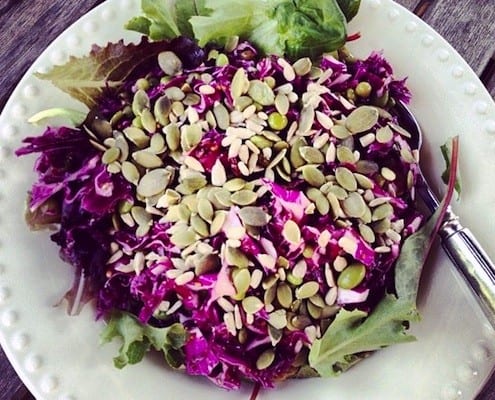 Purple Cabbage Summer Slaw
Summer is the perfect season for quick, low- or no-heat meals. This slaw is the essence of easy, healthy warm weather cooking.
Ingredients
1 head of purple cabbage (medium sized)
1.5 cups of frozen peas
1 cup of shelled, frozen edamame
⅓ cup dried cranberries
⅓ cup golden raisins
½ cup apple cider vinegar
⅓ cup olive oil
2 tsp honey
1 tbsp whole grain mustard
¼ tsp salt (or to taste)
½ tsp pepper (or to taste)
sunflower seeds
pumpkin seeds (pepitas)
Instructions
Wash and de-core cabbage. Shred in food processor, or finely chop by hand.
In a large bowl, mix peas, edamame, dried cranberries and golden raisins with cabbage.
Mix together vinegar, oil, honey, mustard, salt and pepper. Pour over slaw and mix well.
Let sit until peas and edamame are properly defrosted (10-15 minutes).
Top with seeds and serve.
Notes
You can also serve this slaw over mixed greens (pictured) as a light, but filling, vegetarian salad.
Carly DeFilippo
Carly is a Contributing Writer at Honest Cooking. Though the first line of her college application essay was "I love tunafish," it wasn't until she pursued graduate studies in Paris that she ever considered a future in food. Based in Manhattan, Carly is a freelance writer and the co-founder of Cognoscenti Creative, a boutique branding agency dedicated to establishing artisans as influencers.