Not too sweet, but full of pumpkin spice flavor, these fruit leather rolls will take you back to your childhood with an autumnal twist.
It's been a long time since I've shared a new fruit leather recipe, although these Pumpkin Spice Fruit Leathers have been in the back of my mind for a while now. Check out more of my fruit leather flavors here.
If it hadn't been for all of the renovating we were doing last fall, I might have shared this recipe a year ago. But considering our kitchen was completely gutted and consisted of a microwave and toaster on a fold up table last fall, that was pretty much out of the question.
It is amazing how much you can take things for granted until you don't have them anymore.
Living without a kitchen for 2-3 months was difficult, to say the least. Breakfasts were limited and dinner either consisted of takeout, eating at one of our parent's houses, or making food at my parent's house and bringing it home for us to eat or reheat once Roger got home from work.
These Pumpkin Spice Fruit Leathers are sure to bring you joy in both the smell & taste!
Now you should know this isn't your average fruit leather. And while pumpkin is technically a fruit, it's not like a normal fruit where you cut it open & immediately start munching on the sweet center, like a watermelon. Well, at least I don't do that with a pumpkin!
So while I did add sugar to sweeten up these Pumpkin Spice Fruit Leathers, they aren't super sweet but rather filled with aromatic spices & a hint of sweetness.
Honestly, I have no idea how to describe the flavor of pumpkin spice, but if you love pumpkin spice, you will know the flavor when you taste & smell these Pumpkin Spice Fruit Leathers!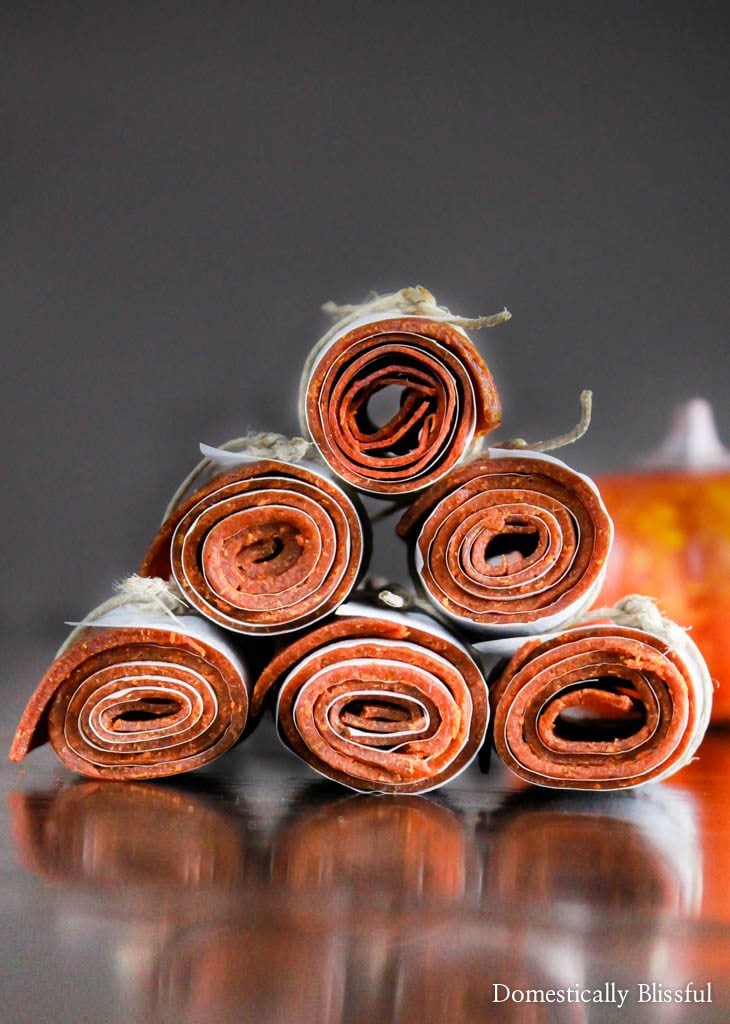 Print

Pumpkin Spice Fruit Leather Rolls
---
Author:

Giustina Blissful

Total Time:

15 minutes
Description
Not too sweet, but full of pumpkin spice flavor, these fruit leather rolls will take you back to your childhood with an autumnal twist.
---
2

Cans Pumpkin Puree (3 &

3/4 cups

)

1/2 Cup

Water

1/3 Cup

Sugar

1 Tablespoon

Pumpkin Pie Spice
---
Instructions
First, blend the pumpkin puree, water, sugar, & pumpkin pie spice.
Pour the blended pumpkin mixture on a baking sheet lined with nonstick foil*(1) & spread evenly with a spatula.*(2)
Place in your oven, at 200ºF or the lowest temperature possible (recommended 175ºF), for 4-6 hours until the leather is no longer mushy or sticky. *(3)
Remove the Pumpkin Spice Fruit Leather from the foil & onto a piece of parchment paper. Cut the fruit leather with a pizza cutter, roll it up, & tie it with string.
Enjoy*(3)
Notes
*1. You can also use a Silpat.
*2. Try to keep it away from the edges so that it will be easier to pull off later.
*3. If your Pumpkin Spice Fruit Leather begins to crack after the first hour or two, remove it from the oven, lightly spray the top with cooking oil & then softly close the cracks pulling the sides together with a spatula or roll it with a rolling pin. You might need to do this a 2-3 times throughout the slow baking process.
*4. Keep stored in a sealed container for 5-7 days.
Prep Time:

15 minutes

Category:

Snack
Giustina Blissful
Hello! My name is Giustina and I'm a 20 something who is married to my best friend and love of my life. I think everything tastes better when made with love and a splash of lemon. Although love, life, and marriage is never easy I believe that it is always an adventure worth traveling!