Canh Chua Tôm, or Vietnamese Sour Soup with Shrimp, has a rich history and cultural significance in Vietnamese cuisine. It's a dish that originated in the Mekong Delta region of southern Vietnam, where the abundance of fresh seafood and tropical fruits inspired the creation of this flavorful soup.
The ingredients used in Canh Chua Tôm are deeply rooted in Vietnamese cuisine and reflect the country's history and geography. The use of tamarind, for example, is a nod to Vietnam's long history of trading with other Southeast Asian countries. Tamarind was introduced to Vietnam by Indian traders during the Champa Kingdom, which lasted from the 7th to the 19th century.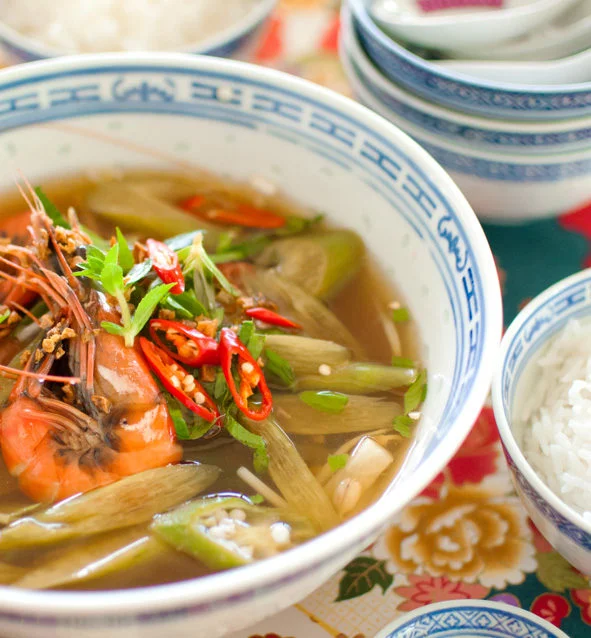 Similarly, the use of herbs such as rau ram (Vietnamese coriander) and ngò om (rice paddy herb) in Canh Chua Tôm is a reflection of Vietnam's agricultural heritage. These herbs are commonly found in the Mekong Delta region, where they grow abundantly in the fertile soil along the river.
Canh Chua Tôm is also a dish that reflects the Vietnamese philosophy of balance and harmony in food. The sweet and sour flavors of the soup are carefully balanced to create a harmonious and satisfying taste. This philosophy is deeply ingrained in Vietnamese culture and is evident in the country's other culinary traditions, such as the use of yin and yang principles in traditional Chinese medicine.
See Also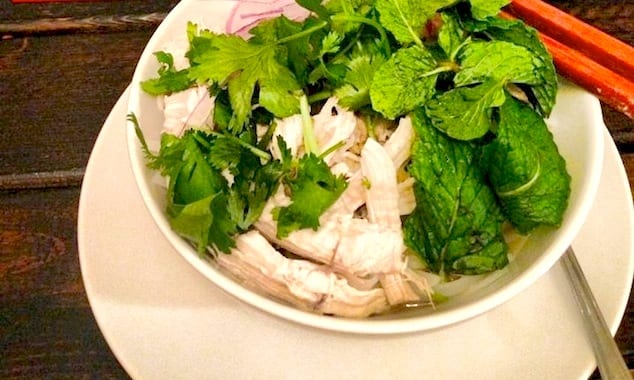 Today, Canh Chua Tôm is a beloved dish in Vietnam and is enjoyed by people of all ages and backgrounds. It's a dish that has evolved over time, with different regions and families adding their own unique twist to the recipe. Whether it's served as a comforting family meal or a special dish for a celebration, Canh Chua Tôm is a symbol of Vietnamese hospitality and culinary creativity.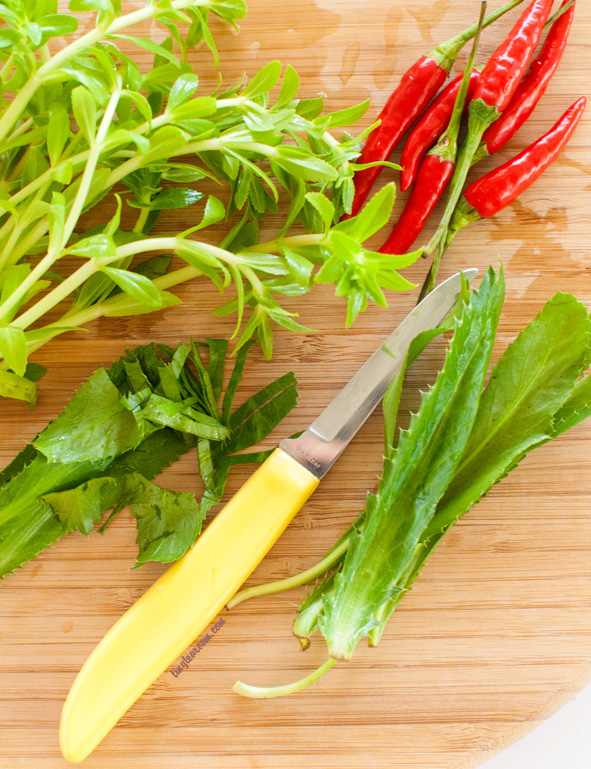 Print
Canh Chua Tôm – Vietnamese Sour Soup with Prawn
A dish that originated in the Mekong Delta region of southern Vietnam, celebrating its abundance of fresh seafood and fruits.
Author:

Amy Ta

Prep Time:

15 mins

Cook Time:

10 mins

Total Time:

25 minutes

Yield:

4

1

x
4

fl oz peanut oil

4

garlic cloves

1.5

quart

water

1 tablespoon

tamarind paste

1/4

cup

sugar

4 tablespoons

fish sauce

1

cup

fresh pineapple, cut into small segments

4

okra, cut at an angle

10

oz

fresh tiger prawns*

2

elephant ear stems, cut finely at an angle** (or water spinach / watercress)

1

large tomato, cut into wedges

1

cup

of fresh bean sprouts
rice paddy herb, finely chopped (substitute 1/2 tsp cumin powder and juice of 1/4 lemon)
a fistful of cilantro, finely chopped
chopped chilli (optional)
Instructions
Place peanut oil and garlic in a small frying pan over medium heat. Once the garlic turns golden pour the oil into a small glass bowl. Allow to cool.
Bring the water to a simmer in a saucepan. Add the tamarind paste and palm sugar. Stir gently until the paste and sugar dissolves and the stock comes to a boil. Add the pineapple and okra, allow to simmer for a minute. Add the prawns, once the soup comes back to a simmer take the pot off the heat and add the elephant ear stem and tomato.
Place the bean sprouts in a large soup bowl. Gently pour the soup over the bean sprouts. Sprinkle some rice paddy herb (or cumin and lemon) and cilantro over the soup. Also, pour a tablespoon of the garlic oil you made in the beginning over the soup. Serve with side dish of fish sauce with chopped chilli (optional) and bowls of rice.
Notes
*replace the prawns with any fatty fish (catfish, silver perch or salmon)
**if you are unable to find elephant ear you can substitute with a bunch of water spinach
Amy Ta
Amy Ta started her cooking career in her late-twenties. She baked a chocolate cake and never looked back. She is now the author and photographer of the food blog "tinytearoom".