It's almost spring, so naturally we should all be making spring rolls right now. Joy Zhang with a mouthwatering recipe.
By Joy Zhang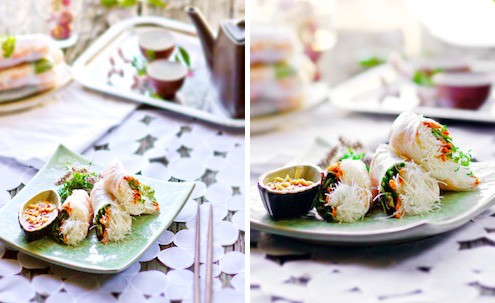 With the warm weather right around the corner, our bodies are ready to feel the sun upon our faces again.  The flowers blossoming, gardens blooming, the time is right for light, fresh and healthy food.  What better way to welcome spring than with this wonderful Vietnamese Shrimp Spring Roll recipe?
Made from rice paper and rice noodles, this recipe is gluten-free and serves as a perfect appetizer or snack for any occasion.  Pair it with a spicy peanut sauce and it will be guaranteed a hot item with any crowd.  Save yourself the work and ask guests to roll their own, the best part is that any mistakes can be quickly eaten.
Feel free to substitute the shrimp for bbq chicken, avocado, jicama – let your imagination create new and exciting flavor combinations.  These spring rolls are best eaten the day they are made but can also be covered with saran wrap and eaten the next day.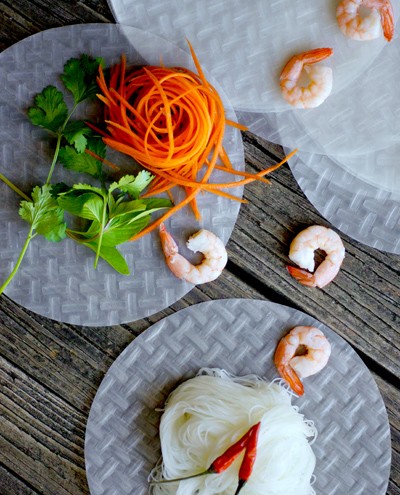 Recipe for Vietnamese Shrimp Spring Rolls
2 ounces rice vermicelli (60 mL)
8 rice wrappers (8.5 inch diameter)
8 large cooked shrimp – peeled, deveined and cut in half
1 1/3 tablespoons chopped fresh Thai basil (20 mL)
3 tablespoons chopped fresh mint leaves (45 mL)
3 tablespoons chopped fresh cilantro (45 mL)
2 leaves lettuce, chopped
1. Soak vermicelli in cold water until soft.  Bring a medium pot of water to a boil and cook vermicelli for 2-3 minutes, or until al dente.  Drain and rinse with cold water.
2. Fill a large bowl with warm water.  Dip one wrapper into the hot water for a second and lay the wrapper on a flat surface.  In a raw across the center, place 3 shrimp halves down and top with vermicelli, basil, mint, cilantro and lettuce – leaving about 2 inches on each side.  Fold the uncovered sides inward and roll the wrapper tightly.  Serve with Spicy Peanut Sauce.
Spicy Peanut Sauce
½ cup peanut butter (120 mL)
2 tablespoons water (30 mL)
1 tablespoon gluten free hoisin (15 mL) – can be found here
1 teaspoon Sriracha (5 mL)
Handful of peanuts, crushed
1. Mix peanut butter and water together until thoroughly mixed.  Add more water (1 teaspoon at a time) if the consistency is too thick.  Stir in hoisin and Sriracha and top with crushed peanuts. Serve with spring rolls.
Joy Zhang
A 25 year-old free-lance photographer, home-chef and writer from Dallas, Texas, Joy finds inspiration for her photography and recipes through music, art and nature. Her work has been featured on Elle Girl Korea and Gourmet Live. Join her culinary adventures through her kitchen and discover fresh, simple and delicious recipes.