This delicious Thai green papaya salad is also known as "som tum" and comes with various flavors of hot, salty, sweet and sour.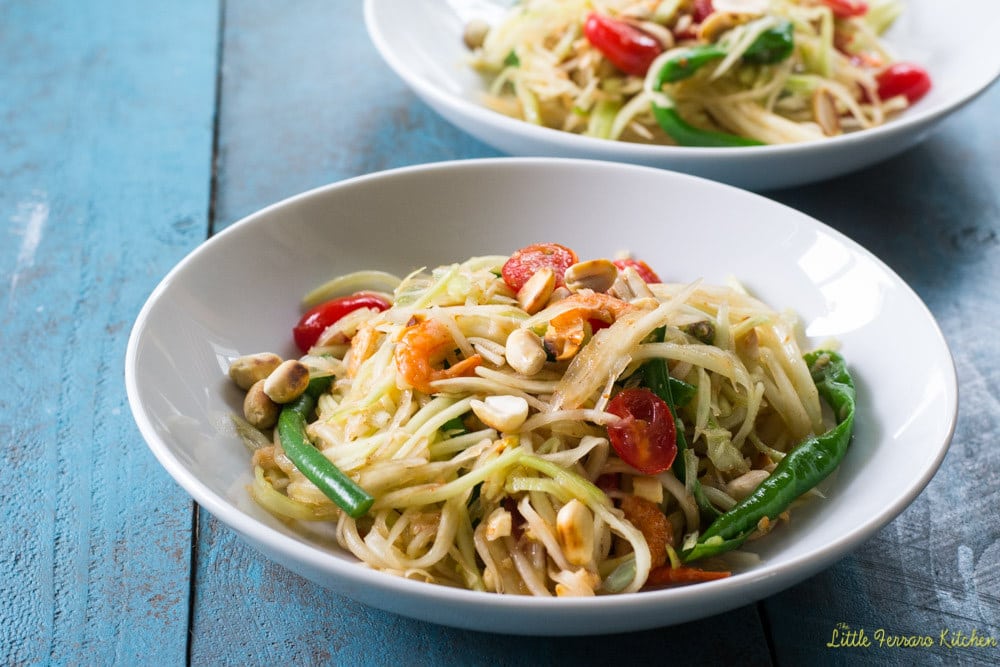 A few months ago I was gifted with the most beautiful package. It was moments like this and people with huge hearts that really make me love what I do and keep doing. Even though I have a little blog compared to other huge websites, I know that there are people somewhere in this world that I have impacted in some way. Whether it is dinner inspiration or trying new foods, there is a personal impact which I am so grateful for!
I received an email from Deb who was currently in Asia and enjoyed reading my "world cuisine" experience through my blog. She insisted on sending me a little gift to help me explore Asian cuisine more, which I have often said is one that I would love to learn more about! (This authentic pad Thai sauce is still on my bucket list among other things from Asian cuisine). Well a few weeks later I received the most touching package. Joe and I opened it up with much anticipation, sitting next to each other and eager to see what goods were inside the envelope. We were both so blown away that a package has traveled all the way from Asia to a tiny little beach town in Southern California, all through a few words on a web page. Amazing, isn't it?
The package contained a beautiful hand written note in a red envelope, a small Vietnamese cook book which I can not wait to explore, a kitchen tool for green papaya salad and other vegetables and a seasoning packet for Green papaya salad. Because I am one to treasure everything, I couldn't bare to use the seasoning packet and opted to use other ingredients to make the papaya salad. The tool was awesome! It looks like a vegetable peeler in some ways but instead helps shred the papaya into long thin strips.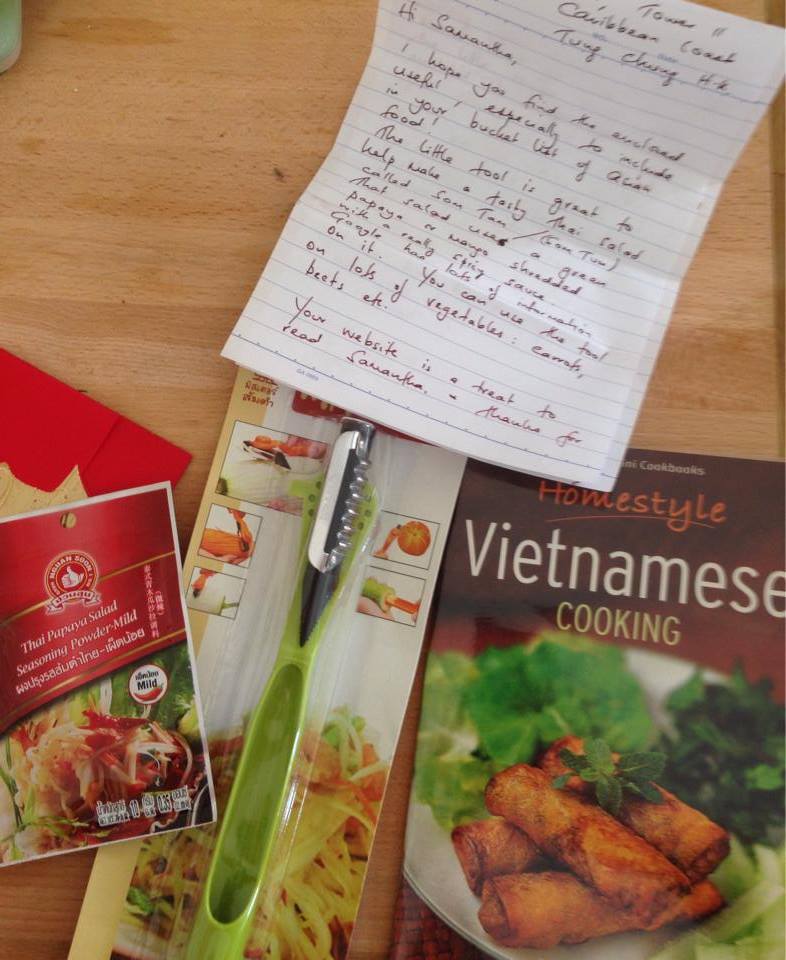 I couldn't wait to begin searching for a fabulous green papaya salad recipe! I ran to the Asian market and low and behold I see piles of huge green papaya! I found a wonderful recipe with my new You Tube addiction called Hot Thai Kitchen and quickly got to work. I love this You Tube channel because she is authentic and explains what everything is for in wonderful detail. Surprisingly, I had most of the ingredients for this papaya salad already at home!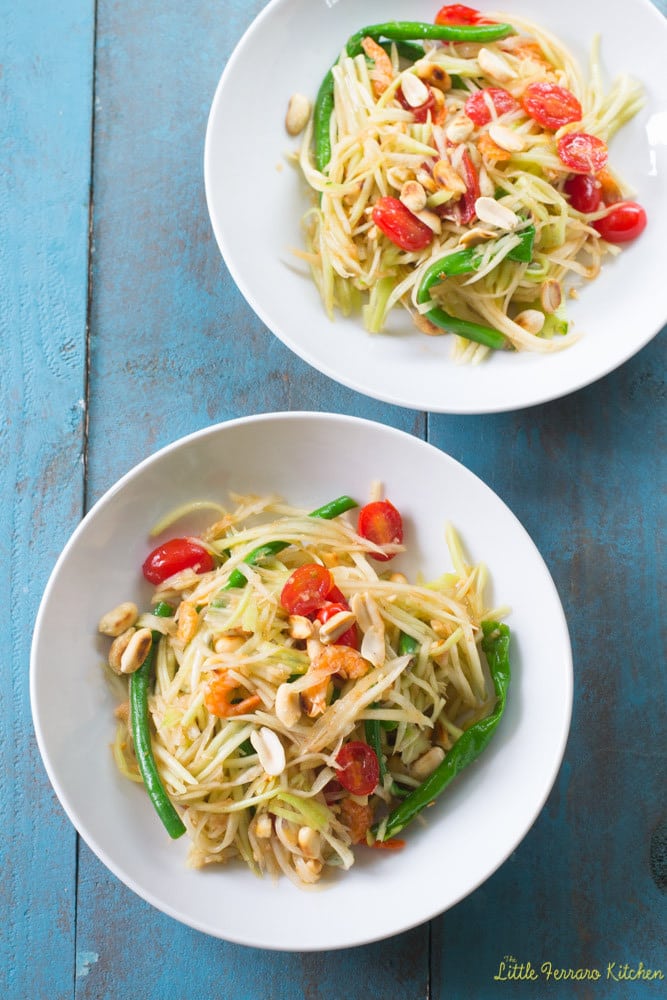 See Also
There are 5 main characteristics in Thai cuisine, which are salty, sweet, sour, bitter and hot. I have heard that all these different flavors should be in each bite, which is especially prevalent in green papaya salad. Traditionally, this salad is made with a mortar and pestle, where you would grind the ingredients together hence releasing it's flavors into it's own sauce and coating the shredded papaya. Well I didn't have a large one that would be able to fit all of the salad ingredients, so I improvised. I used a large bowl and my trusty cocktail muddler. It did the job just perfect!
I have never tasted delicious flavors like this! I did some minor changes like subbing brown sugar for palm and sriracha for Thai chilis. The dried shrimp was really my favorite part! Everyone needs to have that in their pantry.
Samantha Ferraro
Samantha Ferraro is the food blogger and photographer for The Little Ferraro Kitchen. Samantha comes from a diverse background and is originally from Brooklyn NY, until she turned to the island life and moved to Hawaii. Now Samantha blogs about world cuisine recipes made easy in Southern California with her Italian husband and their dog Hula. When she's not blogging or making a mess in the kitchen, you can find her traveling the world for recipe inspiration.