Another lovely cake to spice up those cold, dark winter evenings.
By Tamara Novacoviç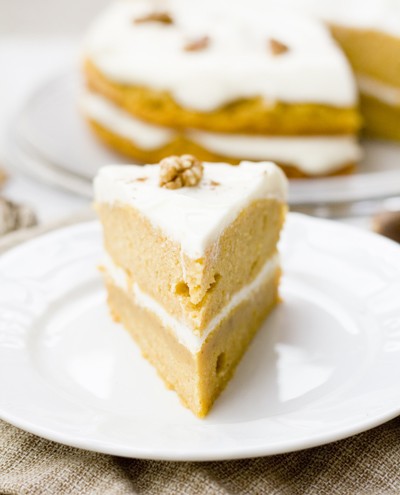 I have never baked so much with pumpkin like this season. There's just something about the combination of pumpkin and cream cheese that I love. So here it is, another pumpkin dessert.
My favorite type of pumpkin (especially for desserts) is butternut. It has a beautiful sweet meat. Here we don't have canned pumpkin puree, it's just not available on our market, so I always make my own from scratch. I take a butternut squash (about 35 oz), wash it, cut into smaller pieces, place them on baking sheet lined with parchment paper and bake for 45 minutes at 220C. Let them cool and spoon out meat.
I adapted the recipe from Cinnamon and Thyme.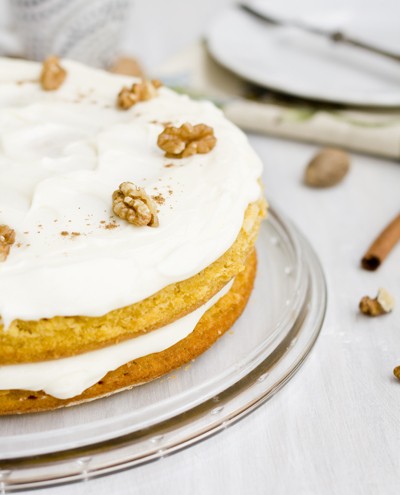 This fall cake is, like so many other seasonal cakes, rich with cinnamon and similar spices. After baking such a treat, your whole house smells lovely even the next day.  What is your favorite spice? Which one do you use most often? Cinnamon is definitely the most frequent guest in my kitchen, although I almost always use a pinch of cardamom in cakes like this.

Another lovely autumn dessert!
Ingredients
Cake batter
⅞ cup (200 g) butter
10.5 oz (300 g) brown sugar
4 eggs
14 oz (400 g) pumpkin puree
2 tsp vanilla extract
14 oz (400 g) all purpose flour
1 tsp cinnamon
¼ tsp ginger
¼ tsp cloves
⅘ cup (200 ml) milk
2 tsp baking powder
Frosting:
17.6 oz (500 g) cream cheese
10.5 oz (300 g) powdered sugar
1 tsp vanilla extract
Instructions
Make the cake batter: Mix butter with sugar until creamy, add eggs-one by one-then add vanilla, milk and pumpkin, combine. In a separate bowl, combine flour with baking powder and spices, add to the batter.
Divide the batter into two equal parts and pour them into prepared springform pans. Bake for about 30 minutes at 180C. Let cool completely.
For the frosting, combine cream cheese with vanilla, gradually add powdered sugar and mix well.
Assemble: put the first cake layer onto serving plate, frost it with half of the frosting, place the second layer onto it and frost with the remaining frosting. Decorate with walnuts.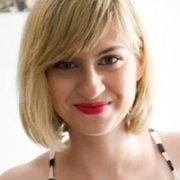 Tamara Novakoviç
Tamara Novakovic is a passionate self-taught cook, food blogger, freelance food writer and photographer behind bite-my-cake.blogspot.com. Her life journey has led her through Faculty of Humanities in Zagreb, Croatia to discovering passion for making cakes. She is currently a weekly food columnist for Croatian newspaper V magazine and food magazine Repete.