Sicilian fried risotto balls get a seasonal update with savory pumpkin and tangy goat cheese.
By Kara and Marni Powers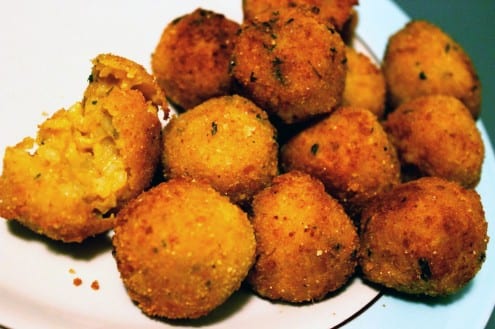 Pumpkin and Goat Cheese Arancini
Sicilian fried risotto balls get a seasonal update with savory pumpkin and tangy goat cheese.
Author:
Kara and Marni Powers
Ingredients
2 T extra virgin olive oil
2 T unsalted butter
2 finely diced shallots
1 minced garlic clove
⅔ c white wine
4 c chicken broth
1½ c Arborio rice
1 t ground nutmeg
1 T lemon juice
1 T chopped fresh sage
¾ c pumpkin puree
½ c Parmigiano Reggiano cheese (feel free to use more if you're a cheese fan)
4 oz goat cheese
2 c seasoned bread crumbs
3 eggs, beaten
2 T water or milk
salt and pepper throughout
Canola oil
Instructions
In a small pot, heat the chicken broth on a low flame. In a separate pan, saute the shallots in the olive oil and butter on medium heat until translucent. Add the garlic and nutmeg, and stir for a couple more minutes. Add the rice to toast for a few more minutes. Add a ladle of chicken broth to the toasted rice mixture. Once that is absorbed, add the wine.
Add 2 ladles of broth at a time to the sauteed rice mixture. Once it is absorbed, add more. This process will most likely take approximately 20 minutes. Feel free to stir the rice to keep it from sticking and quicken the absorption. Eventually, the rice will plump up and have a creamy texture. At this point, stir in the pumpkin puree, lemon juice and sage. Once you are happy with a slightly al dente consistency, take the risotto off the heat and stir in the Parmigiano Reggiano and goat cheeses.
Pour the risotto onto a large parchment-lined baking sheet and spread out into a thin layer. Let chill in the refrigerator for 20 to 25 minutes, until cooled.
Heat 3 inches of canola oil in a pan to 350 degrees Fahrenheit.
With a tablespoon, form the risotto into small orbs (you may need to use your hands to shape) and line up the balls on the baking sheet.
Place the bread crumbs in a shallow dish. Add the beaten eggs with a little salt, pepper and water into a second dish. Dredge the risotto balls in the eggs and then roll in the bread crumbs. In batches of 5 or 6, place the balls into the hot oil with a slotted spoon and fry for 2-3 minutes, turning occasionally, until golden brown. Drain on paper towels and serves.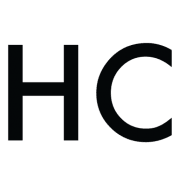 Kara and Marni Powers
Kara and Marni Powers are twin sister cooks, dining and blogging their way through Boston's North End and beyond. They see the act of cooking and entertaining as a form of creative expression, an art that encourages the mixing of flavors, spices, techniques and stories. Their interest in cooking dates back to their Greek grandmother's open-arms approach, letting them taste her savory creations like her famous spanakopita. Kara and Marni's fascination with food and culture continued during their travels abroad in Europe where they saw firsthand the limitlessness of cooking.