A sweet coconut curry sauce dotted with golden raisins and sprinkled with toasted coconut is the base for this chicken and pumpkin dish.
By Kimberly Killebrew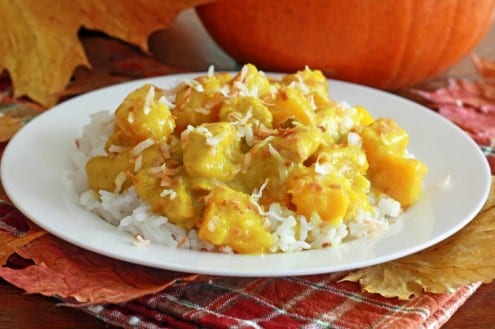 Coconut Chicken Pumpkin Curry
A sweet coconut curry sauce dotted with golden raisins and sprinkled with toasted coconut is the base for this chicken and pumpkin dish.
Author:
Kimberly Killebrew
Ingredients
4 cups sugar pumpkin, cut into ½ inch cubes
1 large chicken breast (3/4 to 1 lb), cut into ½ inch cubes
2 tablespoons butter
1 cup finely diced yellow onion (about 1 medium)
1 clove garlic, minced
2 tablespoons apricot jam
2 tablespoons curry powder
¼ cup all-purpose flour
1 cup chicken broth
1 (14 oz) can coconut cream (or coconut milk if you can't find cream)
2 tablespoons golden raisins
1¼ teaspoons salt
¼ cup flaked coconut, toasted (see Note)
Instructions
Heat the butter in a Dutch oven or pot over medium-high heat. Saute the onions until soft and translucent, about 6-7 minutes. Add the garlic and saute for another minute.
Add the chicken and cook until no longer pink. Add the curry powder and apricot jam and cook for another minute. Add the flour and stir to combine.
Slowly add the chicken broth and increase the heat, constantly stirring, until the flour is dissolved. Add the coconut milk and salt and bring to a simmer, stirring constantly until the sauce is thickened. Add the pumpkin and raisins. Return to a simmer, reduce the heat to low, cover, and simmer for 20-25 minutes, stirring occasionally, or until the pumpkin is soft but not mushy. Add salt to taste.
Serve with steamed Basmati rice or naan bread and sprinkled with some toasted shredded coconut.
Notes
To toast the shredded coconut, place a dry skillet over medium-high heat and toast the coconut, stirring constantly to prevent burning, until golden brown.
Kimberly Killebrew
Raised in Western Europe, widely traveled, and currently residing near Seattle with her husband and children, Kimberly loves preparing and experimenting with a large range of flavors and cuisines. This is reflected in her food blog, The Daring Gourmet, where she invites all to "tour the world through your taste buds." Passionate cook, recipe developer and photo enthusiast, her culinary repertoire includes everything from gourmet to simple comfort food, and, as she puts it, "simply downright good eats."