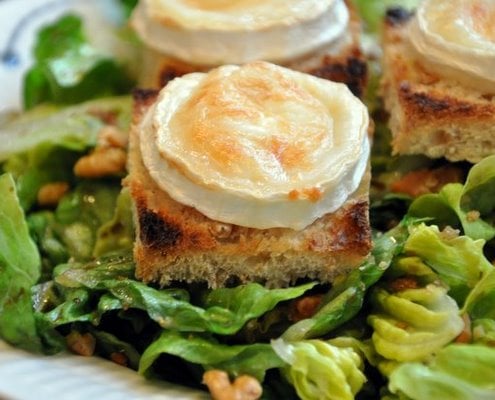 Author:
Brian Lambæk Hansen
Ingredients
A roll of goat's cheese
4-5 slices of sandwich bread
Green Salad
⅓ pound (150g) Walnuts
4 pieces of Parma ham
Dressing
3 tbsp. olive oil
2 tbsp. honey
1 tbsp. Dijon mustard
1 tbsp. white wine vinegar
Salt and pepper
Instructions
Toast the walnuts and chop coarsely
Bake parma ham in a 390°F (200°C) warm oven, until golden and crispy
Cool down and crumble coarsely
Slice the roll of goat's cheese (3-4 pcs/head) and cut the bread to fit the slices
Place a slice of cheese on top of the pieces of bread
Grill in oven in approx. 5 minutes
Mix the dressing – be sure to whip it good
Serving
Toss the salad with an appropriate amount of the dressing
Place on plate, and sprinkle with the walnuts and the parma crumble
Top with the goat's cheese toasts
Brian Lambaek
Brian Lambæk is the Copenhagen-based part of the Danish food blogger-quartet Gastromand.dk. Brian is uncompromising when it comes to the food he prepares, which results in the use of vast amounts of time, equipment and butter in his kitchen. With his masculine approach to cooking, the star of his plate will always be high on protein.