Sponsored Post: Prosciutto di Parma is the King of Hams and we're celebrating the best prosciutto around with delicious recipe and cooking inspiration. Be sure to enter the giveaway below!
Perfect for spring, these Asparagus, Goat Cheese and Prosciutto di Parma Crostini are easy enough for a quick bite for a friend or to serve a crowd.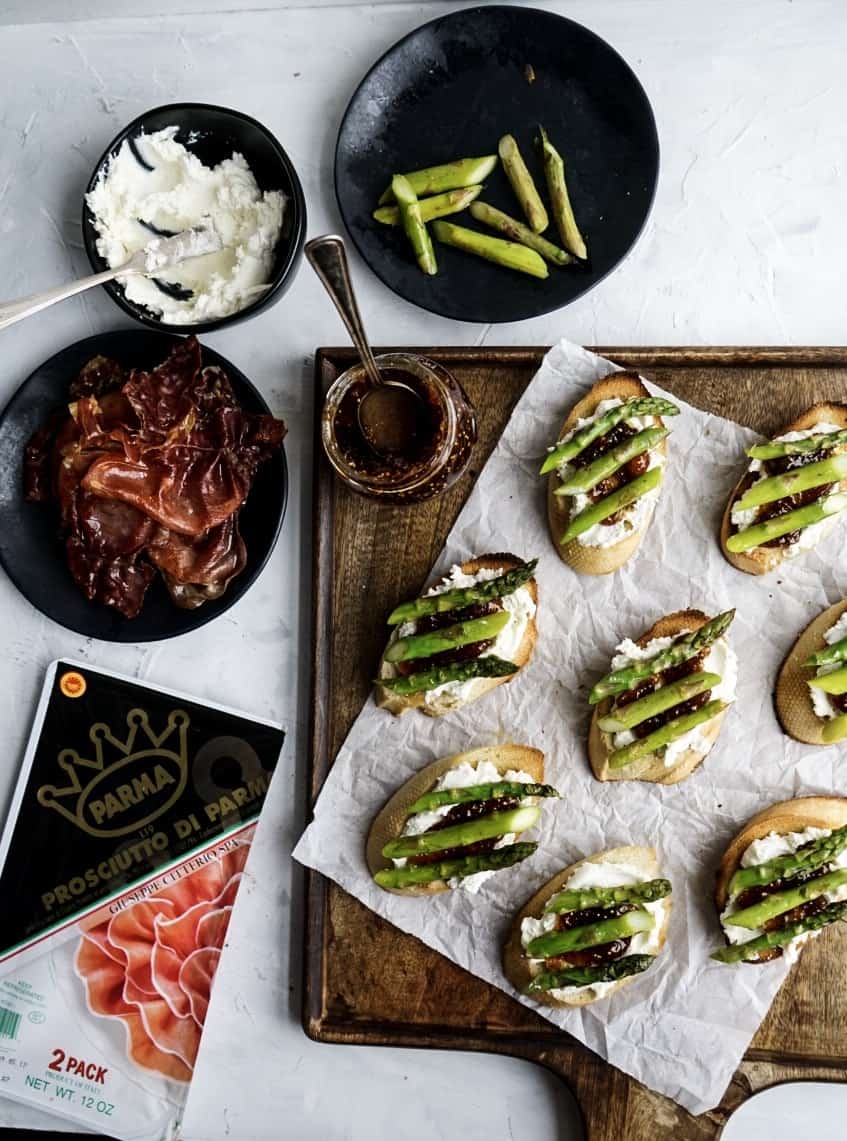 Happy spring! We're having a dreary rainy day here in Chicago, so I decided to brighten it a bit with one of my favorite snacks! This asparagus goat cheese crostini with crispy prosciutto! I'm partnering with Prosciutto di Parma to show you how easy and delicious this little appetizer really is!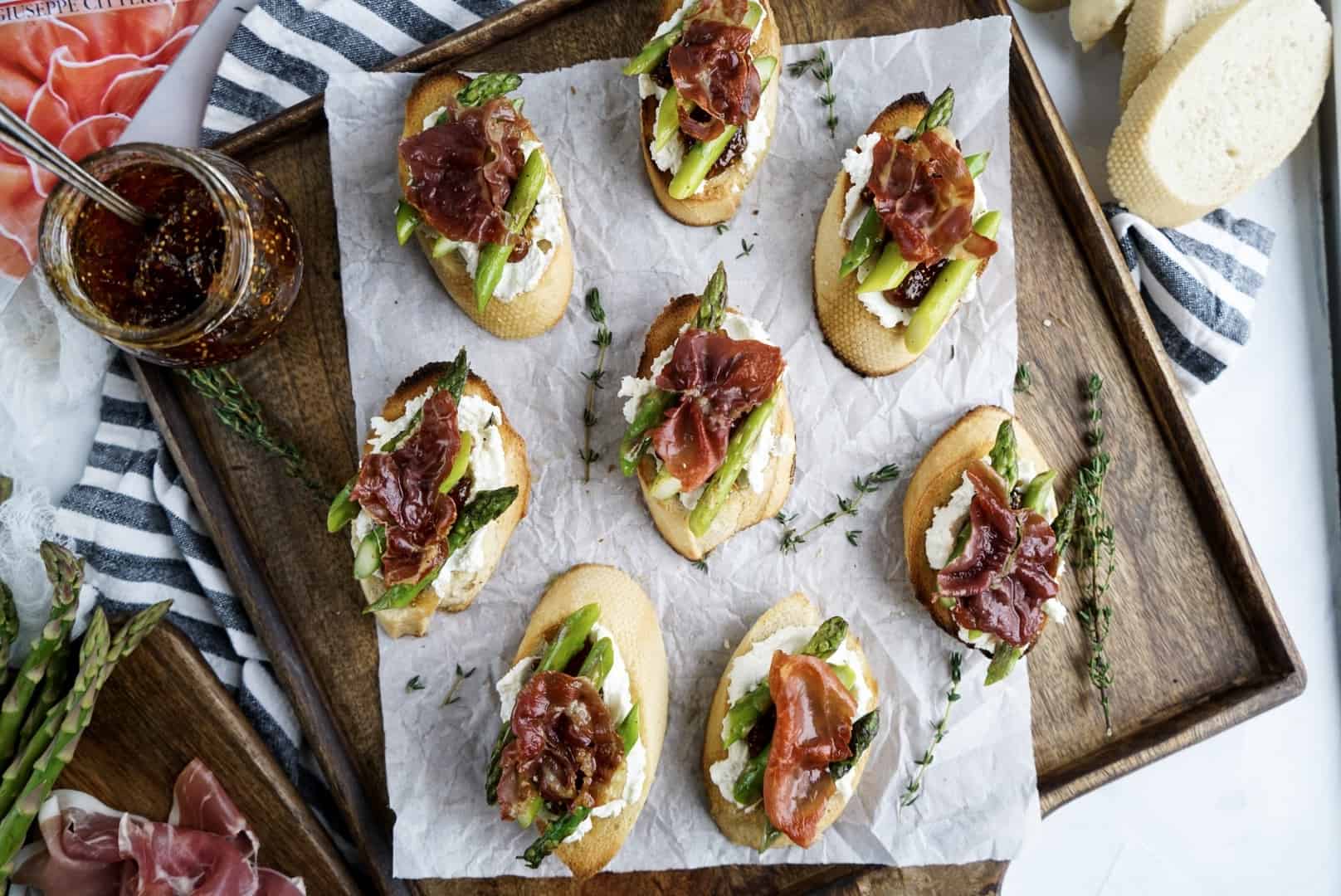 Prosciutto di Parma has a one-of-a-kind taste because of the amount of time it takes to age. The pork is aged twice as long as many other prosciuttos in the market (it hangs for at least a year!) Not only that, there are no artificial ingredients or hormones added to Prosciutto di Parma, so you can feel good about what you're eating! In addition to deli counters sliced to order, it can be found pre sliced in packages at your local Trader Joes, Costco, Whole Foods and Walmart! Just look for the Parma crown, and you know you've got the good stuff!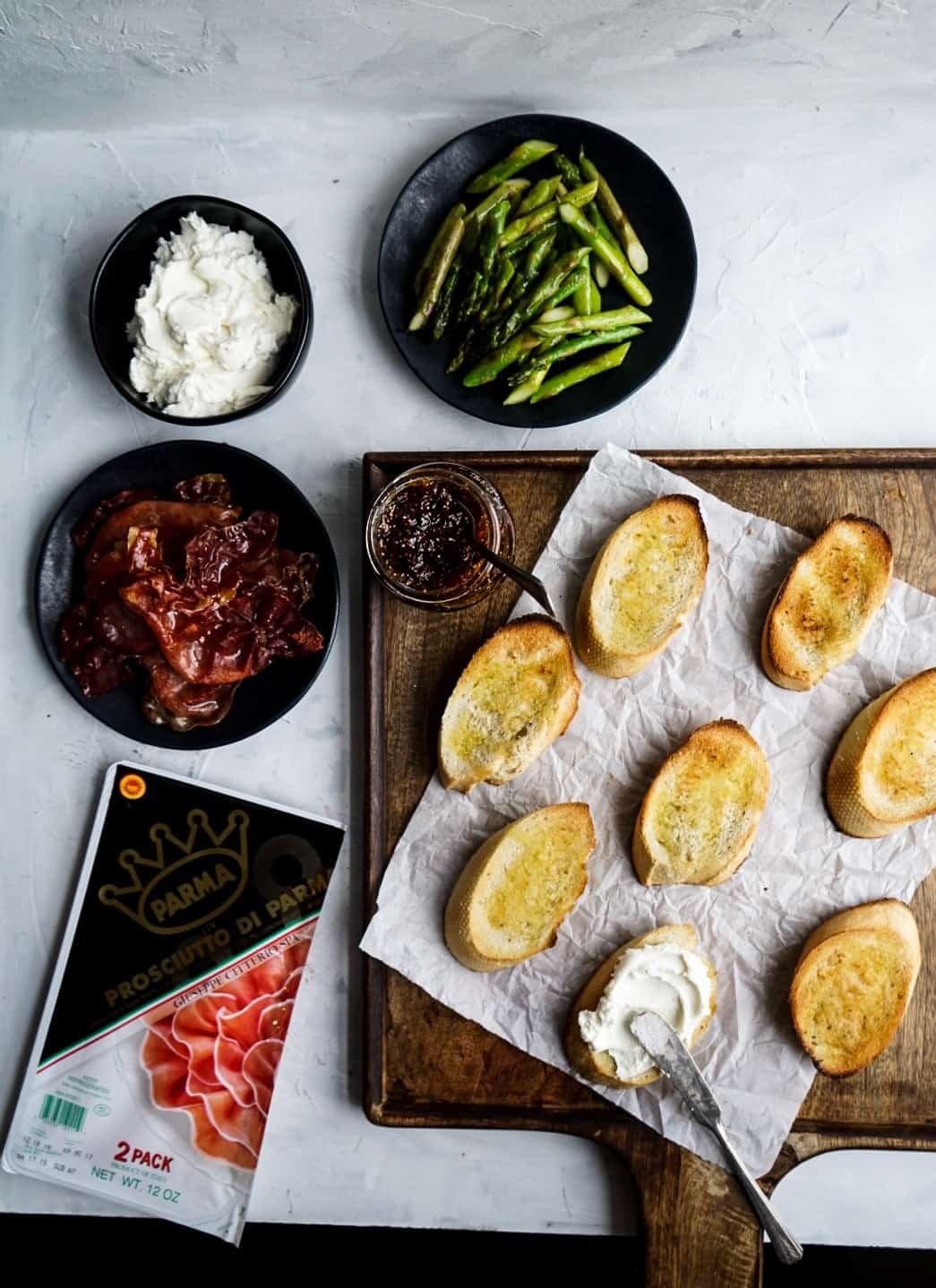 I love how this recipe only has a few simple ingredients. Because each ingredient will shine, I always make sure I use the highest quality of each one. I love using Prosciutto di Parma because of it's uniquely sweet flavor and buttery texture. It literally melts in your mouth with each bite! It's so easy to add to this crostini and gives it the right amount of crunch and flavor to really put it over the top!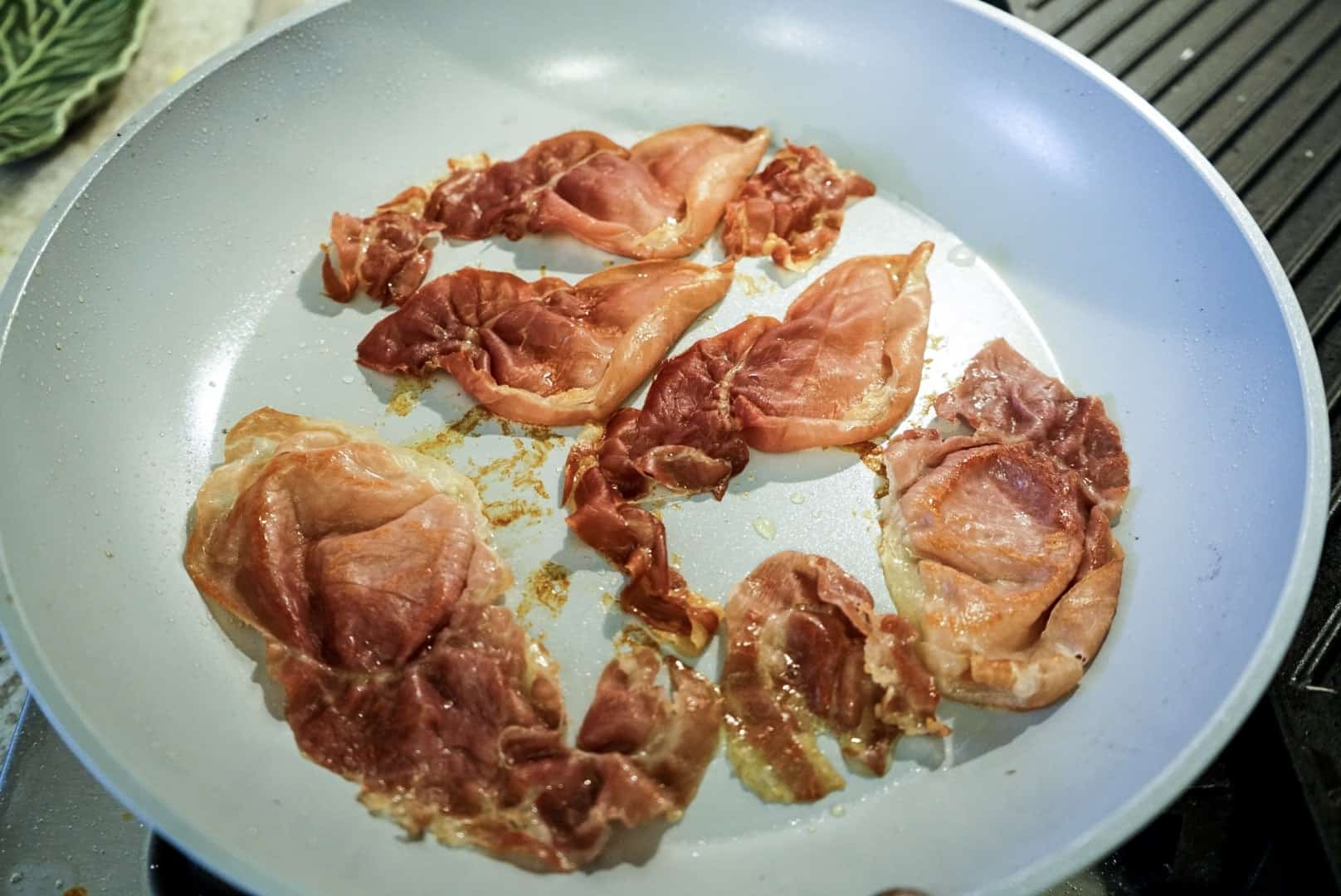 How do I make asparagus goat cheese crostini with prosciutto?
Start by toasting baguette rounds in the oven until they're golden brown. I like to cut my baguette on a diagonal so you have a little bit more surface area to work with.
Preheat oven to 350 degrees. Arrange baguette slices in a single layer on a rimmed baking sheet.
Brush the slices evenly with olive oil. Bake until lightly toasted, about 15 minutes.
While the toast is in the oven fry slices of Prosciutto Di Parma in a skillet over medium heat.
Add 1 tablespoon of olive oil and place whole slices of prosciutto in the hot pan.
Fry the prosciutto in the skillet for three to four minutes, until it becomes crispy.
Remove and place on a plate with a paper towel and set aside
In the same pan over medium heat, add 1 tbl olive oil and trimmed asparagus. Season with salt and pepper. Cook for 10 minutes, turning asparagus to ensure even cooking.
Remove toast from oven and let cool slightly. Spread goat cheese over top of toast. Top with 1 teaspoon of fig jam, cooked asparagus and crispy Parma prosciutto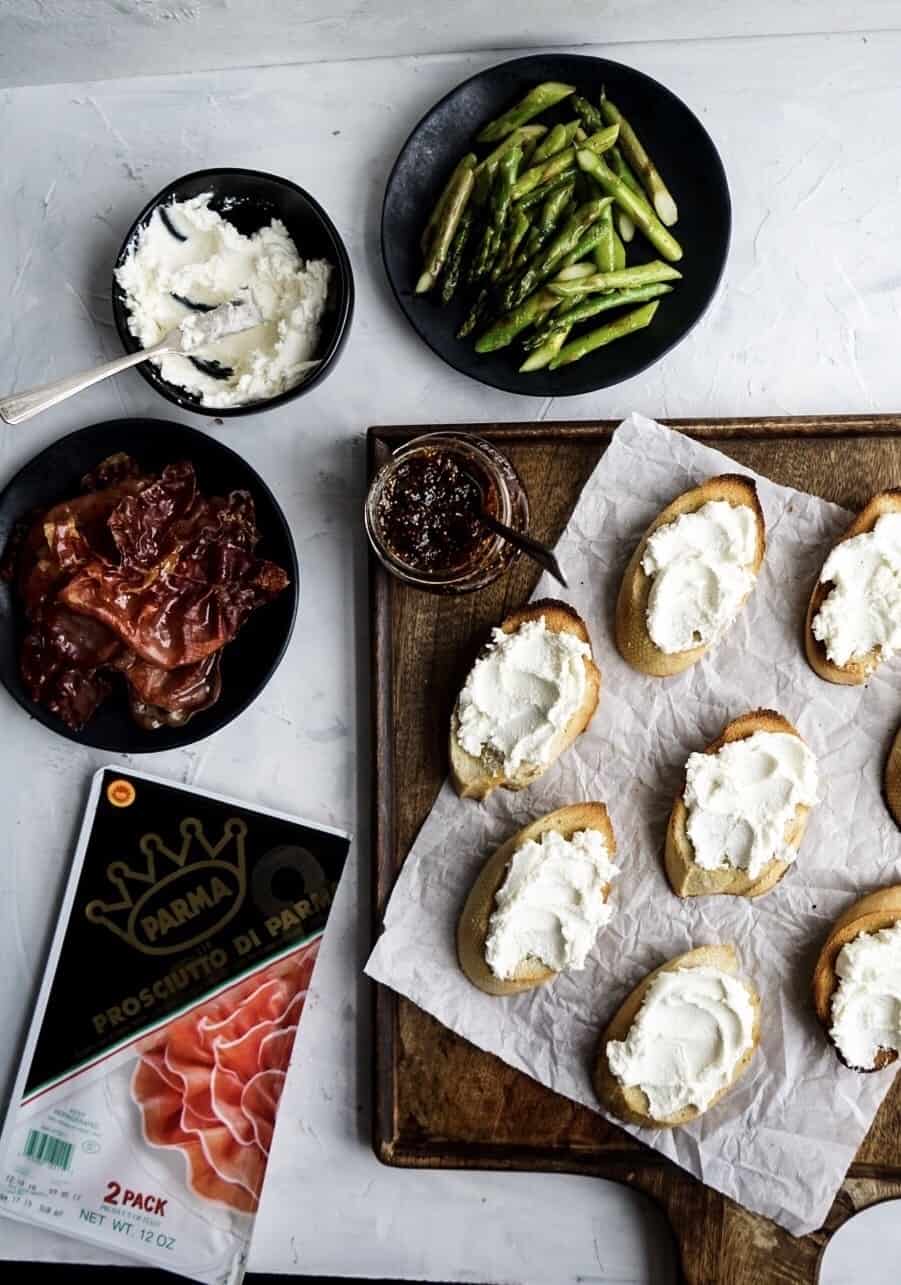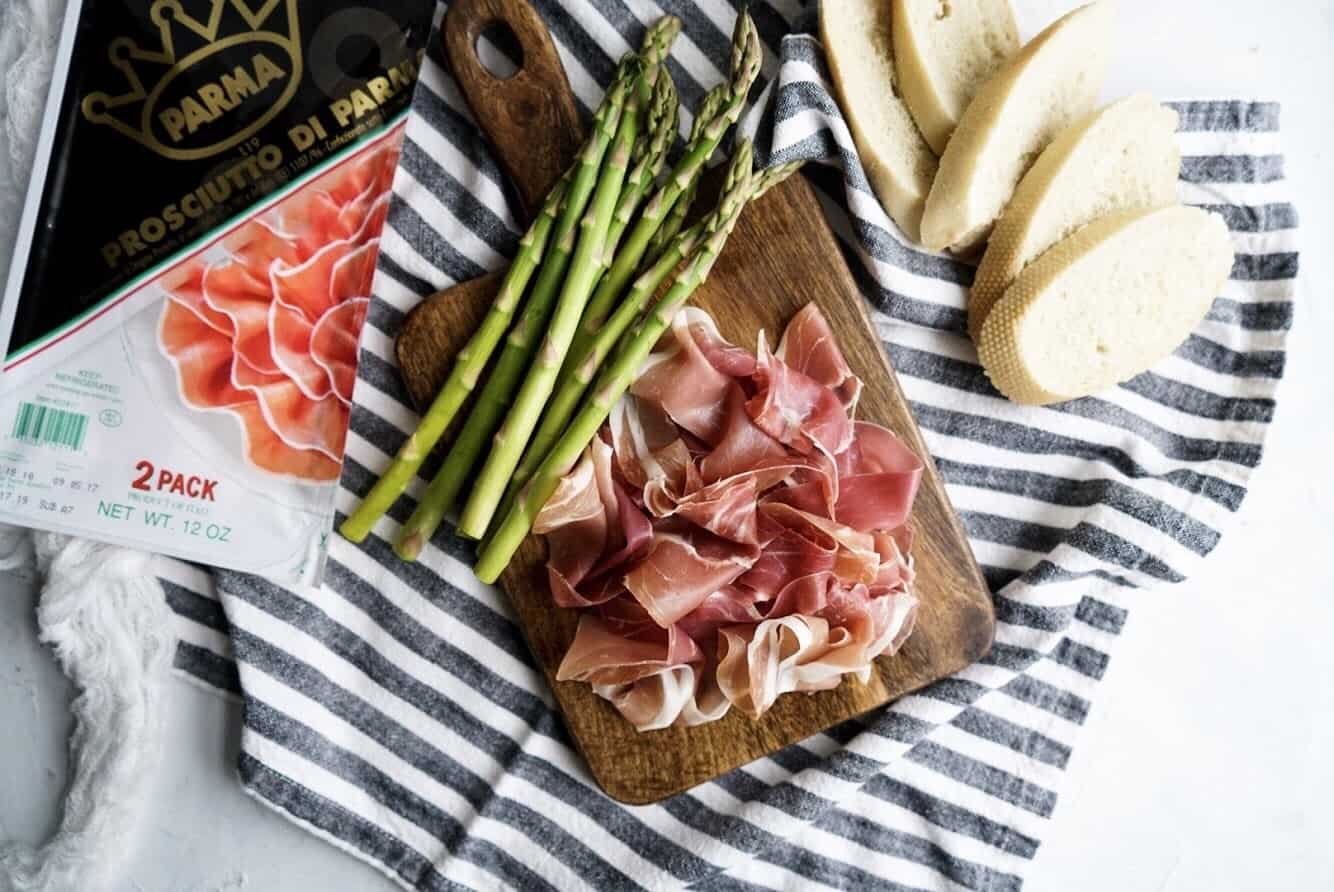 Make any appetizer platter more vibrant and delicious with these asparagus goat cheese crostini with prosciutto! Buon Appetito!
Also, be sure to enter the cash giveaway below!
Asparagus, Goat Cheese and Prosciutto di Parma Crostini
Ingredients
1 package Prosciutto di Parma
1 oz Goat cheese
1 lb asparagus
1 baguette
Fig jam
Instructions
Preheat oven to 350 degrees. Slice baguette on an angle. Arrange baguette slices in a single layer on a rimmed baking sheet.
Brush the slices evenly with olive oil. Bake until lightly toasted, about 15 minutes.
Add 1 tablespoon of olive oil to a skillet and place whole slices of prosciutto in the hot pan.
Fry the prosciutto in the skillet for three to four minutes, until it becomes crispy.
Remove and place on a plate with a paper towel and set aside
In the same pan over medium heat, add 1 tbl olive oil and trimmed asparagus. Season with salt and pepper. Cook for 10 minutes, turning asparagus to ensure even cooking.
Remove toast from oven and let cool slightly. Spread goat cheese over top of toast. Top with 1 teaspoon of fig jam, cooked asparagus and crispy Parma prosciutto