This Prosciutto & Arugula Eggs Benedict is a sophisticated, Italian twist on the original! Salty prosciutto and peppery, fresh arugula complement the classic poached egg and buttery hollandaise sauce.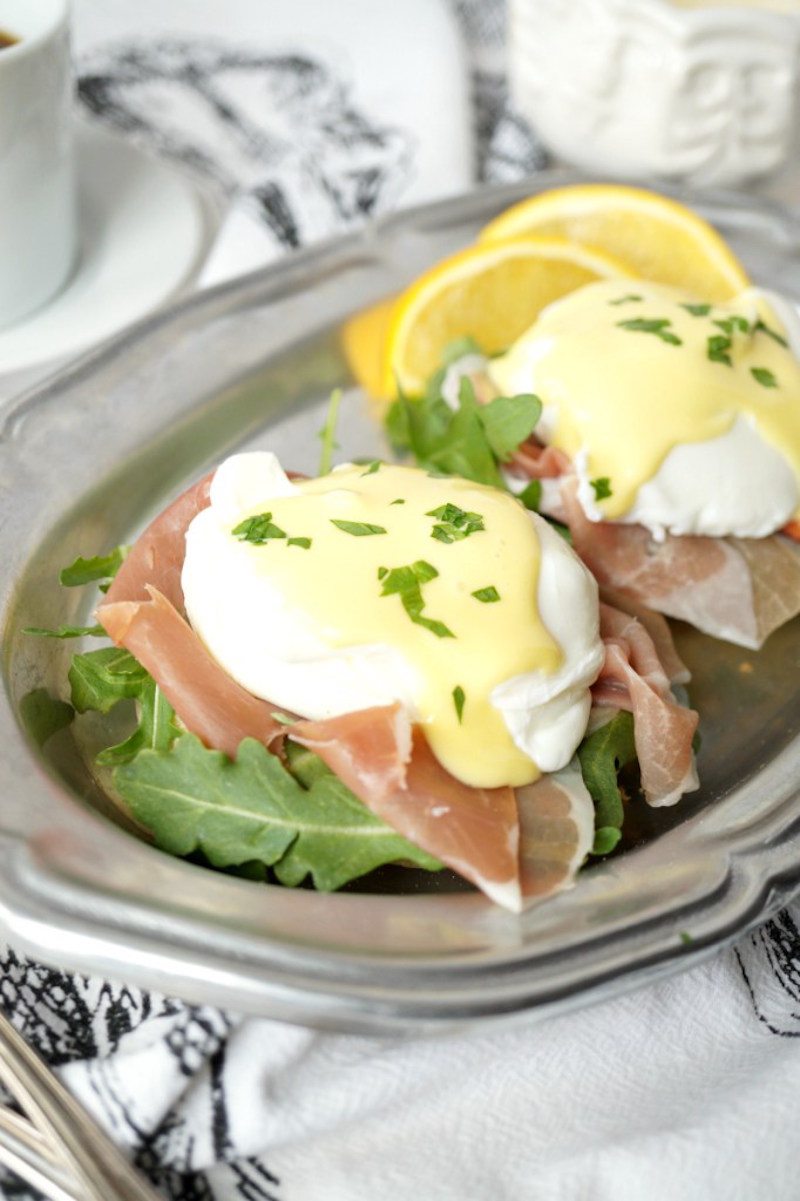 Let's be real, you can't ever go wrong with eggs benedict!
With this recipe, I was able to cross a couple things off my blogger bucket list. As much as I absolutely adore eggs benedict, I had never tried making them at home. I had never even poached an egg before! This was also my first time making hollandaise sauce. So here are my thoughts… poaching eggs is freaking hard, y'all! This is coming from someone who's made wedding cakes and all sorts of ridiculous cake architecture. Two things elude me… poached eggs and eggs-in-a-hole. I kid you not. I will make you a cake castle but don't ask me to make you an egg.
Really though, after some trial-and-error, even the mighty eggs benedict were conquered! I figured a few secrets to ensure poached egg success… or at least get close to it. First and foremost, you have to add some vinegar to the water. This helps your egg firm up in the water so it doesn't turn into watery scrambled eggs! You also have to stir your water into a vortex before adding your egg into the water. This supposedly helps your egg form a nice little ball and should prevent the dreaded scramble.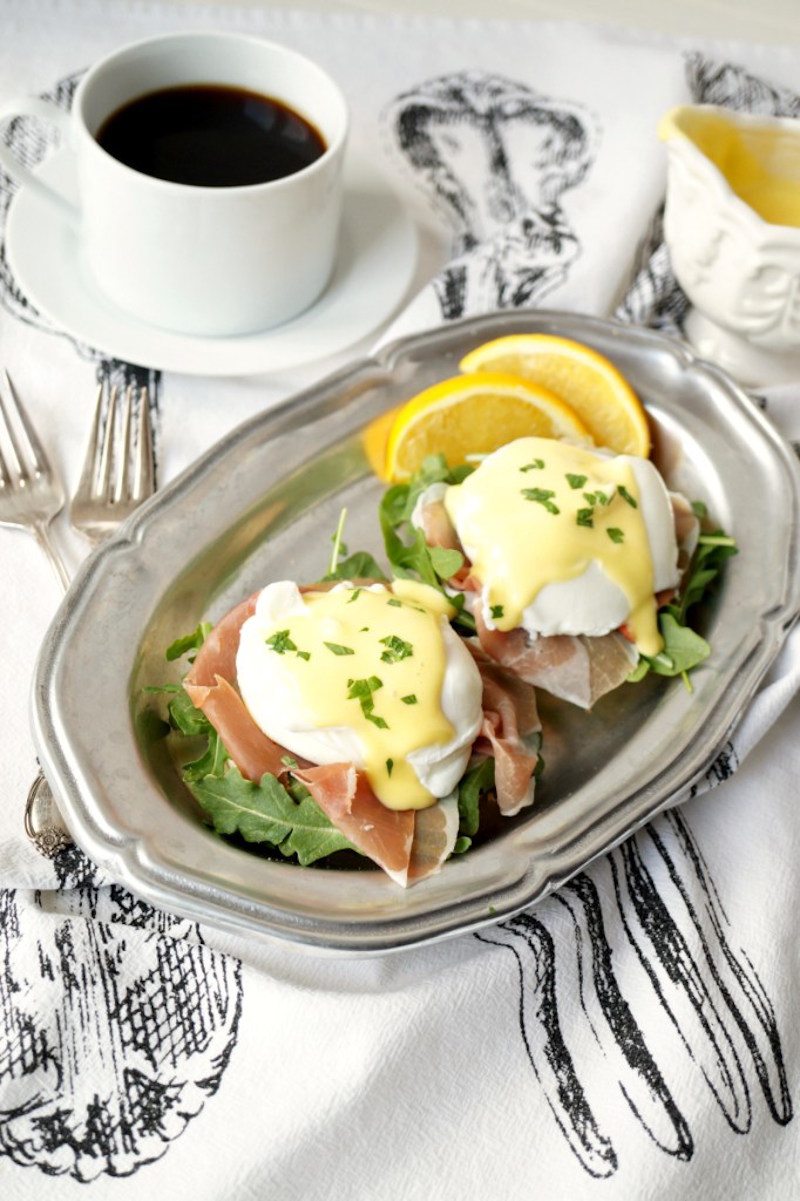 Another thing I realized on like, my fourth poached egg, is that none of the tutorials tell you how hard the water has to be boiling. I started with just a normal boil, but then I figured the gentler the boil, the better… a violent boil is going to, again, result in a scrambled egg. Which is no fun! So vinegar water + vortex + soft boil = hopefully a good poached egg. As for the hollandaise… SO easy. At least the recipe I found, which I'll definitely share below. It's made in the blender and just took two minutes to smooth, velvety, buttery perfection. Yes, please!
Print
Author:

Valentina Celant

Yield:

0

Serves 8

1

x
Category:

Breakfast
8

eggs

6

–

8

cups water

2

–

3

tbsp white vinegar

4

English muffins (split in half)

8

slices prosciutto

1 cup

fresh arugula
*for the hollandaise sauce*

5½ tbsp

salted butter (melted)

2

egg yolks

1 tbsp

lemon juice
salt and pepper (to taste)
Instructions
First, halve the English muffins and toast them. Set aside.
In a large pot, bring the water and vinegar to a low boil. Crack an egg into a small bowl. Using a slotted spoon, stir the water vigorously to create a vortex, and drop the prepared egg into the center. Keep gently stirring the water as the egg cooks and solidifies. Cook egg for 3 minutes, then remove with the slotted spoon and place on a plate topped with a paper towel. Repeat with all the eggs.
Finally, prepare the hollandaise sauce. In a blender, mix together the egg yolks, lemon juice, and salt and pepper on high until smooth and creamy. As the blender runs on high, slowly drizzle in the melted butter until everything is incorporated, and the sauce is thick and pale yellow.
You're now ready to assemble! On each English muffin half, place some arugula and a slice of prosciutto. Top with an egg and some hollandaise sauce. Serve immediately!
Valentina Celant
Hi! My name is Valentina and I am The Baking Fairy! I'm a 20-something university student studying for PA school and moonlighting as a food blogger. I cook, I bake, I craft, I nanny, and I blog about it all! My style of cooking is college-budget gourmet... with an occasional wedding cake. The way to my heart is paved in glitter and chocolate.