Simple and inviting, plum cake is the perfect way to start and celebrate early autumn.
By Tamara Novacoviç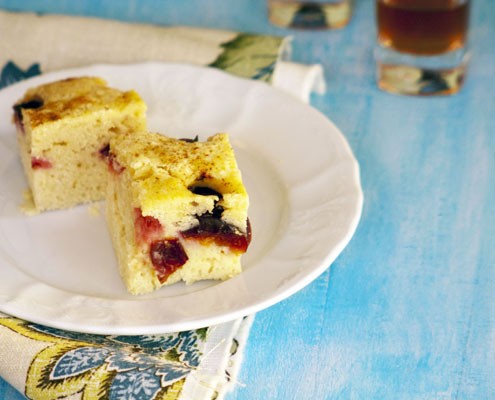 Today we stepped into autumn, with significantly lower temperatures and lots of rain. However, I hope sunnier days are ahead. Early autumn is beautiful, for me melancholic and inspiring, blooming with fiery leaves and warm colors, mystical winds and a transitional weather that will lead us into a cold winter. It is a season of nature-given goods, plums being one of them. Most of the plums here is used to make traditional plum jams. We picked a lot of them this season, so I used some for this lovely, simple cake. Scented with ripe plums, cardamom and cinnamon, it is a perfect companion to a cup of tea or coffee.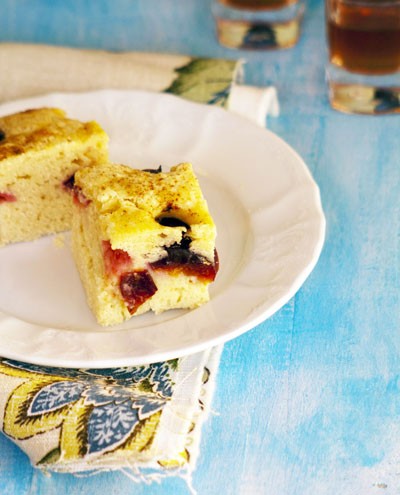 Simple and so inviting, plum cake is the perfect way to start and celebrate early autumn!
Ingredients
1 cup (110 g) all-purpose flour
1 tsp baking powder
pinch of salt
2 eggs
½ cup (100 g) sugar + 3 tbsp
1 tsp vanilla extract
¾ cup (160 ml) milk
lemon zest
3 tbsp melted butter
about 10 fresh plums
½ tsp cinnamon
½ tsp cardamom
Instructions
Mix eggs with sugar until fluffy. Add vanilla, milk, melted butter, lemon zest and spices. In the end, add flour combined with baking powder and salt.
Preheat oven to 374 F (190 Celsius).
Butter rectangular baking pan and pour the mixture. Wash plums, cut in half, remove pit. Assemble on top of the cake batter. Sprinkle with the remaining 3 tbsp of sugar.
Bake the cake for about 30 minutes (test with skewer). Let cool and cut in squares. You can dust it with some powdered sugar before serving.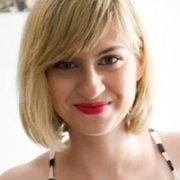 Tamara Novakoviç
Tamara Novakovic is a passionate self-taught cook, food blogger, freelance food writer and photographer behind bite-my-cake.blogspot.com. Her life journey has led her through Faculty of Humanities in Zagreb, Croatia to discovering passion for making cakes. She is currently a weekly food columnist for Croatian newspaper V magazine and food magazine Repete.