This French toast eases right in to summertime.
By Michelle Keith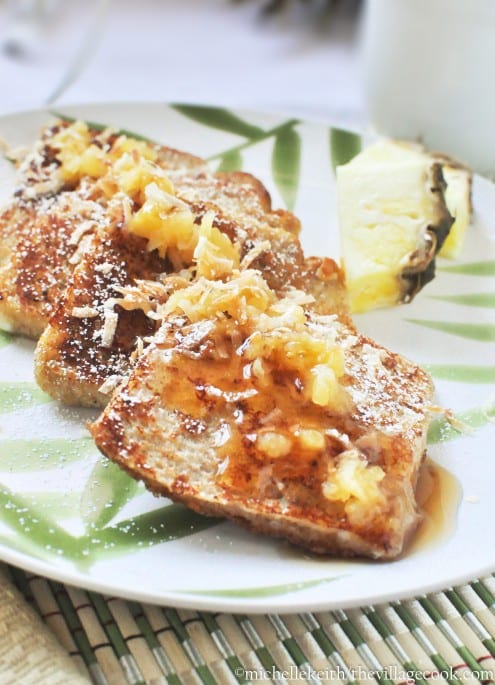 This is "adult" French toast. Mainly because there is a tad bit of dark rum in the "syrup". Pineapple and coconut need rum, though…. right? This French toast that has been bathed in coconut milk and pineapple juice and then slathered with a sweet rum an agave glaze.
Piña Colada French Toast
This French toast eases right in to summertime.
Ingredients
6 slices whole grain bread
1 egg
¼ cup coconut milk
1 teaspoon rum extract
3 tablespoons pineapple juice
2 tablespoons toasted coconut (garnish)
2 tablespoons crushed or chopped pineapple
For syrup:
¼ cup agave nectar
2 tablespoons dark rum
1 teaspoon coconut extract
Instructions
In a bowl, mix the coconut milk, pineapple juice, rum extract and egg.
Dip each slice of bread in mixture.
Cook on a hot skillet over med-high heat until golden and crisp on the outside.
Arrange on a plate and top with coconut and pineapple.
For the syrup:
Mix the agave nectar, rum and extract in a small container, and pour over toast as desired.