You'll never guess this is a vegan dish. With so many spices a soyrizo is tasty enough to compete with the real thing.
By Lauren Cosgrove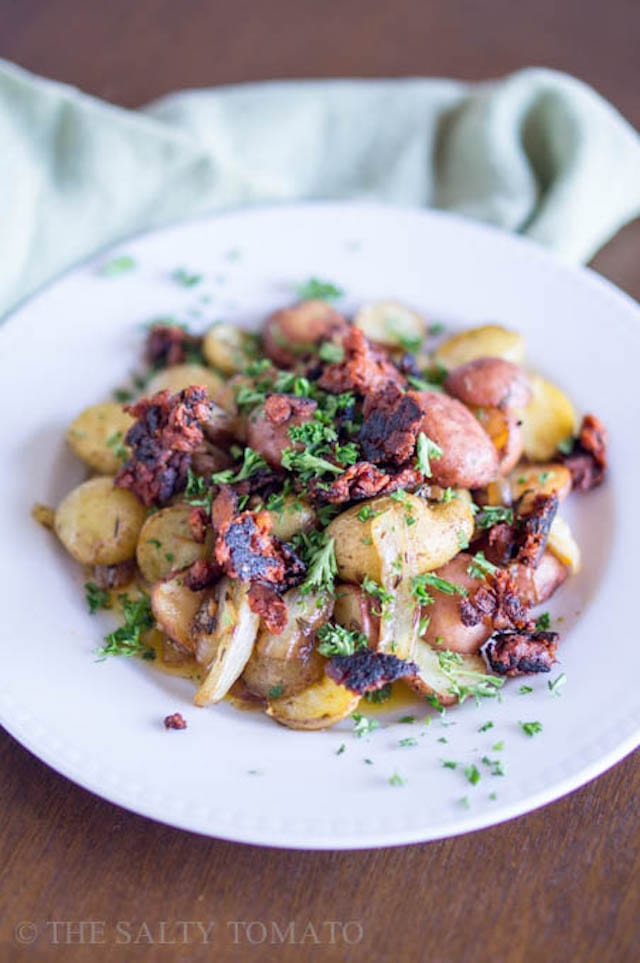 Soyrizo is a fantastic product. It was one of the first meatless meats that I tried and it hit the spot. Chorizo is naturally full of wonderful spicy flavors and substituting soy for pork is an easy translation to vegan sausage! I love savory breakfasts. I used to eat eggs and bacon like a champ before I became a flexitarian. This breakfast hits the spot when you are craving a spicy morning meal.
Another good option is to top this dish with a vegan egg. You will be saying "What? This is vegan?" Spicy, salty, crunchy, and full of Mexican flavors the Soyrizo pairs with paprika and thyme perfectly.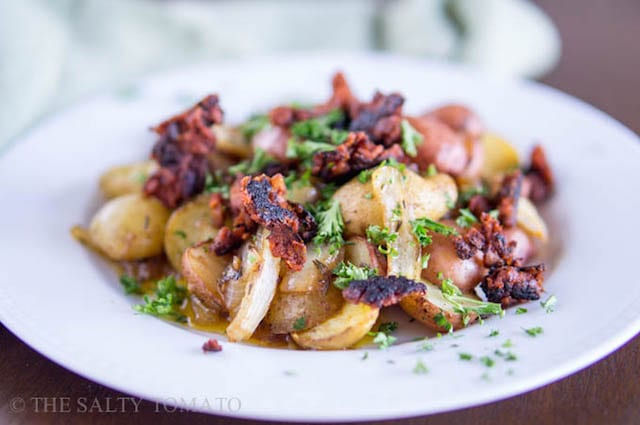 I have often dreamed of owning a vegan food truck. I think this recipe would be a staple on the future food truck menu. What do you think?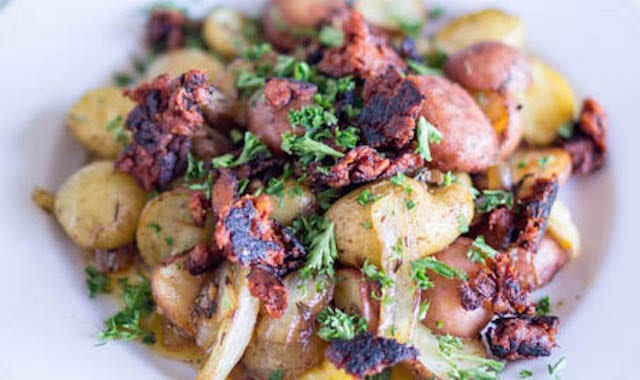 Paprika and Thyme Potatoes with Soyrizo
Lauren Cosgrove
Ingredients
4

cups

baby new potatoes

½

large yellow onion

1

teaspoon

salt

½

teaspoon

ground black pepper

½

teaspoon

paprika

½

teaspoon

dried thyme or 1 teaspoon fresh thyme leaves

4

tablespoons

olive oil

6

ounces

1/2 of a package Soyrizo vegan chorizo

2

tablespoon

chopped parsley

optional garnish
Instructions
Preheat oven to 375 degrees fahrenheit.

Cut baby new potatoes in half or into ½ inch pieces. Slice onion into 1 inch strips.

Place potatoes, onions, salt, pepper, paprika, thyme, and olive oil in a bowl. Toss to coat potatoes and onion with spices and oil.

Turn out potato mixture on a baking sheet. Roast for 30-40 minutes or until potatoes are golden brown and fork tender.

Soyrizo

While potatoes are roasting, pan fry Soyrizo in a non stick skillet over high heat breaking into small pieces and until desired crispiness. I cooked mine for about 10 minutes.

Once potatoes are complete, place on a plate, top with cooked Soyrizo and parsley.

Enjoy!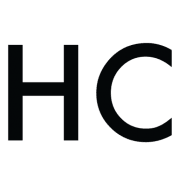 Lauren Cosgrave
Lauren is a flexitarian sailor navigating the kitchen and creator of the food blog "The Salty Tomato". A self-taught cook and bartender, her kitchen is almost completely vegan with an occasional animal product of the highest quality. She is passionate about food education and sharing new ways to cook with less animal products.