Copycat Milk Bar Cornflake Cookies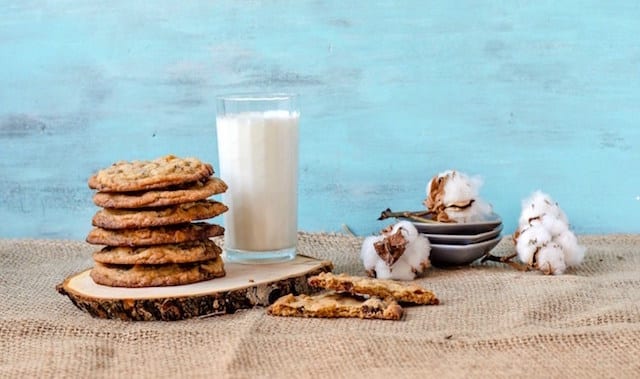 The thin, crispy, chewy Momofuku Milk Bar cornflake cookie is here. Try for yourself to see if it is as buttery and delicious as the original. We think so.The thin, crispy, chewy Momofuku Milk Bar cornflake cookie is here. Try for yourself to see if it is as buttery and delicious as the original. We think so.
By Oana Olguta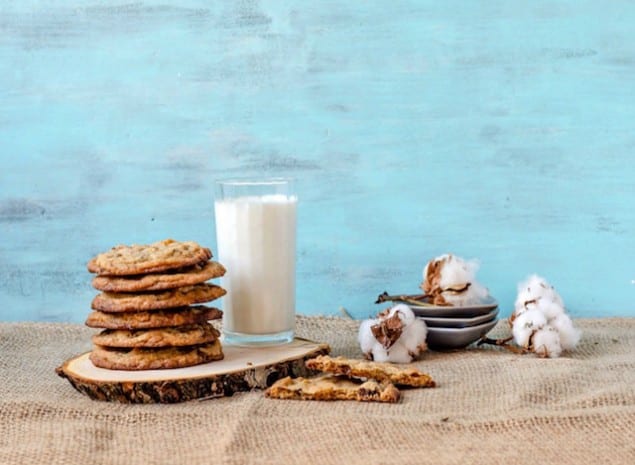 I'm in love with Momofuku Milk Bar recipes. Christina Tosi's recipes are interesting, complex, slightly quirky and they turn out perfect every single time, what's not to love?! And the outcome is delicious, looks amazing and taste just like I imagined they would be like. Ever since I made a Raspberry Lemonade Cake, inspired by the Momofuku cakes, I kept longing after a proper Momofuku dessert. I have pages and pages of tiny notes and recipes written in my recipe notebook and I couldn't wait for an occasion to bake something nice and gooey. And here it is – Momofuku Cornflake Cookies.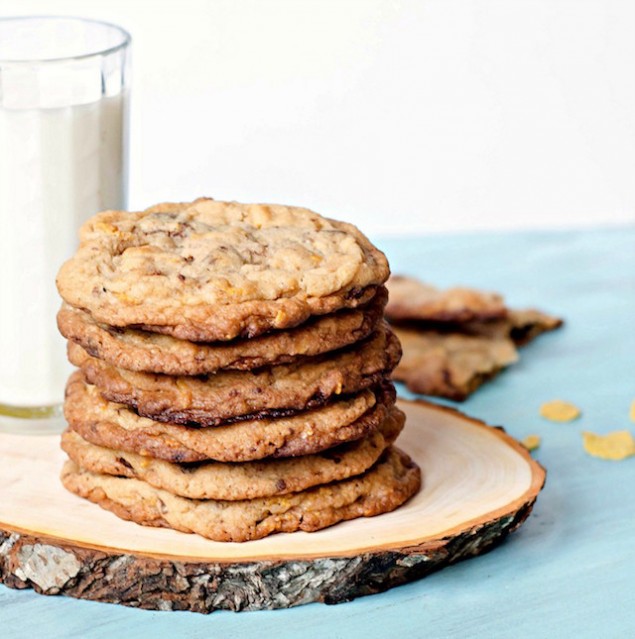 These Momofuku cornflake cookies are everything I ever wanted from a cookie – thin, crisp, buttery, slightly chewy, candy-like, packed with goodies and melt-in-you-mouth, while still textured. The recipe calls for cornflakes, chocolate chips and mini marshmallows so you can imagine that they taste amazing. They're a real treat for your sweet tooth, that's for sure! I skipped adding mini marshmallows though, because a certain tiny human has eaten them all. They were delicious anyway! Oh did I mention that they are giant?! Yes, they are huge, one is enough for one person and all it needs is a glass of milk to become the perfect little treat when you need comfort food or just an energy boost.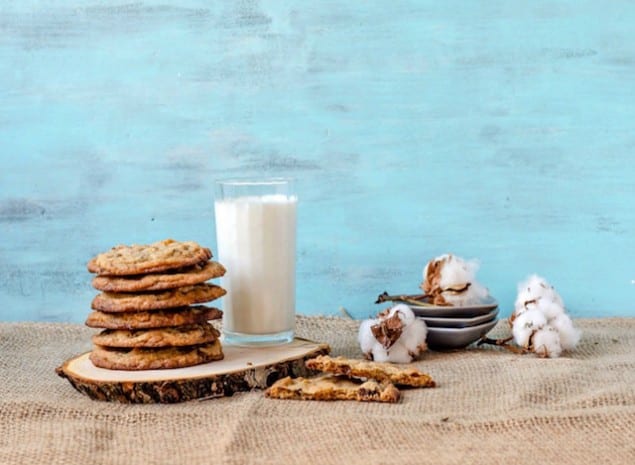 Copycat Milk Bar Cornflake Cookies
The thin, crispy, chewy Momofuku Milk Bar cornflake cookie is here. Try for yourself to see if it is as buttery and delicious as the original. We think so.
Ingredients
Cornflake Crunch:
120

g

4.2 ounces cornflakes

25

g

0.89 ounces milk powder

25

g

0.89 ounces white sugar

¼

teaspoon

salt

80

g

2.8 ounces butter, melted
Cornflake Cookies:
225

g

8 ounces butter, softened

200

g

7 ounces white sugar

150

g

5.3 ounces light brown sugar

1

egg

1

teaspoon

vanilla extract

240

g

8.4 ounces all-purpose flour

½

teaspoon

baking powder

½

teaspoon

baking soda

½

teaspoon

salt

1

portion cornflake crunch

100

g

3.5 ounces mini chocolate chips

50

g

1.7 ounces mini marshmallows
Instructions
Cornflake crunch:
Crush the cornflakes slightly.

Mix the dry ingredients in a bowl. Drizzle in the melted butter and mix well.

Spread the mixture in a baking tray lined with parchment paper and bake in the preheated oven at 350F for 15-20 minutes or until fragrant, slightly golden brown and crunchy. Allow to cool completely.
Cornflake cookies:
Combine the butter and sugars in a bowl and mix with an electric mixer for 2 minutes until pale and creamy.

Add the egg and vanilla and mix well for 7-8 minutes on high speed until fluffy and pale.

Add the flour, baking powder, baking soda and salt and mix just until combined then, using a spatula, fold in the cornflake crunch, chocolate chips and marshmallows.

Using an ice cream scoop, drop spoonfuls of batter on a baking tray lined with baking paper. Allow enough space between the cookies as they will spread quite a lot. Wrap the baking pan in plastic wrap and place in the freezer for 1 hour, up to 1 week.

Remove from the freezer when ready and bake in the preheated oven at 350F for 10-15 minutes or until they're thin, golden brown on the edges and center and the edges are crisp.

Allow them to cool in the pan before serving. While hot, they are soft and might not hold their shape, but once cooled, they can easily be handled.

Store them in an airtight container for up to 5 days or freeze them for up to 1 month.
Oana Olguta
I am a self-taught baker and pastry-school graduate and I have an affinity for food. But I especially love baking, taking pictures, exploring dessert cookbooks, entremets and writing. I focus on creative desserts and baking techniques that are aimed to both novices and experts in the kitchen and I truly believe that being a pastry chef is not about looking for innovative ways of making desserts, but about learning the basic techniques and then combining them into new, original desserts, relying on textures and flavors.