Turkey, Bacon, and Pear Winter Sandwich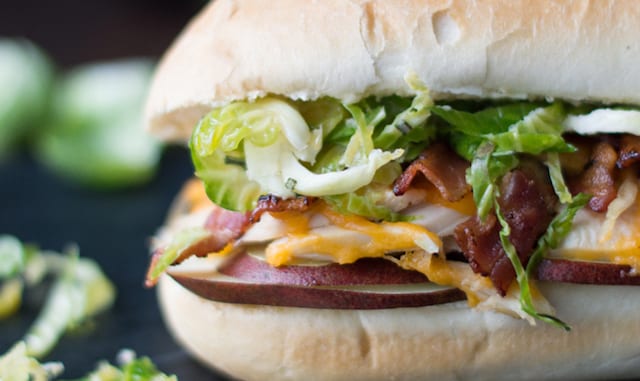 With crispy bacon, leftover turkey, sweet pears, pickled brussels sprouts, and a sprinkling of cheddar cheese, this winter sandwich is anything but ordinary. Try it on game day.
By Keith Jackie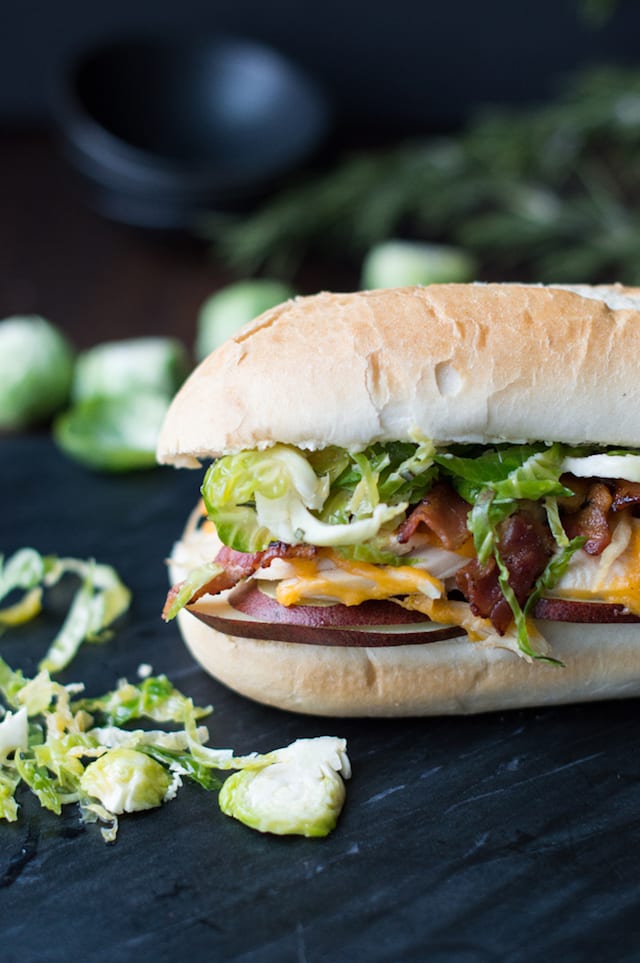 This sandwich gives new life to leftovers. Our hoagie starts with the basics: a good French baguette and roasted turkey. We love just a little bit of acidity and crunch in our sandwiches, so Keith pickled our leftover brussels sprouts. Then he added sweet pears, crispy bacon, and a bit of cheddar cheese. Keith swears by Bell's Turkey Seasoning; it was what his mother always used to prepare her holiday turkey. Therefore no turkey goes without it in our house (I am also quite partial to its flavor and its old-fashioned package design). Keith topped our holiday hoagie with a dollop of turkey-seasoned mayo.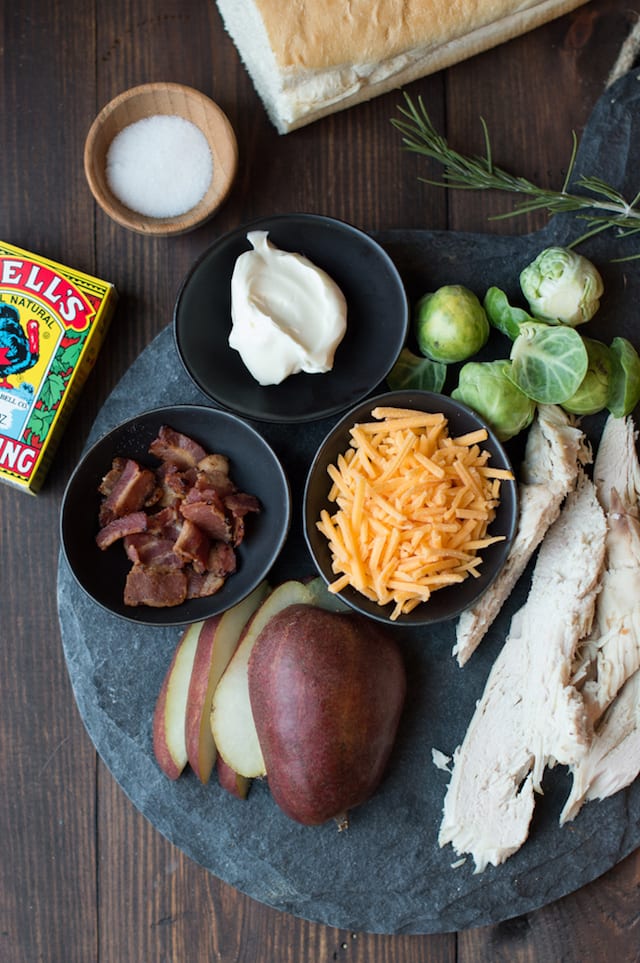 As we gear up for a game day, this hoagie makes for a delicious and simple meal. It looks like your run of the mill sandwich, but it packs some seriously complex flavors that will light up any football fan's face.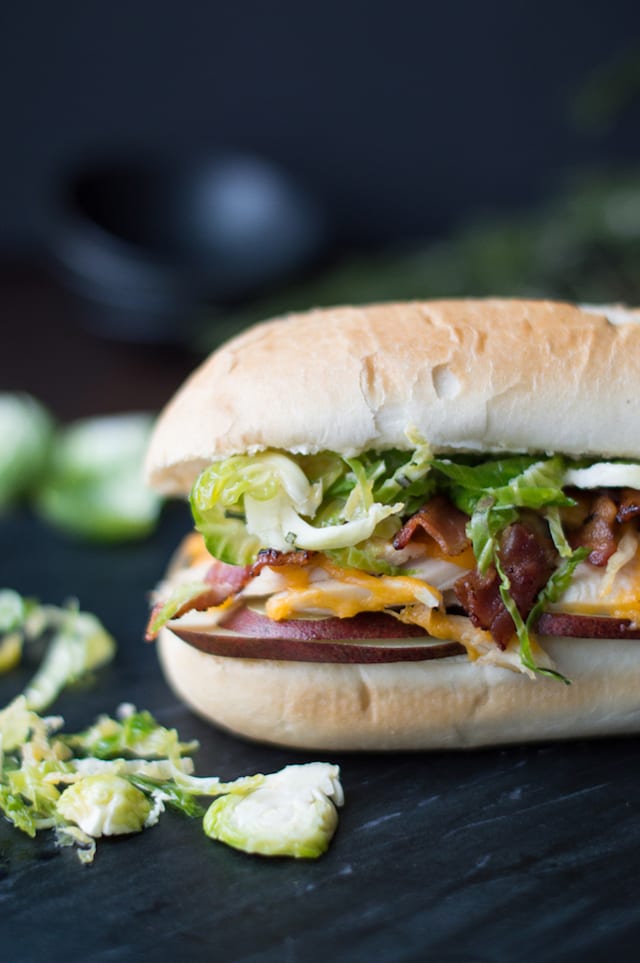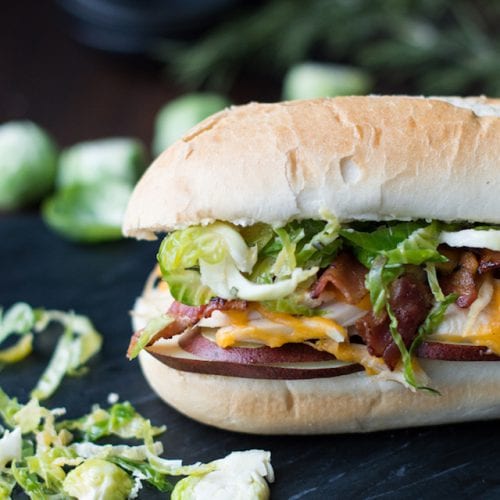 Turkey, Bacon, and Pear Winter Sandwich
Keith Jackie
With crispy bacon, leftover turkey, sweet pears, pickled brussels sprouts, and a sprinkling of cheddar cheese, this winter sandwich is anything but ordinary. Try it on game day.
Ingredients
8

ounce

fresh turkey breast

we used leftover turkey

2-6

inch

french baguettes

6

ounces

fresh brussel sprouts

shredded

3

Tbsp

mayo

2

Tbsp

cider vinegar

2

slices

cooked bacon

1

red pear

½

cup

shredded sharp cheddar cheese

1½

tsp

Bell's Poultry seasoning

1

Tbsp

Butter

2

tsp

white sugar

1

tsp

celery seed

½

tsp

black pepper
Instructions
Start by placing vinegar, sugar, pepper and celery seed in a medium mixing bowl and mix until sugar is dissolved.

Add brussel sprouts and mix. Allow to sit for a minimum of 15 minutes.

On an oven-safe pan, place turkey in a single layer and top with cheddar cheese, then top with chopped bacon.

Place under broiler to melt cheese.

To prepare sandwich start by spreading butter on sliced baguette and grill (flat side down) in sauté pan until browned.

Top bottom of bread with pears sliced into ? in slices.

Top with ½ turkey, bacon and cheese from broiler.

Drain sprouts and top turkey with half of sprouts.

Finish off with mayo spread made by combining bells poultry seasoning mixed with mayo.
Keith Jackie
We met on a warm summer evening. His square jaw and engaging smile reminded me a bit of Clark Kent. We share a passion for life: music, baseball, and especially food. He makes me feel like I can fly. Welcome to our exploration of food, recipes and ideas that celebrates our life together. He creates the recipes and prepares the food, and I am the documentarian. My superman can cook! Check out our site, Superman Cooks.