This panna cotta from Tamara Novacoviç is the perfect summer dessert, delicious light and refreshing.
By Tamara Novacoviç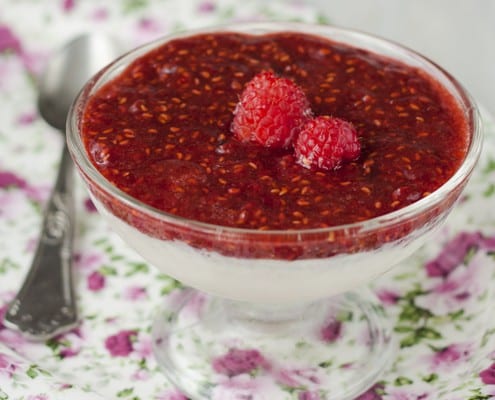 This is such a simple Italian dessert, consisting of cream, milk, vanilla, sugar and gelatine. It is often served with (fruit) sauce. This one is made by cooking raspberries with sugar, almost to a jam consistency. You can make it as thick as you like. It's a great combination.
Panna cotta with raspberries
This is the perfect summer dessert, light and refreshing!
Ingredients
Panna cotta
1 cup (250 ml) heavy cream
1 cup (250 ml) milk
seeds from 1 vanilla pod
0.3 oz (10 g) powdered gelatin
2.1 oz (60 g) sugar
Raspberry sauce
10.5 oz (300 g) raspberries
5.2 oz (150 g) sugar
Instructions
Make panna cotta: combine cream with milk, vanilla and sugar, bring to boil. Remove from heat. Prepare gelatin according to package instructions and dissolve in milk and cream mixture. Pour into serving glasses, let cool to room temperature and put in fridge until it thickens and becomes pudding-like consistency.
Prepare raspberry sauce: combine raspberries with sugar and cook until it thickens into a sauce. Let cool slightly and pour over cold panna cotta.
Serve cold.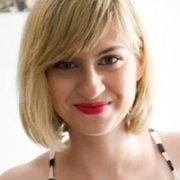 Tamara Novakoviç
Tamara Novakovic is a passionate self-taught cook, food blogger, freelance food writer and photographer behind bite-my-cake.blogspot.com. Her life journey has led her through Faculty of Humanities in Zagreb, Croatia to discovering passion for making cakes. She is currently a weekly food columnist for Croatian newspaper V magazine and food magazine Repete.