These Paleo Chocolate Truffles are a sweet, guilt-free treat that anyone would love. They've got a soft, creamy center and have a crisp chocolate coating.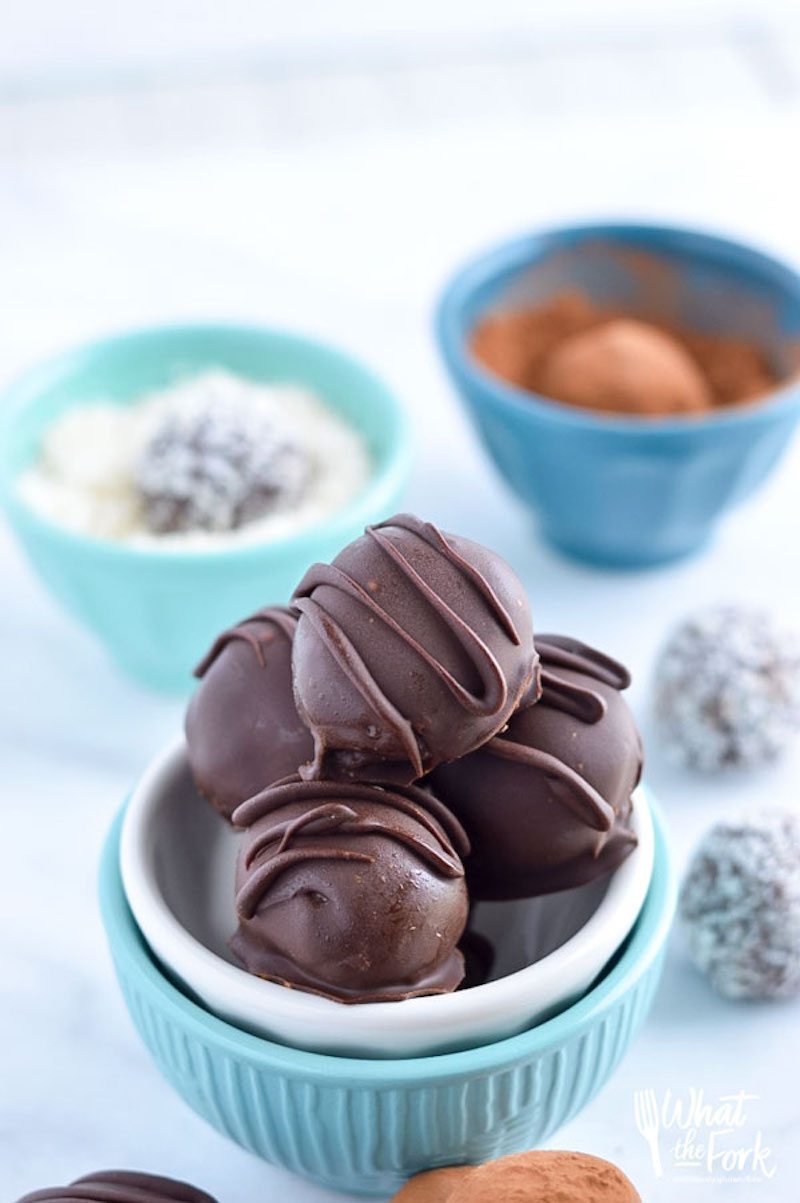 These Paleo chocolate truffles are basically my paleo hot fudge sauce turned into a portable and bite-sized chocolate treat. You know when you've got a craving for chocolate but you only want a bite? And you're searching your kitchen but there just isn't anything you really want? Not chocolate chips, not cookies, or a cupcake…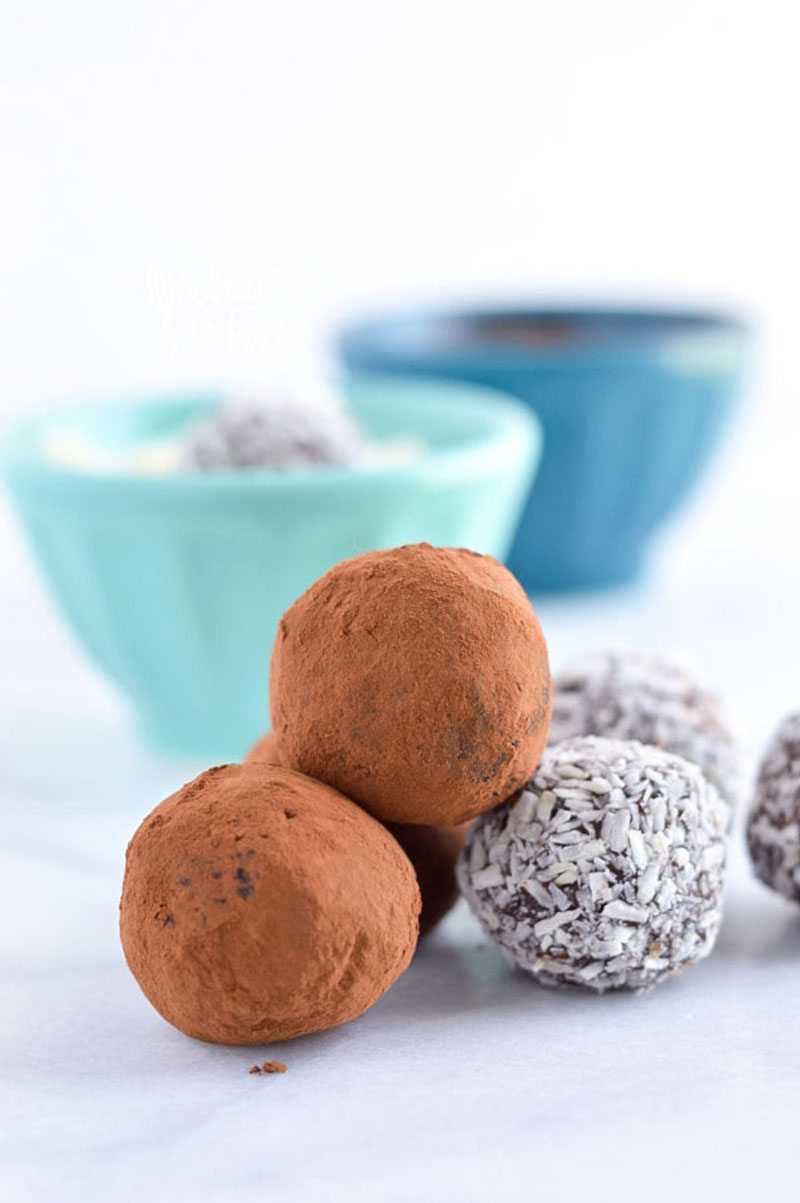 You don't really know what chocolate you want, you just need something. Then you open your refrigerator and there hiding in the back is a jar of hot fudge sauce. And you think, "brilliant, that's just what I need." Not hot, not melted and liquidy – you want it straight from the jar with a spoon. It's thick, creamy, and just chocolatey enough without being too sweet. It's perfect.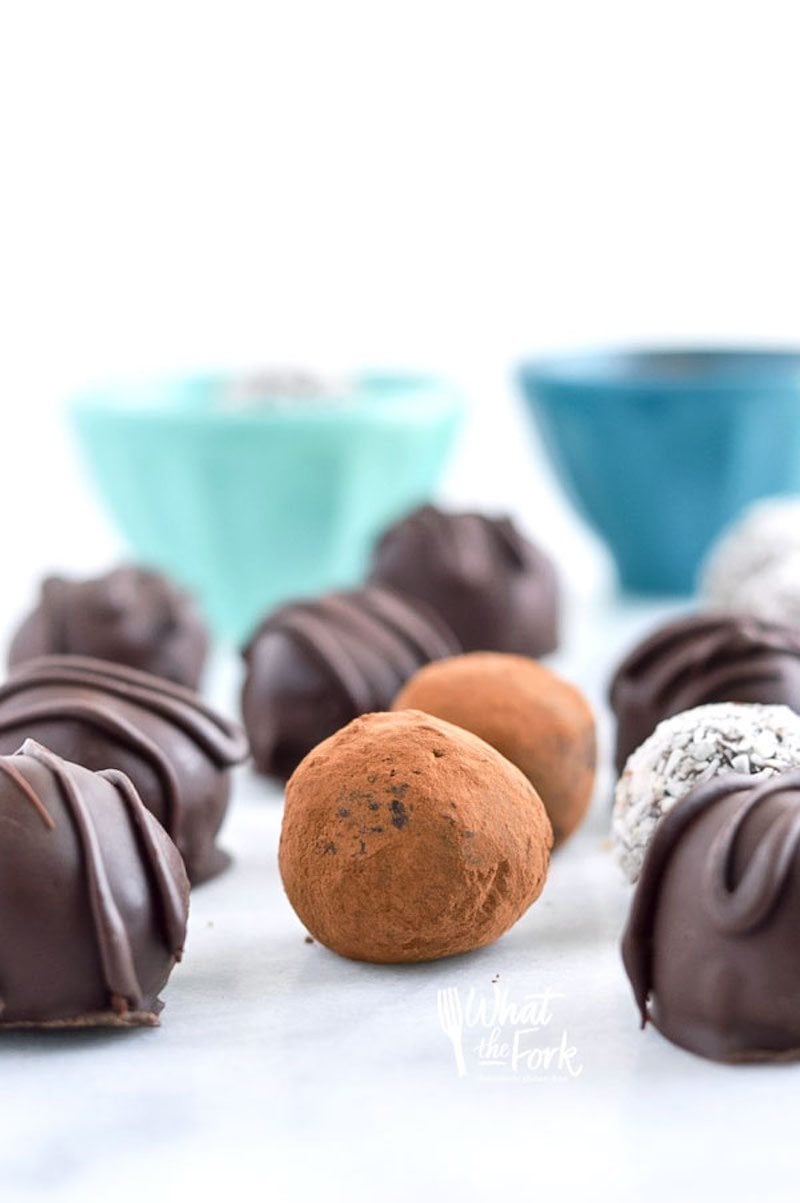 And that is how these truffles came to be. As I took that little bite I thought, this has the same consistency as chocolate truffles before they're rolled into balls! So I scooped out some more (with a clean spoon, of course), rolled them, and then coated them in coconut. I left one out at room temp and then I refrigerated the other. I wanted to see what would happen if I left one of these paleo chocolate truffles at room temperature. Would it hold it's shape? Would it melt? Would this even work?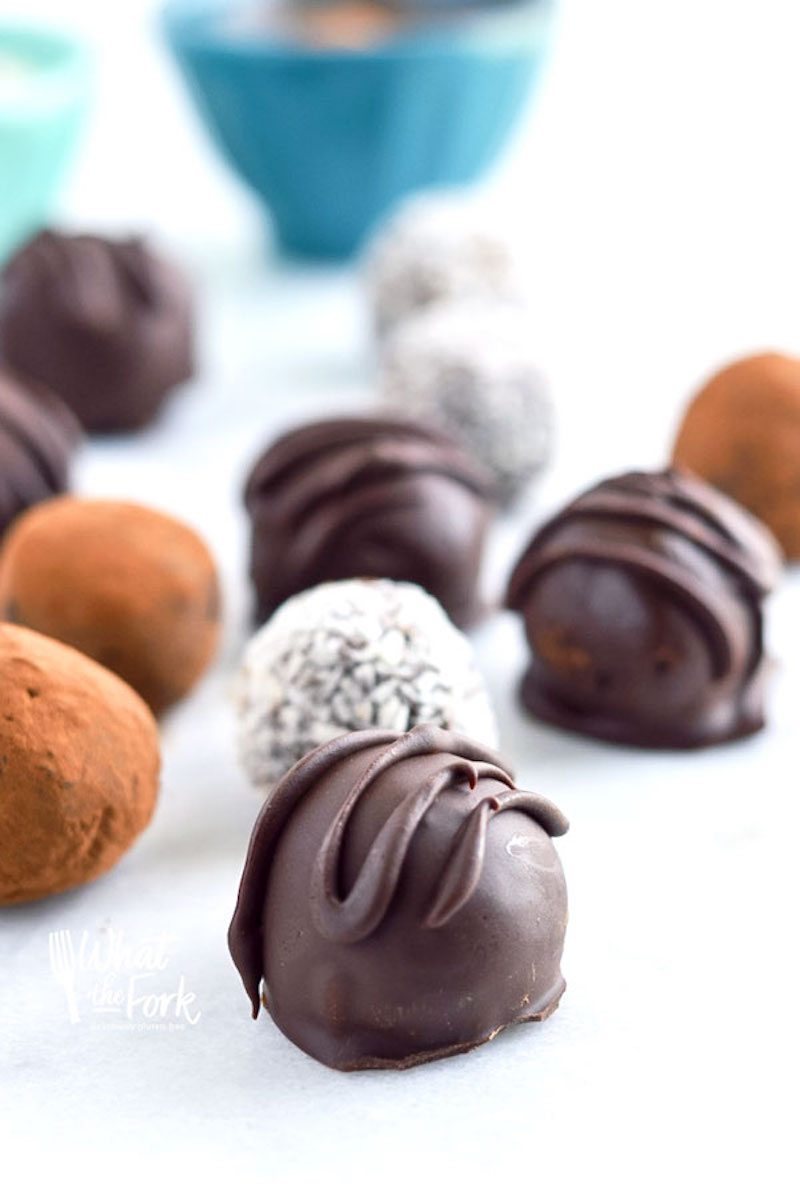 As you've probably already guessed, it worked! It held it's shape but it had the most delicious melt-in-your-mouth texture. I've made a few more batches since that original test and they're just as good every single time. This time, I decided to coat some of the truffles in a chocolate coating to make them a little extra special. The crisp chocolate coating with the smooth, creamy interior is like a little bite of heaven. They're seriously amazing. If you don't want to go through the trouble of coating the truffles in chocolate, you can always go the traditional route and roll them in cocoa/cacao powder or unsweetened shredded coconut.
Print

---
For the Truffles:
2

C Paleo friendly chocolate chips (I use Enjoy Life Mini Chips)

1

C full-fat coconut milk (canned)

2 Tbsp

ghee*

1/4

C coconut palm sugar (or maple sugar)

1 tsp

vanilla extract
For the Coating:
1

and ½ cups Paleo friendly chocolate chips

2 tsp

coconut oil
unsweetened coconut (optional)
cocoa/cacao powder (optional)
---
Instructions
To prepare the truffles:
Add the chocolate chips, coconut milk, ghee, and sugar to a medium pot. Heat on low heat, stirring frequently, until the chocolate has completely melted.
Once the mixture is melted and smooth, remove from heat and stir in the vanilla extract. Pour into a glass bowl or glass 8×8 pan. Cool to room temperature and then refrigerate until completely chilled, about 2 hours.
Once the chocolate is chilled, scoop into 1 tablespoon balls an place on a wax paper lined baking sheet. Repeat for the remaining chocolate, it'll be about 20-24 truffles depending on size.
Freeze truffles for 30 minutes and then shape the truffles into round balls. Place in the freezer while preparing the coating.
To make the chocolate coating:
Add the 1 1/2 cups chocolate chips and 2 tsp coconut oil to a microwave safe bowl. Melt at 50% power for 1 minute. Stir well then continue to heat at 50% power for 20 second intervals until the chocolate is melted and smooth.
Dip the truffles into the chocolate, one at a time, and then place back on the wax paper lined baking sheet. Dip all the truffles then refrigerate until hardened. Store truffles in an air-tight container in the refrigerator. Bring to room temperature before serving.
You can also roll the truffles in unsweetened cocoa/cacao powder or unsweetened coconut instead of dipping in chocolate.
Recipe Notes
*Coconut oil can be used in place of the ghee for a dairy free version.
Sharon Lachendro
New Englander born and raised. I'm the wife of a gluten-sensitive sweets and carb lover and mother to two beautiful girls. I'm the author of What The Fork Food Blog, home of easy gluten-free recipes that can easily be adapted for gluten-eaters. I love, love, love vanilla, Julia Child quotes and coffee. Lots and lots of coffee.