PARTNER POST — The holiday season is here and it is time to add some Italian flair to your menu with authentic ingredients from Colavita and Perugina's rich Italian chocolate.
A vegan sunchoke and artichoke mushroom pasta and decadent chocolate hazelnut tart are deceptively easy and delicious. Perfect dishes for all your holiday eaters.
By Sylvia Fountaine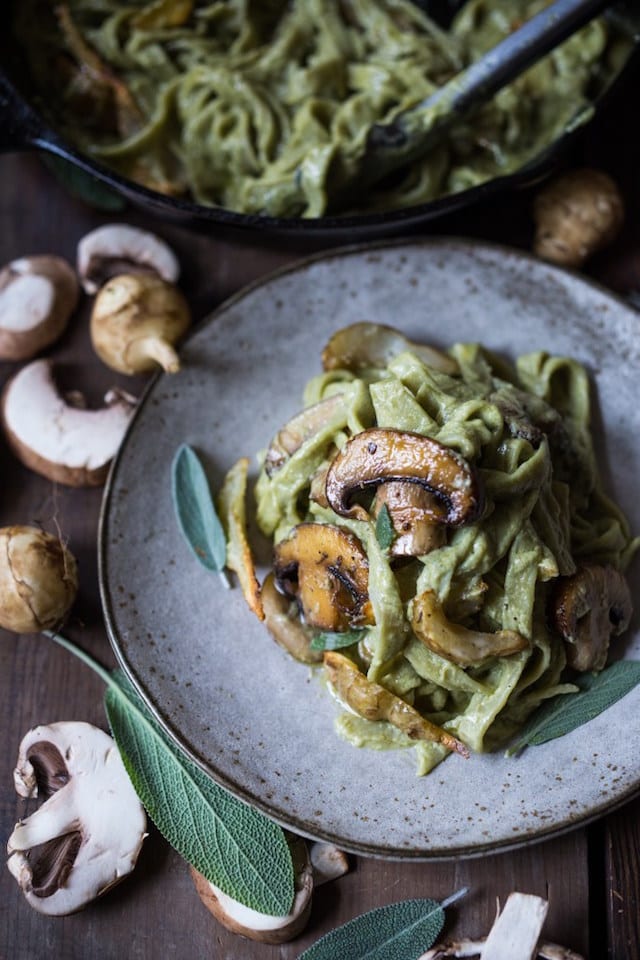 This creamy, decadent-looking Tagliatelle Pasta with Sunchokes, Mushrooms and Artichoke Sage Sauce aka Magic Sauce. The reason I call it Magic Sauce is because this sauce can literally be made in one minute flat, and it's rich and creamy while being totally butter and cream free. Completely vegan. It also goes great with pretty much everything. Spooned over chicken or fish, or over mushroom ravioli, cannelloni or lasagna, or stirred into risotto – its uses are endless and it's one of those sauces that can be made with pantry ingredients. Now I realize fresh artichokes are not in season in the fall, but these are the marinated kind that come in a jar, available year-round – and the nice folks over at Colavita provided me with these along with some of their other delicious products to help create an Italian-inspired holiday meal. I wanted to create something decadent, yet healthy and vegan.
Sunchokes, if unfamiliar, are first and foremost delicious- nutty and creamy, they taste a bit like artichoke hearts, but are totally unrelated. They are actually a tuber from a type of perennial sunflower. If you've never tried them, here's your chance to give them a shot. (If you can't track them down, that's OK, just use extra mushrooms. )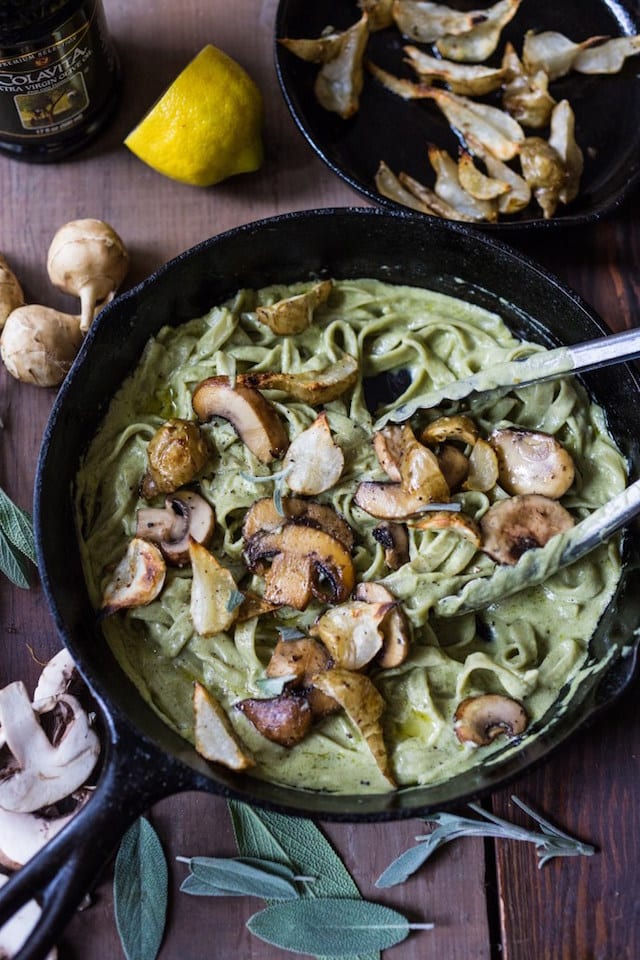 Italian Holiday Table: Mushroom and Sunchoke Pasta with Artichoke Sage Sauce
Cuisine:
Vegan, Italian-Inspired
Ingredients
8 ounces sunchokes ( optional- you can leave these out, or sub with more mushrooms)
2 tsp Colavita olive oil
salt pepper
8 ounces sliced mushrooms- cremini, shittake, porto's, chanterelles
2 tsp Colavita olive oil
salt , pepper
8 ounces Colavita dry pasta- tagliatelle, fettuccine, linguine
Artichoke Sauce:
1 small jar Colavita artichoke hearts ( 10-12 ounces ...about 1 ½ cups)
½ C water
¼ C Colavita olive oil
10 fresh sage leaves
2-3 garlic cloves
½ tsp salt
cracked pepper
Garnishes- grated Pecorino, truffle oil ( both optional)
Instructions
Preheat oven to 400F.
Wash (or scrub if necessary) and pat dry sunchokes. Don't bother peeling. Quarter them and toss in a bowl with oil, salt and pepper. Place on a parchment linked baking sheet in the oven and roast for 20 minutes.
Bring big pot of generously salted water to a boil ( for the pasta). Cook pasta to al dente.
While water is boiling, In a large skillet, saute mushrooms over medium heat in a little olive oil. Season with salt and pepper.
Make the Artichoke Sauce:
Drain the artichoke hearts ( saving the oil) and place them In a blender ( don't use a food processor). If using artichoke hearts packed in water, drain and discard the water. To the blender add the olive oil ( you can use the oil the artichokes were packed in, or add new olive oil), water, sage, garlic, salt and pepper. Blend until creamy and very very smooth. This is your sauce. Set is aside.
Add the cooked, drained pasta ( do not rinse) to the cooked mushrooms in the saute pan. Toss with the artichoke sauce and heat up, gently stirring. Taste for salt. Add the roasted sunchokes ( optional).
Notes
Note: if your sunchokes are not golden, but they are tender in the middle, quickly broil them for few minutes to give them a bit of color.
To garnish, you could drizzle a little truffle oil over top and dust some finely grated Parmesan.---or keep it vegan, up to you.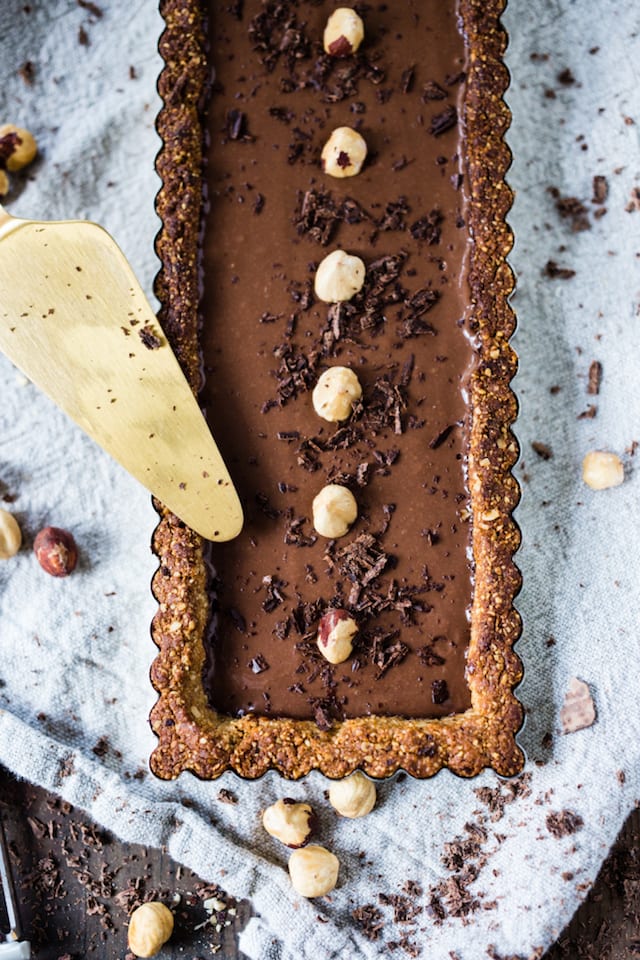 This decadent Hazelnut Chocolate Truffle Tart is also vegan and gluten-free. It's delicious –and even if you are not vegan or gluten-free, it is still worthy of making. The hazelnut crust is fortified with oats and stays crispy even after a couple of days in the fridge, while the silky filling is creamy and chocolatey. Together it is divine.
I purposely chose to do two vegan holiday recipes, because sometimes I feel like vegans get a little ripped off during the holidays. With all the meat and butter and cream already out there everywhere, I wanted to share a couple of healthier options.
See Also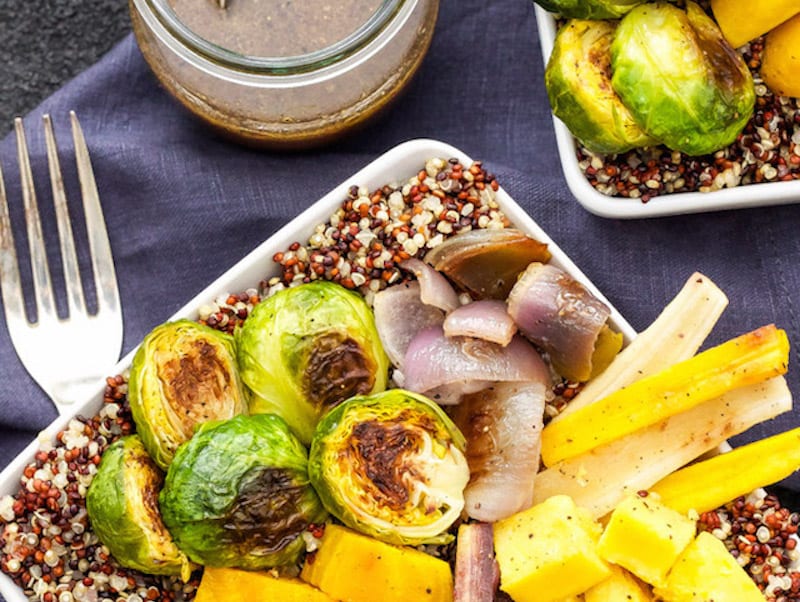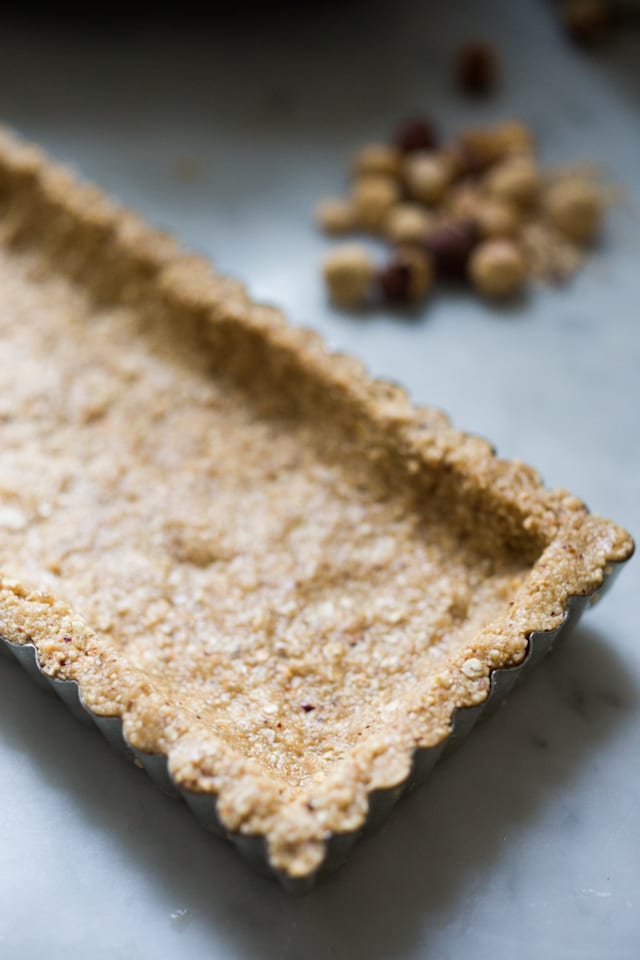 The recipe starts with a good quality Perugina chocolate. The crust comes together easily with hazelnuts, oats and coconut oil.
Once the chocolate center is set it will be the perfect texture. Silky, smooth and deceptively decadent.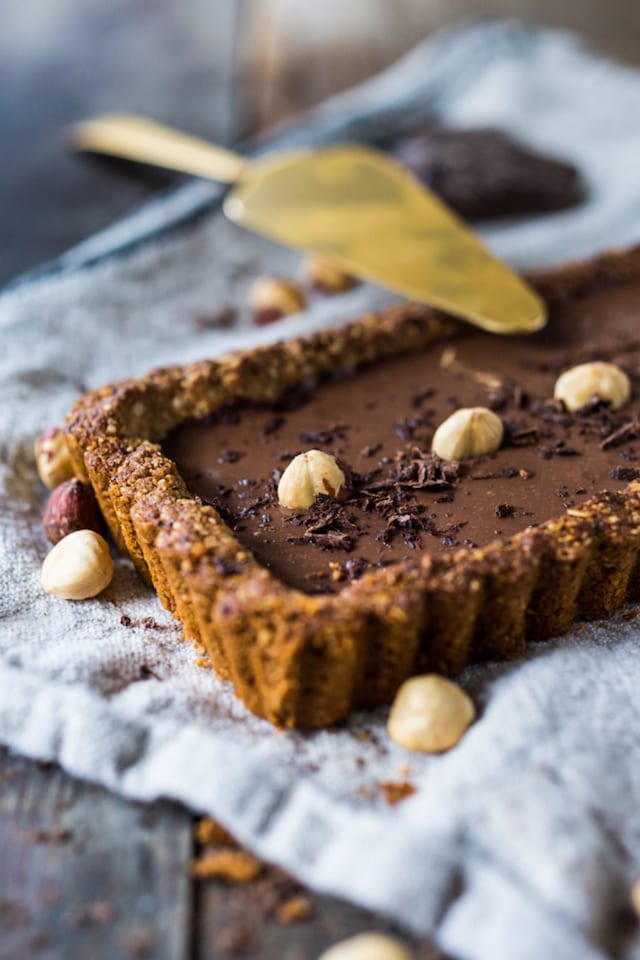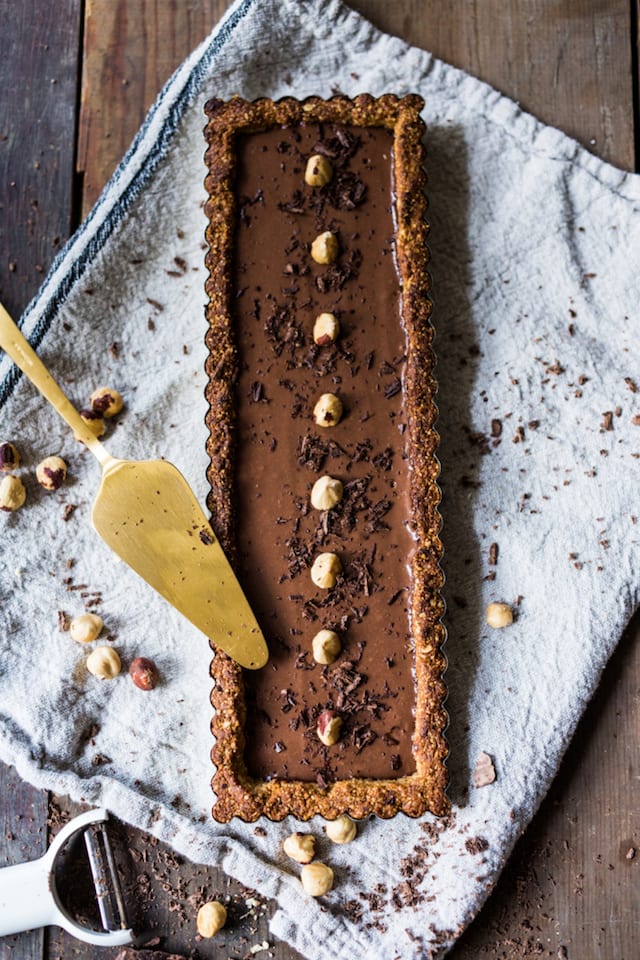 Italian Holiday Table: Hazelnut Chocolate Truffle Tart
Cuisine:
Vegan, Gluten Free
Ingredients
Hazelnut Crust
1 cup hazelnuts
1¼ cups quick oats
¼ teaspoon salt
⅓ cup coconut oil- melted ( or butter)
2 Tablespoons maple syrup, rice syrup or honey
Filling
3.5 ounces chocolate ( 65% cocoa or less)
¼ c water
½ block silken tofu ( firm or extra firm)
1 tablespoon maple syrup
1-2 teaspoons kahlua ( optional)
1 teaspoon vanilla
Garnish with ....shaved chocolate, toasted hazelnuts
Instructions
Pre heat oven to 350 F
In a food processor, place hazelnuts, oats and salt and process until it's course sand-like in consistency. It doesn't have to be super fine.
Add in the melted coconut oil and maple syrup, and pulse several times until it is incorporated.
Using fingers, press mixture into a 4" x 13.5" tart pan or 7-8 inch round( with removable bottom) taking your time to press into every nook and cranny. It should be ? inch thick and
make sure to clean up edges, with uniform thickness. Pierce the bottom with a fork, and place in the middle of the oven 15 minutes. Check after ten minutes and if edges seem like they are getting too dark, lightly cover them with foil. You do want this to get very golden, to ensure the crust is crispy, so keep in the oven the entire time, just lightly cover if necessary.
While the tart shell is baking, make the filling.
In a small heavy bottom pot ( or double boiler, or microwave) heat the chocolate and water over medium heat and whisk until very smooth.
Rinse out the food processor and puree the silken tofu with the maple, vanilla and kahlua until very smooth, scraping down the sides. And the melted chocolate and process until smooth and creamy.
Set aside.
Remove tart shell from the oven, let cool 15 minutes, fill with chocolate mixture, smoothing the top with a spatula.
Top with hazelnuts and using a vegetable peeler shave dark chocolate over top.
Refrigerate 2 hours or overnight.
Crust will surprisingly remain crisp.
Sylvia Fountaine
Caterer and chef of Feast Catering Co., my blog Feasting at Home is where I share wholesome, seasonal recipes we cook at home.