Mexico On My Plate: Spicy Fresh Fruit Cocktail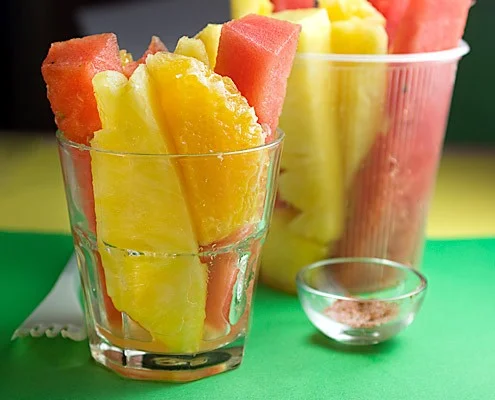 With warmer weather arriving in the northern hemisphere, Nancy Lopez-McHugh decides to freshen up with a spicy fruit cocktail.
Text And Photo By Nancy Lopez-McHugh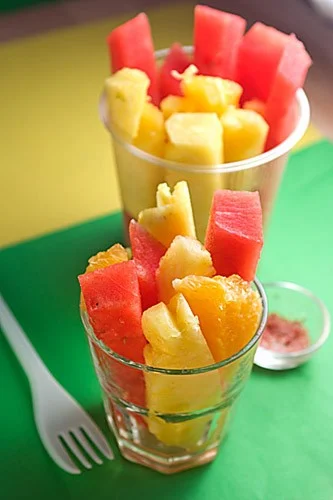 Hurray, for warmer weather is upon us! Warmer weather makes me crave healthier, lighter foods. After all the heavy and fatty wintery foods both my waistline and palette are ready for a change. My warm weather cravings are topped by salads and fresh seasonal fruits. Fresh fruits and vegetables are not only light and healthy but also a good way of staying hydrated. The water content of fruits and vegetables is high so that means your body is hydrating with every serving. Plus the fiber content means that they will keep you feeling full and help in maintaining a healthier waistline.
One of my favorite warm weather treats is a coctel de frutas, or fruit cocktail. But it's not just an ordinary mix of fresh fruits, it's a mix of  exotic Mexican fresh fruits and vegetables. Wait it gets better, it also has a little kick to it! Yes, you heard right, it's spicy. A coctel consist of a mix of fresh fruits, drizzled with fresh squeezed lime juice, then sprinkled with ground chile powder and salt. The combination of the natural sweetness from the fruits mixed with the slightly tartness of the lime and spiciness, is just heavenly! I know many of you may be thinking, "What, chile with fruits?" All I can say is don't judge before you try it. You simple just have to taste it for yourself and you will be hooked. Trust me.
Coctel de frutas hold a special place in my heart. They bring back memories of my childhood summers in Mexico. We would walk into the town center and look for the vendors selling the cocteles de fruta. My mouth salivating just waiting to take the first crunchy bite of the jicama sprinkled with the chile. The burst of sweet, tart and then in the back of my mouth the spiciness. Then once all the fruit was gone gulping down the fruit juice at the bottom of the cup, Pure heaven I tell you!
What is so great about this treat is that it can be eaten as a snack, lunch or even dessert. In addition it can really be made with any fruit combinations you like. Some of the fruits commonly used are jicama, cucumbers, pineapple, watermelon, oranges, mango, melon, and the list goes on. Have fun and be creative try different mixes or just pick one fruit drizzled with fresh squeezed lime juice, then sprinkled with ground chile powder and salt. Enjoy or Buen Provecho!

Mexico On My Plate : Spicy Fresh Fruit Cocktail
A refreshing and spicy Mexican treat. Perfect for those warm summer days.
Author:
Nancy Lopez-McHugh
Recipe Type:
Snack, Dessert
Ingredients
fresh fruit such as jicama, cucumbers, pineapple, watermelon, oranges, mango and/or melon
ground chile powder
salt
fresh squeezed lime juice
Instructions
Peel and cut the fruits into large pieces or chunks. Arrange in a large, tall glass or in a bowl. Pour the fresh squeezed lime juice over the fruits. Sprinkle the ground chile and salt over the fruit. Serve straight away.
Notes
The amounts are up to the individual tastes. As as much or as little as you like.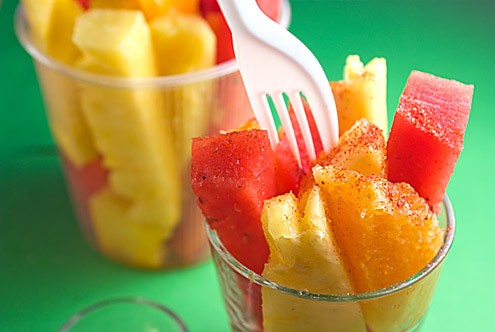 Nancy Lopez-McHugh
Nancy Lopez-McHugh is a food blogger, photographer and published author. Most recently she has published "Yummy Pics: A Food Blogger's Guide To Better Photos".