Mexico On My Plate: Candied Pumpkin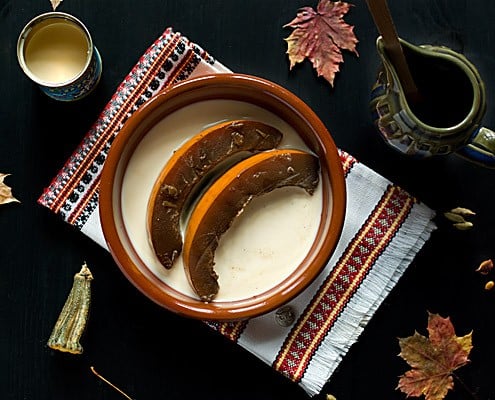 Celebrate Dia de los Muertos or Autumn with this sweet pumpkin dessert.
By Nancy Lopez-McHugh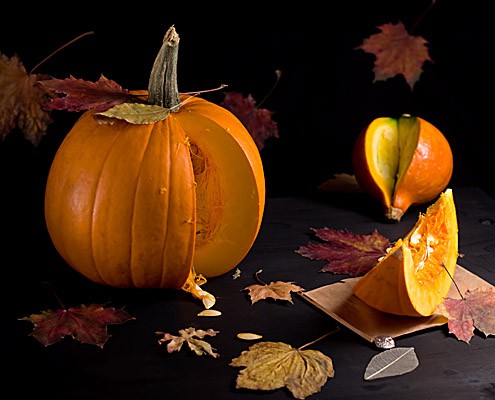 Calabaza en tacha or candied pumpkin is a traditional food served for el Dia de Los Muertos, or the Day of the Dead. El Dia de Los Muertos is a Mexican holiday that is meant to honor and remember loved ones no longer on this earth. This important Mexican holiday has it's roots in Aztec culture and is celebrated on November 1st and 2nd every year.
The rituals or celebrations may differ from one place to another and known by different names but this holiday is celebrated in many places around the world. Such as other parts of both North and Latin America, and some European countries. While some may find that a day of celebrating death may not only sound strange but also macabre, that is not the meaning of this holiday. This is a time for celebrating the life of those loved ones we have lost, to remember and share the good the person, or people, brought to our world.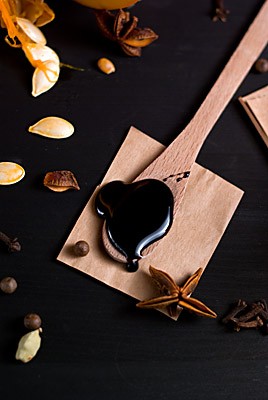 The traditions call for visiting the graves of the loved ones lost, to go be with them. It calls for decorating their tombstones with orange marigold flowers, special family mementos, perhaps even a little tequila. Families will also build altars to the deceased in their homes or even gravesite. These are called ofrendas or literally offerings. The altars will have the deceased's favorite foods, music, photographs, toys, drinks, breads, sweets, sugar sculls or any other things that the person loved when they inhabited the earth. All of this is done as a way of luring the spirits to come home for a visit. It is believed that the souls return every year to make sure that they have not been forgotten and to see that their family is well.
One of the foods enjoyed or served in Mexico during this time is candied pumpkin or Calabaza en Tacha. I have to be honest with you, this is the first time I've ever made this treat. Unfortunately I have no memory of my mami making it for us, but I could be wrong. Either way it was an experience I truly enjoyed as it made me feel connected to my family on the other side of the world. Me being me, I simple couldn't stick to any of the traditional recipes I came across. As is typical for me I experimented with the spices and ingredients. The main difference in my recipe is the amount of sugar, I do not like things to be overly sweet. So here is my non-traditional Calabaza en Tacha and I hope you really enjoy it.
Mexico On My Plate : Candied Pumpkin
Celebrate Dia de los Muertos or Autumn with this sweet pumpkin dessert.
Author:
Nancy Lopez-McHugh
Recipe Type:
Dessert, Breakfast,
Ingredients
1 kilo / 2.2 lb. raw pumpkin slices, seeded only *
2 whole cinnamon sticks
3 cardamom pods, bruised
3 whole cloves
3 whole all spice
pinch of homemade citrus zest or orange zets
pinch of salt
⅔ cup / 120 gm cinnamon sugar or brown sugar +
3 tbsp. granulated sugar
1 heaping tablespoon molasses
3 cups / 750 ml water
Instructions
Pour the water into to the pot, then add all the spices and molasses. Bring to a soft boil. Gently place the pumpkin slices in the pot, the first layer flesh face down the top layer flesh up.
Turn heat to medium low and allow to simmer for about 1.5 hours our until halve the liquid is absorbed and the pumpkin is fork tender. Gently remove the pumpkin from the pan and allow to cool on a separate large plate. Alternatively it can be placed in the refrigerator to eat the following day. The remaining liquid from the pot will be reduced done even more.
If you can remove all of the spices from the pot and discard. Over medium heat and stirring often reduce the liquid to halve of what it was into a thicker consistency almost like syrup. Turn heat off, allow to cool and if not using right away store in the refrigerator.
Once ready to eat the pumpkin you can either eat it cool or slightly warm. Pour some evaporated milk and syrup over it or alternatively serve with vanilla ice cream.
Notes
* Some recipes tell you to cut the pumpkin into squares/chunks. I have chosen to leave it in even sized small wedges.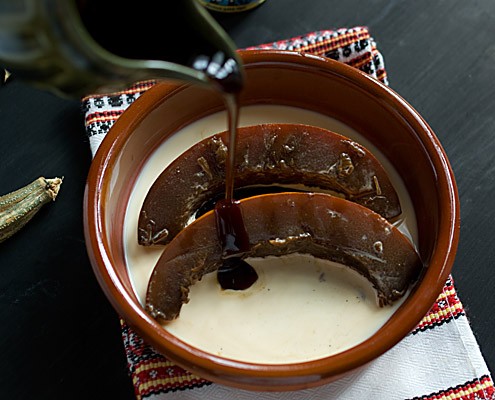 Even if you are not celebrating Dia de Los Muertos this candied pumpkin is a delicious sweet that you must try. Have it for breakfast, lunch, snack or even dessert. Hmm… I could even see it on the Thanksgiving or Christmas table. Buen provecho amigos!
Nancy Lopez-McHugh
Nancy Lopez-McHugh is a food blogger, photographer and published author. Most recently she has published "Yummy Pics: A Food Blogger's Guide To Better Photos".