The key here is to not overcook them so that the fat in the chuck cut isn't lost and your left with juicy meatballs.
By Camille Becerra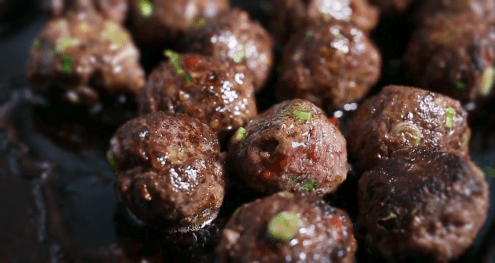 Meatballs with Dill-Coriander Yogurt
The key here is to not overcook them so that the fat in the chuck cut isn't lost and your left with juicy meatballs.
Ingredients
Meatballs
1 pound ground chuck
¼ cup chopped nuts
¼ cup of golden raisins, soak and chopped
1t cumin
1 egg
1 fresh red chili, chopped
3 green onions, sliced
swig of olive oil
salt + pepper
Dill-Coriander Yogurt
1 T toasted coriander seed
1 T olive oil
¼ bunch dill, all large stems removed, coarsely chopped
1½ cup strained yogurt
lemon, honey, salt + pepper
Instructions
Meatballs
-Mix all ingredients well.
-Pinch small amount of the meat and fry, taste and adjust seasoning accordingly.
-Shape meatballs.
-Heat oil in a skillet and slowly brown meatballs on medium heat. Once golden transfer them onto a bake tray and bake at 350 degrees till cooked through, approximately 10 minutes. I drizzle them with a little oil so they won't stick.
Dill-Coriander Yogurt
-In a mortar and pestle grind the coriander seeds with a pinch of salt, add oil to make a paste. Add dill, mash well.
-Add to yogurt.
-Adjust seasoning with lemon, salt and honey.