Enjoy the vibrant colors and the wonderful taste of this red beet and ginger purée, courtesy of Mardi from Brookyn Fork and Spoon.
By Carly DeFilippo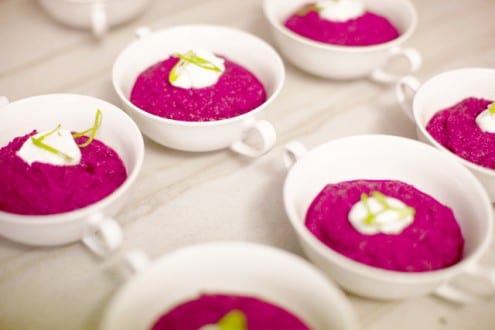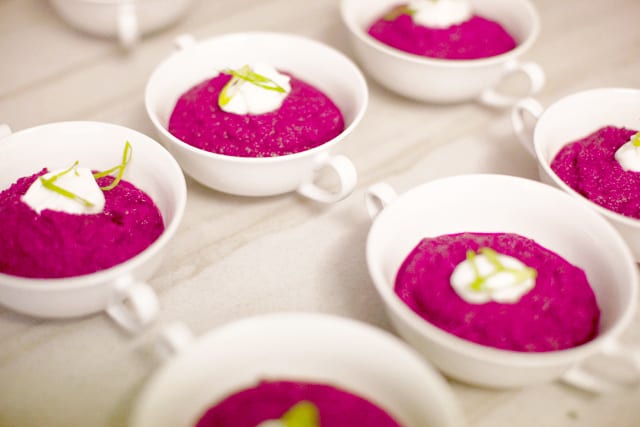 Red Beet and Ginger Purée
Enjoy the vibrant colors and the wonderful taste of this red beet and ginger purée, courtesy of Mardi from Brookyn Fork and Spoon.
Author:
Mardi from Brooklyn Fork and Spoon
Ingredients
2 medium red beets
1 scallion, chopped
1 one-inch by two-inch piece of ginger, chopped
½ cup of vegetable broth
2 oz goat cheese
2 tsp olive oil
Salt to taste
Greek yogurt (to top the purée)
Instructions
Slice ends off of beets and wrap them individually in tinfoil.
Place on a baking sheet in the oven for 40 minutes at 400 degrees.
Remove the beets from the oven, peel off the skin and slice into small pieces. Let cool for a few minutes.
Add beets to food processor along with ginger, vegetable broth, olive oil and scallions. Blend until well pureed.
Add the goat cheese and salt. Blend again.
Pour mixture into bowls and top with a dollop of greek yogurt, a few extra scallions and a sprinkle of cracked pepper.
Serve warm. Enjoy!