Cod is one of the most versatile fishes to cook with, and one of the lightest too. Even this lemon & walnut crusted cod only has 240 calories per serving. Not bad, aye?
By Claire Gallam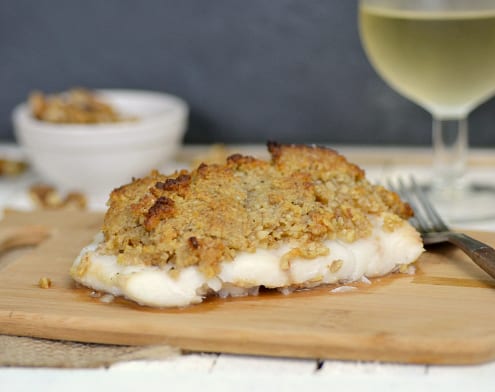 This recipe was kind of a desperate fluke. On the day hurricane Sandy was slated to tear apart my home (I live in DC) we frantically tore through our fridge and freezer in search of things we had to make that minute in case we lost power (which we did). Admist the stacks of Tupperware, I found a bag of walnuts in the fridge, one lemon on the verge of turning and huge filet of frozen cod. So, at 10am, I made us lemon crusted cod which we ate for breakfast.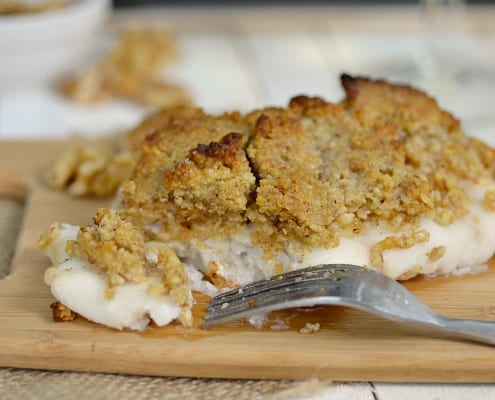 The cod is perfectly flaky and buttery enough to melt in your mouth and the walnut crust gives each bite the perfect crunch. Plus, the addition of the lemon pepper adds the perfect zing to the more mild flavor of the fish. Even if you aren't preparing for a massive hurricane, you should definitely make this.
Just maybe not for breakfast. Unless you are trading your coffee for white wine, and in that case, all bets are off.

Lemon & Walnut Crusted Cod
A light, zesty and hearty cod dish.
Ingredients
½ pound cod filets
2 tablespoons lemon juice
¼ cup loosely packed fresh parsley leaves
1½ teaspoons lemon rind
Dash of salt
2 tablespoons butter, melted
¼ cup finely chopped walnuts
2 tablespoons breadcrumbs
Instructions
Preheat oven to 425 degrees F. Place cod in a baking pan and drizzle with lemon juice.
In a bowl, mix parsley, lemon peel, breadcrumbs, walnuts salt and pepper. Add butter and stir until combined.
Spread about 2 tablespoons of walnut topping onto one side of the fish filets.
Bake 15 minutes or until cod flakes with a fork and crumbs are golden.