These orange muffins are very spongy in every bite and tastes delicious with full of orange flavour even though they're not feather light cakes.
By Ann Low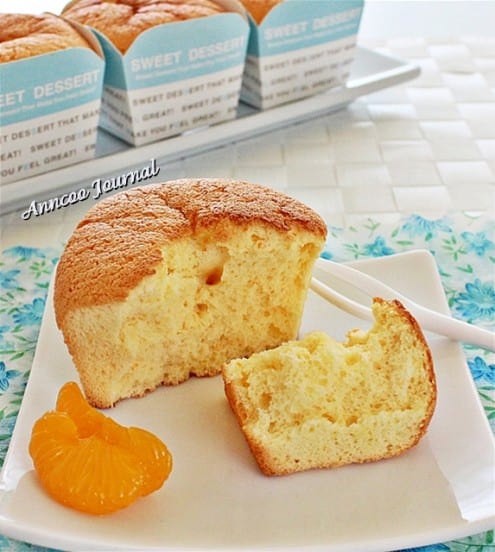 Orange Muffins Without Butter
These Orange Muffins are very spongy in every bite and tastes delicious with full of orange flavour even though they're not feather light cakes. I consider this is a healthy recipe using natural yoghurt without butter.
Ingredients
3 Egg yolks
30g Sugar
35g Fresh orange juice
Orange zest from one large orange
70g Natural yoghurt
80g Plain flour
10g Corn flour
½ tsp Baking powder
a pinch of salt
3 Egg whites
70g Sugar
Instructions
Beat egg yolks and sugar until white at medium speed and add orange juice, natural yoghurt and mix well.
Remove bowl from machine, add in sifted flour (plain flour, corn flour & baking powder) and mix well with a hand whisk, follow by orange zest, mix well again.
Whisk egg whites and sugar until peak form.
Fold ¼ of egg white to egg yolk mixture with a rubber spatula until well mix and fold in remaining egg white in two batches.
Scoop batter into muffin liners to ¾ full and place them on a baking tray.
Bake at preheated oven at 170C for about 25-30 minutes or until skewer inserted comes out clean.
Bang the baking tray together with the small cakes on the counter top 2-3 times once they are cooked, as this will prevent the cakes shringes. Leave to cool and store them in an airtight container in room temperature for 2-3 days.
Ann Low
Ann Low is the author of Anncoo Journal, and loves to bake and cook for both family and friends. She acquired a strong passion for culinary skills from a very young age by watching her grandmother prepare delicious meals for the family. Ann believes that baking is an art and she wants to share her baking and cooking experiences with everyone in the world.