Latin American Street Food – Carne en Palito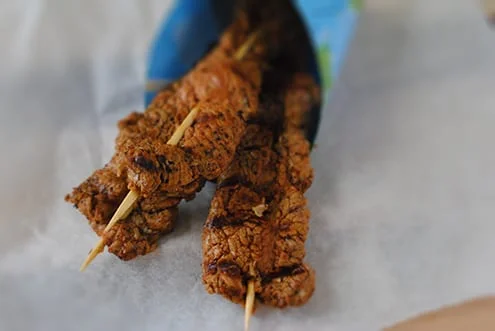 One of the simplest street bites you will find in Latin America – Carne en palito mixes tender beef strips with the fruity aroma of oranges, the sharpness of garlic and the smoky texture of achiote.
By Carla Spuri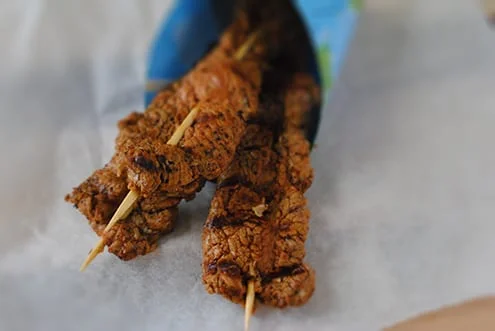 As Panama prepares to celebrate its indipendence from Colombia and welcome summer I sit in my Bristol living room getting excited about buying a new parka to get me through the [colder] rain and [colder] winds of the English winter. Nevertheless my heart skips a beat and I take some time to remember my beautiful country with all its garish colours, loud claxons, constant swearing and proud love of traditions come the first weekend of November. This is the time for us to commemorate our great-great-great grandfathers and how they rebelled against a Colombian government to create their own country with parades, festivals, family gatherings and – most importantly – food.
Sausages, baby sweet corn fritters, beetroot and potato salad and ice-cold beer are sold on the streets for all to enjoy whilst watching the school bands march along Panama City's avenues and few shy away from the old lady that lit her portable barbeque right there on the pavement and grills carne en palito (meat on a stick).
Now, for the sake of telling it how it is I have to admit that there are urban legends about what the carne of carne en palito actually is: cat, dog, iguana… In books and blogs (including my own) the official carne is beef because, come on, I frankly don't want to think of it otherwise. It tastes good, it tastes of home and it brings the Caribbean to my living room in the middle of a bitter autumn.
One of the simplest street bites you will find in Latin America - Carne en palito mixes tender beef strips with the fruity aroma of oranges, the sharpness of garlic and the smoky texture of achiote.
Ingredients
1lb beef skirt cut into long strips
2tbsps (70ml) fresh orange juice
3tbsp (105ml) vegetable oil
6 garlic cloves, crushed
2tsps (5gr) achiote (a.k.a. annatto) seeds
1tsp (2.5gr) ground cumin
A pinch of smoked paprika (optional)
Salt to taste
Instructions
Heat the oil slightly in a frying pan over a low heat for a couple of minutes, add the annatto seeds and let them release flavour and colour infusing the oil for 5 minutes (always keeping it over a low heat).
Pound the beef strips so that they are as thin as possible without splitting.
Mix the orange juice, olive oil, garlic, annatto oil, cumin, salt and pepper together to make a marinade.
Season the meat with the marinade and refrigerate for at least 4 hours.
Soak 20 bamboo skewers in water for half an hour.
Pat the beef strips dry when ready to cook.
Slide the meat onto the bamboo skewers and barbeque for just a minute on each side (this can be done on a hot griddle pan if, like me, you fancy them in the middle of autumn and can't use the barbeque!)
Carla Spuri
Carla is a half-Panamanian half-Italian 30-something, with a passion for tuna and onion pizza, pork tacos with limejuice, guava jam, [decaf] café con leche and rice and peas based in the UK. She is practical, allergic to caffeine and records memories and recipes of life in Latin America and Italy at Can Be Bribed With Food.