Who doesn't need a recipe for a quick, delicious crowd pleasing appetizer? These little morsels fit the bill on all counts.
By Jill Mant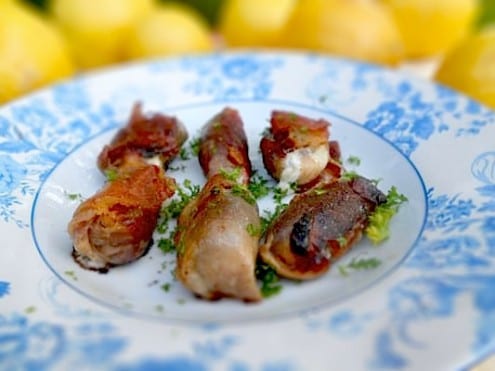 Who doesn't need a recipe for a quick, delicious crowd pleasing appetizer? These little morsels fit the bill on all counts. They are fast and easy to prepare, can be made in advance and are easy to serve as they can just be popped into ones mouth-over and over again! My suggestion is to double the recipe and I assure you, there will not be left overs!
The perfect blend of sweet and savory, one bite into the crispy, salty outer layer of prosciutto unveils the sweet and chewy date which leads to the lemony cream from inside spilling onto your tongue-an explosion of flavors attacks your mouth and you need more! Hurry into the kitchen. Make these delicious morsels. Eat them. Love them. Make more!

Lemon Mascarpone Stuffed Dates
To die for! Delectable dates are stuffed with a mix of mascarpone cheese, lemon zest and honey, then wrapped in prosciutto and cooked to a crisp. Bet you can't eat just one!
Author:
Jennifer Jasinski-borrowed by Jill Mant~a SaucyCook
Ingredients
2 tablespoons mascarpone cheese or cream cheese
1 teaspoon fresh lemon juice
½ teaspoon honey
Pinch of finely grated lemon zest
Salt and freshly ground pepper
12 large Medjool dates
6 paper-thin slices of speck or prosciutto, cut in half crosswise
1 tablespoon extra-virgin olive oil
2 teaspoons chopped parsley
Instructions
Preheat the oven to 400°F/32°C
In a small bowl, combine the mascarpone, lemon juice, honey and lemon zest and season with salt and pepper.
Make a slit in each date and remove the pit. Carefully fill each date with 1½ teaspoons of the mascarpone mixture.
Wrap a slice of speck around each date and secure with a toothpick.
In a nonstick, ovenproof skillet, heat the olive oil.
Add the dates and cook over high heat until the ham is crisp on the bottom, about 30 seconds. Turn the dates.
Transfer the skillet to the oven and bake for about 2 minutes, or until the dates are heated through and the centers are slightly runny.
Discard the toothpicks and transfer the dates to a plate. Sprinkle with the parsley and serve.
Jill Mant
To Jill Mant, cooking is a meditative experience, an incantation, a love song to those she is cooking for and an expression of her creativity. She is one of the two cooks behind the blog SaucyCooks, where they discover cooking as multi-sensory experience. Jill loves the aroma that emanates from stove and oven, the sounds of food sizzling in pans and the soft, melodic drum of a knife or mallet hitting the cutting board.