With just a hint of brandy, this citrus salad from Alisha Randell is all grown up.
By Alisha Randell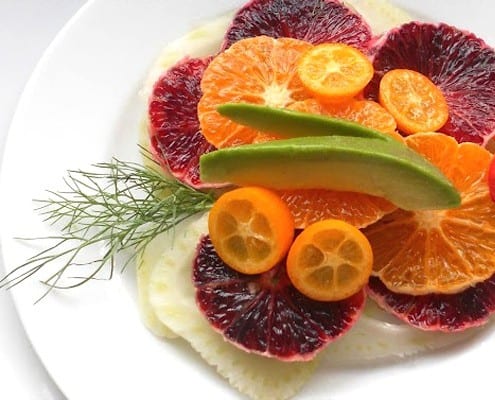 The pairing of snappy fennel and creamy avocado add a wonderful array of textures as well as flavors.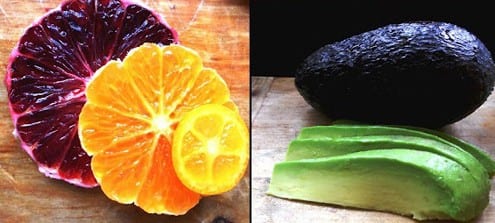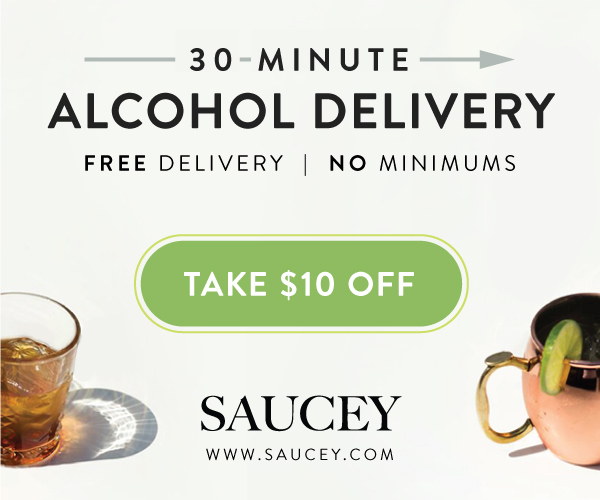 A note about the flavors:
The fennel has a quaint licorice sent and flavor similar to what you would akin to anise.
The Kumquats are quite small and have a sharp tangy citrus flavor, quite tart in fact.
The Clementines are tangy like a Tangerine but a bit sweeter, depending on season of course.
The Blood Orange has a deeper flavor and somewhat reminiscent of a berry.
They are all a lovely combination but whatever you have available works…

A Brandy Dipped Citrus Salad
Ingredients
2 blood oranges, sliced
1 clementine, sliced
4 kumquats, halved
½ ripe avocado, sliced
Small bowl of brandy for dipping
Spray bottle of grapeseed oil
A pinch of cardamom, white pepper and sea salt
Instructions
Slice both the blood oranges and clementines removing rind.
Slice fennel to about ⅛th inch cross wise of the bulb. Halve kumquats lengthwise.
Dip each piece of citrus into a small bowl containing brandy.
Layer on individual plates with fennel being the first layer.
Then the larger citrus coming next, should be the blood oranges, etc.
Top with you kumquat slices then avocado slices.
Spray the salad with grapeseed or other light oil.