Sara Clevering relives memories of Sarajevo with this homemade burek-inspired savory pie.
By Sara Clevering
When I lived for a summer in Sarajevo, one of my favorite things was the local "fast food."  Enjoying cevapi  (kebabs made with ground lamb meat) with hot charred bread on a warm summer evening in the old town center of Bascarsija was only made better when followed by a scoop of ice cream or a selection from a stunning array of baklavas.  But for a meal on the go–breakfast, lunch, or dinner–the burek shops had you covered.
You have had something similar to burek if you've ever had a spanakopita (the Greek version) or a borek (the Turkish name).  You could even stretch the definition a bit to include a Viennese apple strudel.  The idea is the same, regardless of the language:  a filling of meat, vegetables, or cheese, wrapped in flaky layers of phyllo dough, butter as the glue holding it all together.  I usually went for the spinach or cheese versions–no surprise there–sometimes the meat, and once even the potato pie.  (But to be honest, none of it is exactly what I'd call diet food).
I'm often drawn to recreating these food memories at home.  And with that, here's a homemade, burek-inspired savory pie. 

I initially shied away from this recipe when I saw it on epicurious–were they really asking me to make my own phyllo dough?  Let out your breath:  you're not rolling out 20 paper-thin sheets, but rather just two rectangles.  The dough is extensible and easy to work with, and best of all can be made in advance.  It's tender thanks to the vinegar and yogurt in the crust, and even becomes flaky as it bakes in the oven. (And if you're still panicking–or even just pulling a face at the idea of this–just use storebought phyllo dough or puff pastry.  Because you still want to make this).
As for the filling, it's a mix of many flavors that encourage the best out of each other, and that makes for a remarkably satisfying meal.  Mild, gently cooked leek and celery are boosted by feisty aged cheese, and generous handfuls of chopped parsley, mint, and dill keep it lively.
See Also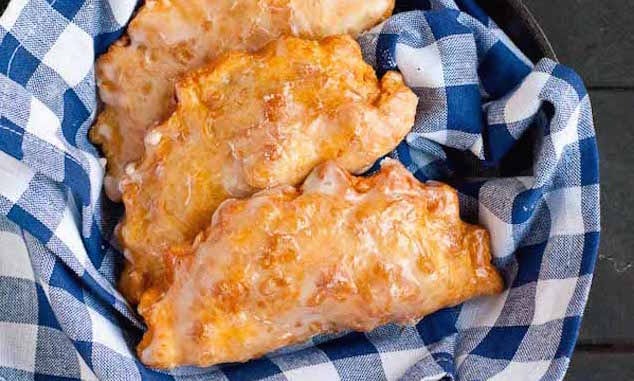 I've made this a few times, each time doing at least one thing the "wrong way," but always enjoying the final product.  To avoid the effort of chopping, I've whirred up the leeks and celery in a food processor, but learned that it's preferable to do the chopping by hand (sorry).  But you can go electric, just keep in mind that it's very easy to over-process in the machine, and even if you don't, using the processor releases a lot of liquid.  You can drain it off before proceeding, as I did, with perfectly good results, but my more "old-fashioned" attempt with a big old knife turned out better. 
I've also made this with less than the full 10 cups of leeks, which still yields wonderful, if perhaps slightly less generous, portions.  And I've even used a mix of dried and fresh rather than just fresh herbs (horrors!  heresy!), as my planning ahead skills are not always the best.  If you are better than I in this regard, but like me hate shelling out for bunches of herbs that you'll only use a measly few leaves of, don't worry: you'll  get a lot of mileage (and tons of great flavor) out of your purchase here.
Print
Leek and Celery Pie
---
Author:

Sara Clevering (adapted from epicurious)

Total Time:

1 hour 45 minutes

Yield:

8

-

1

0

1

x
Crust (can use store-bought phyllo or puff pastry to similar effect)
4 cups

all-purpose flour (a little over

18 ounces

/

510g

) plus additional for dusting

2 teaspoons

salt

3/4 cup

(175mL) water

1/2 cup

(120mL) whole-milk yogurt (preferably Greek-style)

1/2 cup

(120mL) extra-virgin olive oil, plus more for oiling the bowl

1 tablespoon

red-wine vinegar
Filling
4

–

6

lb (1.8-2.75kg) leeks (white and pale green parts only), chopped (about

10 cups

–though I've used less)

1/4 cup

plus 3 tablespoons extra-virgin olive oil (105mL)

5

large celery ribs, chopped (about

3 cups

)

1 teaspoon

salt

1 cup

chopped fresh mint

2/3 cup

(

160

mL) chopped fresh flat-leaf parsley

1/2 cup

(120mL) chopped fresh dill

1/4

lb (65g) Greek feta, crumbled (

1 cup

)

1/2 cup

Parmigiano-Reggiano cheese (about

1 1/2 oz

or

45g

) or preferably finely grated Kefalotyri if you can find it.

1/4 teaspoon

black pepper

3

large eggs
---
Instructions
Make the dough
Stir together flour and salt in a large bowl, then add the water, yogurt, 1/2 cup oil, and vinegar. If you have a stand mixer or food processor, it's best to use these to very briefly knead the dough so that you don't inadvertently add too much flour. You want a soft, smooth, but pliable dough. If you knead by hand, knead about 4 minutes and resist adding extra flour if at all possible.
Oil a large bowl, form the dough into a ball, and roll it around inside the bowl to coat. Cover the bowl with plastic wrap or a damp towel and let dough stand at room temperature 1 hour. This will allow the dough to rest and relax, which will make it far easier to roll out–so it's definitely worth the wait. (You can keep the dough up to three days in the fridge before using, tightly covered with plastic or in a plastic bag.)
Make the filling
Wash the leeks and celery well and drain them, if you haven't already.
Heat 1/4 cup oil in a deep 12-inch heavy skillet or a 5- to 6-quart heavy pot over moderately high heat until hot but not smoking (as you don't want to brown the vegetables once you add them).
Sauté the leeks and celery with 1/2 teaspoon salt, stirring frequently, until softened and translucent, around 10 minutes.
Transfer to a bowl and cool about 10 minutes (stirring will promote cooling). Note: you can do this step a day in advance and refrigerate but like the dough bring to room temperature before proceeding.
Place your oven rack in the middle position and preheat the oven to 375°F (190°C).
Stir the herbs into the leek and celery mixture along with the cheeses, pepper, and remaining 1/2 teaspoon salt. Lightly beat eggs with remaining 3 tablespoons oil in a small bowl, then stir into leek filling. (This is why you want to allow the filling to cool slightly–so as not to cook the eggs or prematurely melt the cheese).
Make the pie
Brush baking pan with 2 tablespoons oil.
Divide dough in half and flour a work surface. Roll out one half on a floured surface into a rectangle about an 1 1/2 to 2 inches wider on all sides than your pan (i.e. if you have a 17 X 12 inch pan, you want to roll out to about 20 X 15 inches at a minimum, or even a bit bigger). If the dough resists, let it rest about 10 minutes, which will allow the gluten to relax and will result in the dough being more yielding. Fold your rectangle loosely into quarters and transfer to your pan, then unfold dough and fit into the pan, leaving a 1-inch overhang. Spread the filling evenly in pan.
Roll out remaining dough on floured surface with floured rolling pin into a rectangle about 1 inch wider on all sides than your pan. Lift dough and drape it over filling, leaving it slightly wrinkled.
Roll edge of bottom crust over top to form a rope edge all around pie. Brush top of pie with remaining 2 tablespoons oil (or drizzle it on and use your fingers to spread the oil out over the surface). Score top crust into serving pieces with a sharp knife.
Bake the pie until golden brown, 50 to 60 minutes. Allow to cool and serve at room temperature.
Notes
You will need a jelly-roll or other rimmed pan to make this.
Prep Time:

30 mins

Cook Time:

75 mins
Sara Clevering
Sara sees cooking and baking as a delicious way to connect with the past and travel the world from her kitchen. She is commited to preparing homemade, unprocessed meals for her family and is always looking for tricks to fit this into a busy schedule. Sara is currently in the Boston area after several years living in London, Spain, and the Czech Republic, and travelling extensively in Eastern and Western Europe, always making sure to experience local culture through food. She also blogs with her sisters at www.threecleversisters.com