Sheila McGrory-Klyza learns the secrets of making tagine in a Moroccan cooking class.
By Sheila McGrory-Klyza
When I travel to another country, I often take a cooking class there because I find that an in depth exploration of a country's food is one of the best ways to learn about its culture. Last spring in Morocco I took a class at La Maison Arabe in Marrakech. Classes at this esteemed school are taught by dadas, traditional Moroccan female chefs who themselves learned the centuries-old recipes from their mothers and grandmothers.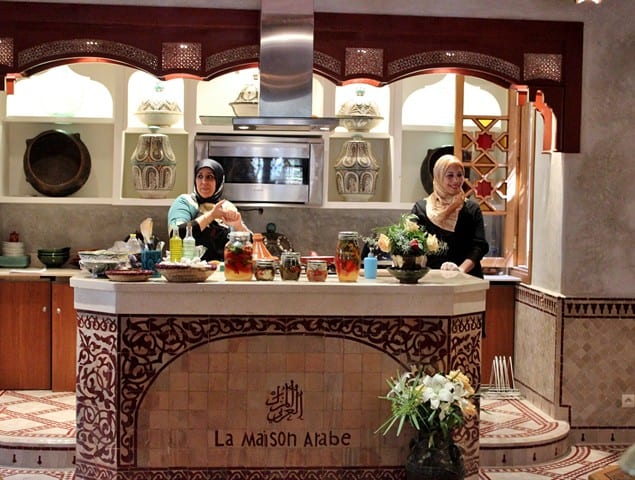 Aside from couscous, tagine is arguably Morocco's most classic dish, and in this class I learned the secrets behind making one.  Originating with the Berbers, Morocco's first inhabitants, tagine is a stew that's slow-cooked in a uniquely shaped clay vessel, also called a tagine. The conical shape of the tagine promotes heat circulation and even braising of the stew's ingredients.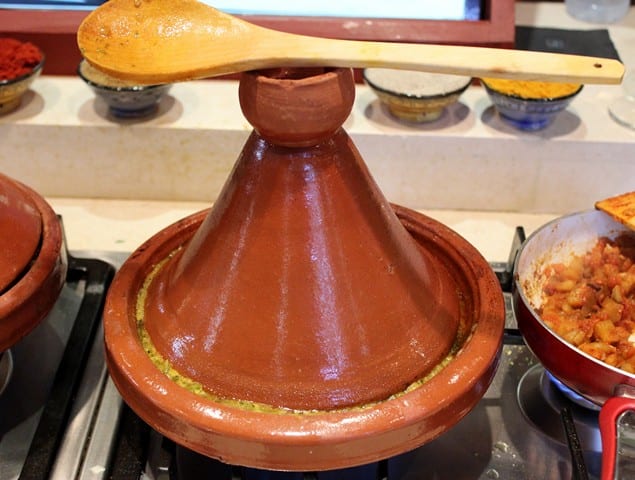 One of the main reasons for a tagine's distinctive flavor is the combination of spices used in the marinade. Spices are a serious business in Morocco, and the country's ubiquitous spice shops offer a thorough and colorful education to the curious traveler who ventures into one.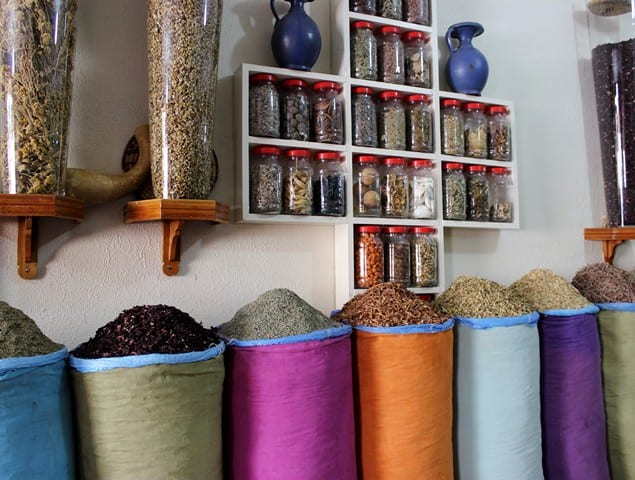 The spice blend known as Ras el Hanout (which translates to "head of the shop") is a mix of up to 35 spices, herbs, and roots representing the best that a particular spice shop has to offer. Each mix is slightly different depending on the shop, but they can generally be divided into red which is spicy, or the more common brown which is sweet, meaning mild. Predominant spices in Ras el Hanout, and in much of Moroccan cuisine, include ginger, turmeric, sweet paprika, cinnamon, cardamom, and cumin. Moroccan cumin, more fragrant than any I've ever smelled before, is often the base note of Ras el Hanout and of many Moroccan dishes, imparting them with an incomparable warmth and depth. One of our instructors informed us that Ras el Hanout is sometimes called the "lazy wife spice" because a cook can simply rely on a few teaspoons of it instead of measuring out specific amounts of individual spices. Lazy or not, this is a handy detail to know.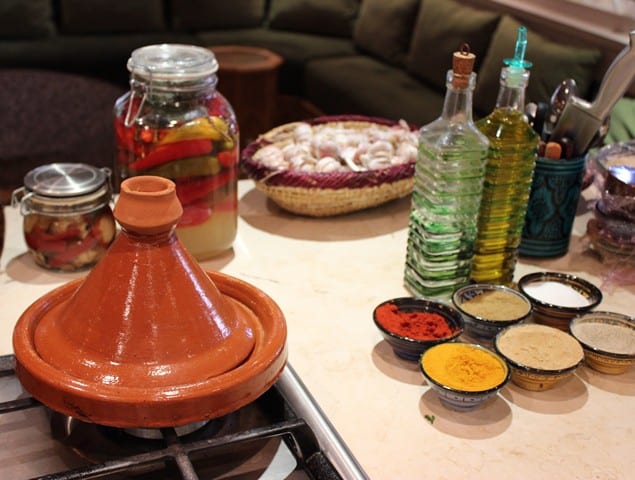 In addition to the complex use of spices, Moroccan cuisine is also known for its blending of sweet and savory elements in a dish. This combination is most evident in the addition of dried fruit such as figs, dates, prunes, or apricots to a meat dish. The result is a subtle sweetness that, combined with the warm spices, contrasts with the savory elements of garlic, onion, cilantro, and parsley to create a truly delectable eating experience. When a tagine includes dried fruit, the fruit is cooked separately, usually caramelized with honey or sugar, and then is added to the meat shortly before serving. This keeps the fruit's shape intact and contributes to the beauty of the dish.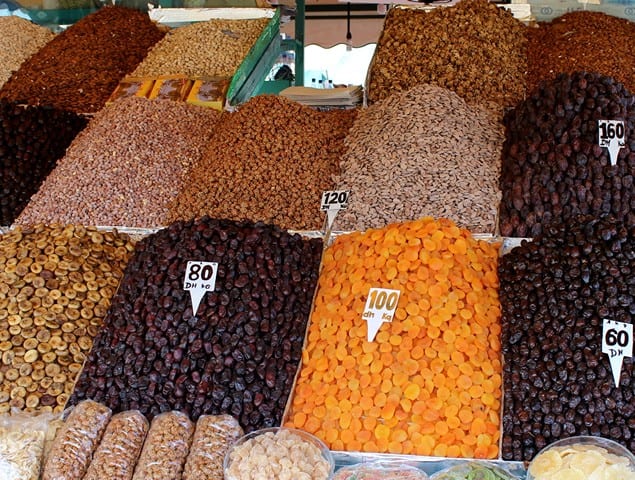 Another beauty of tagines is their simplicity. The Berbers created a practical dish that could slow cook over the coals and then be served communally in the same earthenware pot in which it was prepared. While the traditional way to cook a tagine is over charcoal, you can cook it on a grill or on the stove top, the method we used in the class. If you're using a clay vessel and cooking it on a burner, you'll need to use a heat diffuser and gradually bring the heat to the desired temperature. You can also cook a tagine in an oven heated to 350 degrees Fahrenheit, using a Dutch oven or casserole dish sealed with aluminum foil.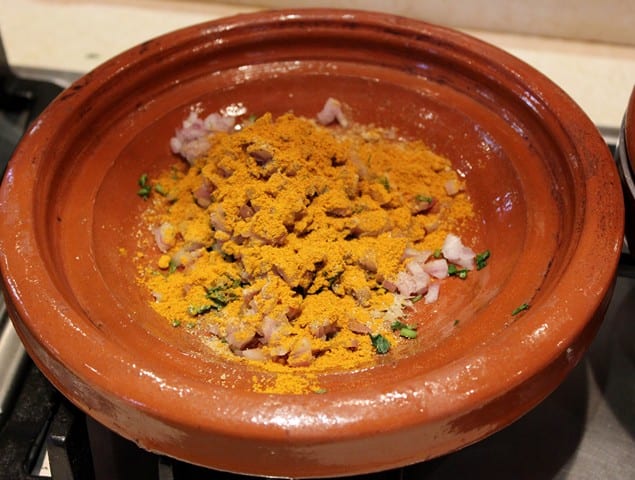 At Moroccan restaurants in the United States and Europe, it's not uncommon for tagines to be served with couscous; in Morocco, however, this is not the norm. Couscous is a separate dish prepared in its own unique way along with meat and vegetables in a special steamer called a couscoussier. Tagines are instead accompanied by crusty bread perfect for soaking up the aromatic sauce.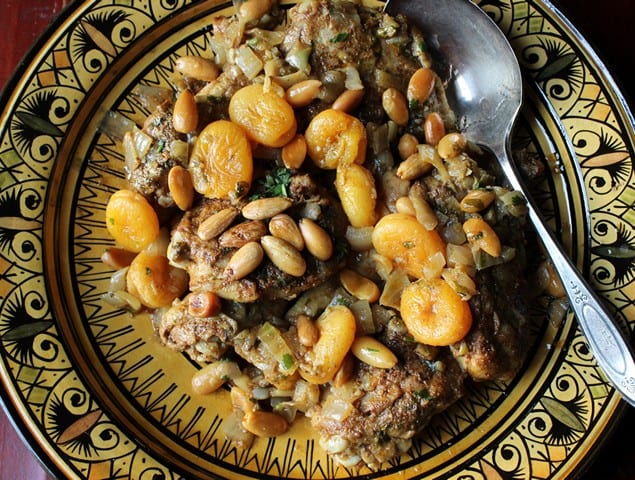 And that is exactly what we did at the end of our class at La Maison Arabe. After preparing our tagine, we all moved to the garden. Surrounded by herbs and olive trees and sipping some lovely Moroccan wine,  we savored our meal–and our visit to this beautiful country.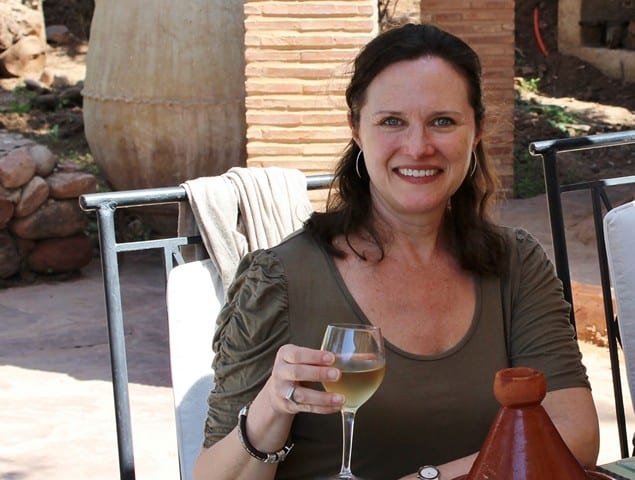 Print
Chicken Tagine with Apricots and Almonds
---
Author:

Sheila McGrory-Klyza

Yield:

4

servings

1

x
Description
Adapted from a recipe by La Maison Arabe, this warming, iconic Moroccan dish is perfect for a winter evening. The melt-in-your-mouth chicken is redolent with spices, and the apricots add a touch of sweetness.
---
3 tablespoons

olive oil

1

whole chicken (

2

pounds), cut into large pieces

1

large onion, finely chopped

1 teaspoon

salt

1 teaspoon

black pepper

1

cinnamon stick

2 teaspoons

ground ginger

2 teaspoons

ground turmeric

¼ teaspoon

saffron threads

1½ cups

water
parsley and cilantro bouquet

16

dried apricots

1 teaspoon

ground cinnamon

3

cloves

2 tablespoons

honey

1 tablespoon

butter
---
Instructions
In a tagine or large heavy pot, drizzle the olive oil.
Mix well so the meat is coated with the spices.
On medium heat, sear the chicken for about 15 minutes, covered, turning it occasionally and adding a bit of water if necessary.
Watch the chicken closely so it doesn't stick and so the spices don't burn.
Add the water to the pot, along with the parsley and cilantro bouquet.
Increase the heat to medium-high, cover, and cook for about 50 minutes, or until the meat is falling from the bone and the sauce has thickened.
While the meat is cooking, caramelize the apricots.
Rinse the apricots and put them in a small saucepan.
Add the cinnamon and cloves and mix well.
Cover the apricots with water and cook them on medium heat, covered, for 10 minutes.
Lower the heat and continue cooking for 15 more minutes.
Add the honey and cook for another 10 minutes until the sauce becomes syrupy.
Before serving, remove the herb bouquet and cinnamon sticks from the tagine.
Transfer the chicken from the pot to a serving dish.
Add the apricot syrup and butter to the sauce and stir until the butter is melted.
Arrange the caramelized apricots and fried almonds evenly over the meat.
Serve hot with crusty bread.
Category:

main course

Cuisine:

Moroccan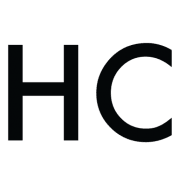 Sheila McGrory-Klyza
Sheila McGrory-Klyza is a writer who is interested in the intersection of food, culture, and conservation. She is mainly a self-taught cook, but has taken a class here and there. She lives in a small Vermont village and is inspired by the bounty of food producers and growers surrounding her. An avid Francophile, she has also lived in France at a few different times, most recently in Paris in 2010. She writes about her food adventures in Vermont and France, and other culinary travel, on her blog The Vermont Epicure.