Zesty Pork Tacos with Fresh Pico de Gallo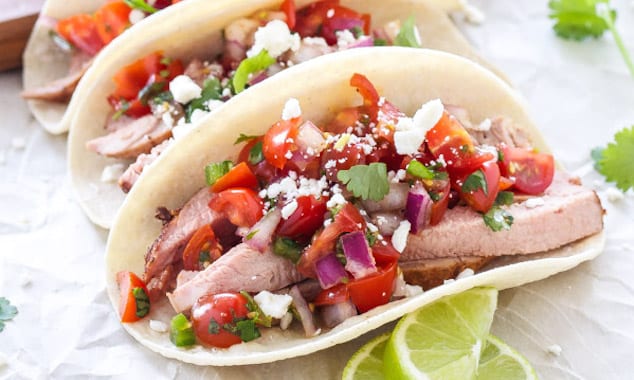 Filled with tenderloin crusted in a spiced cinnamon rub, these tacos are a cinch to make. While the meat is cooking, make your pico de gallo and you're set.
By Danae Halliday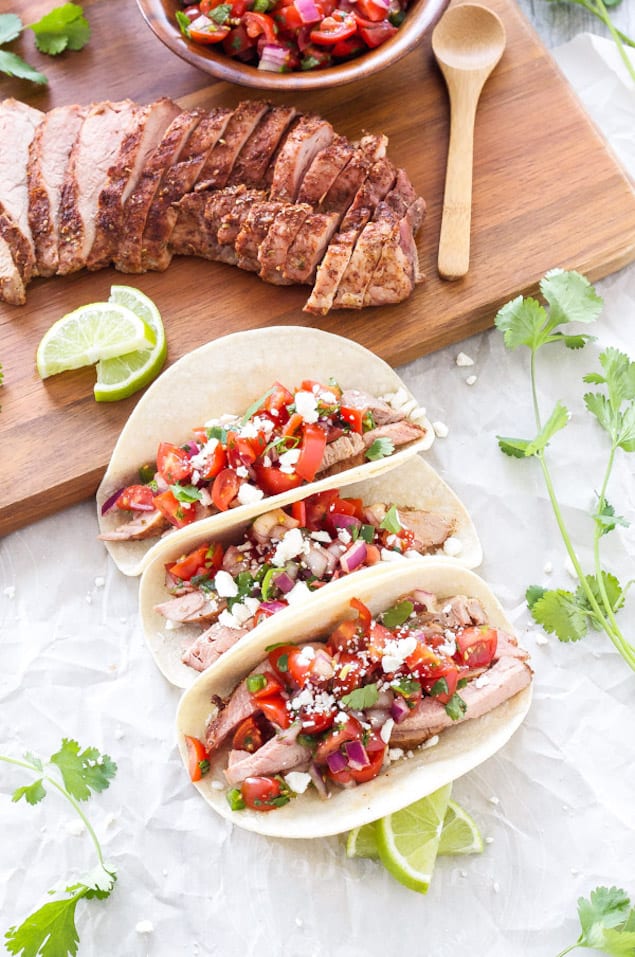 For these tacos I made a spicy rub for my tenderloins and roast them in the oven. The great thing about pork tenderloin is that it doesn't take very long to roast, only about 25 minutes.
The rub for the pork is a combination of chili powder, smoked paprika, cumin, coriander, garlic, oregano, and cinnamon. Yep there's cinnamon in this rub and it's fantastic! Once the pork is roasted it's important to let it rest for about 10 minutes. This will ensure that all those amazing juices stay in the meat instead of running out all over the cutting board.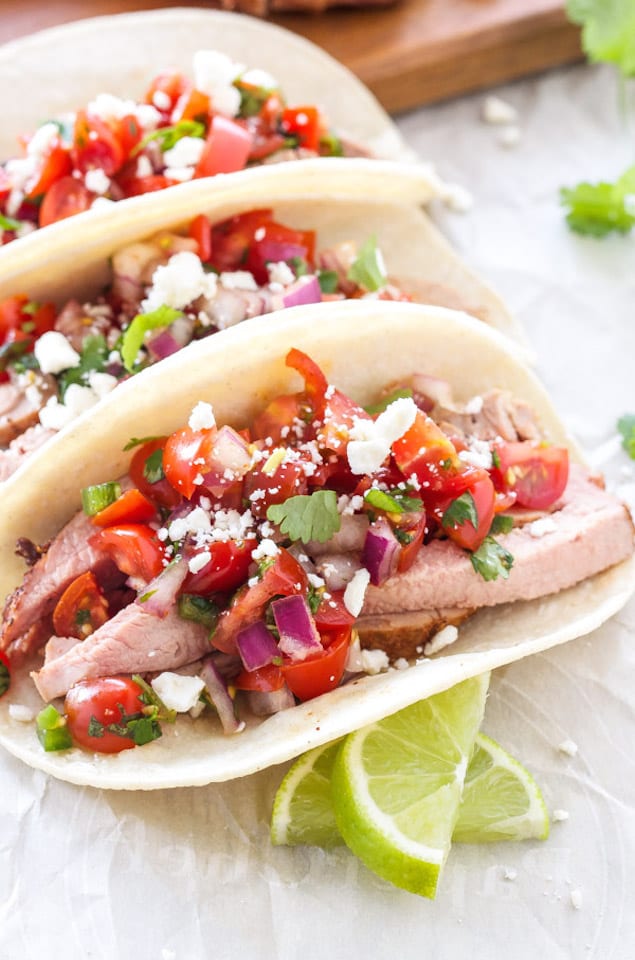 While your pork is resting you can whip up this easy and delicious pico de gallo! I'm pretty sure when it comes to tacos, salsa is the main ingredient on mine.
This pico de gallo is so simple to make. Simply chop up some cherry tomatoes, red onion, cilantro, and jalapeño. Squeeze in some lime juice and season it with chili powder, cumin, and some salt. After the pico is made and the pork has rested, it's time to assemble the tacos. I used corn tortillas to make mine, but if you prefer flour tortillas they will work just fine. I filled the tacos with slice pork tenderloin then topped them with the pico de gallo and some salty cotija cheese. If you can't find cotija, feta, cheddar, or monterey jack will all work too. Even with minimal ingredients these Pork Tenderloin Tacos with Pico de Gallo are packing some amazing flavor.

Zesty Pork Tacos with Fresh Pico de Gallo
Filled with tenderloin crusted in a spiced cinnamon rub, these tacos are a cinch to make. While the meat is cooking, make your pico de gallo and you're set.
Cuisine:
Mexican Inspired
Ingredients
Pork
2 (1 pound) pork tenderloins, fat trimmed and silverskin removed
1 teaspoon kosher salt
1 teaspoon chili powder
1 teaspoon cumin
½ teaspoon smoked paprika
½ teaspoon garlic powder
½ teaspoon oregano
½ teaspoon corriander
¼ teaspoon cinnamon
¼ teaspoon black pepper
Corn or flour tortillas for serving
Cotija, feta, cheddar, or monterey jack cheese for topping the tacos
Pico de Gallo
2 cups cherry tomatoes, quartered
¼ cup red onion, diced
¼ cup cilantro, chopped
½ of a jalepeno, deseeded and finely diced
Juice of a lime
½ teaspoon chili powder
¼ teaspoon cumin
¼ teaspoon kosher salt
Instructions
Pork
Preheat oven to 375 degrees.
Line a baking sheet with foil and spray it with cooking spray.
Trim the excess fat and the silverskin off of the pork tenderloins and place them on the prepared baking sheet.
In a small bowl combine all of the spices and whisk together.
Pour half of the spice mixture onto each pork tenderloin and rub it evenly into the meat.
Place the pork into the oven and roast it for 25 minutes or until a thermometer inserted into the center reads 145 degrees.
Remove the pork from the oven and let it rest for 10 minutes before thinly slicing it.
Place the sliced pork, pico de gallo, and cheese into the tortillas and serve immediately.
To Make the Pico de Gallo
Quarter the cherry tomatoes and place them in a large bowl.
Add in the remaining ingredients and toss everything together.
Serve on top of the pork tenderloin tacos.
Danae Halliday
Hi, I'm Danae, the blogger, photographer, and recipe developer of Recipe Runner. Recipe Runner is all about my love of food, cooking, baking, and running. I hope that I can tempt you with my recipes and inspire you with my running stories! Enjoy!