Hot Apple Cider for Cold Days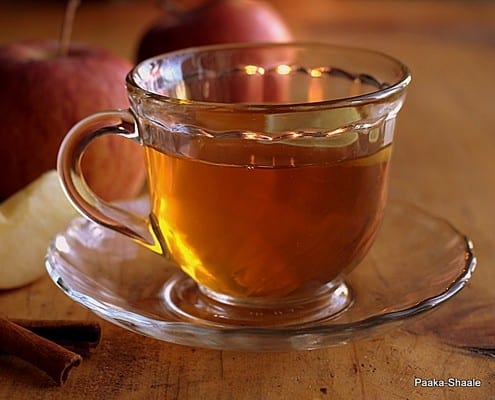 The spices used in this drink not only impart an irresistible flavour and fragrance, but they also add warmth to the apple juice, making it a source of delicious comfort on a cold cold day.
By Nandita Nataraj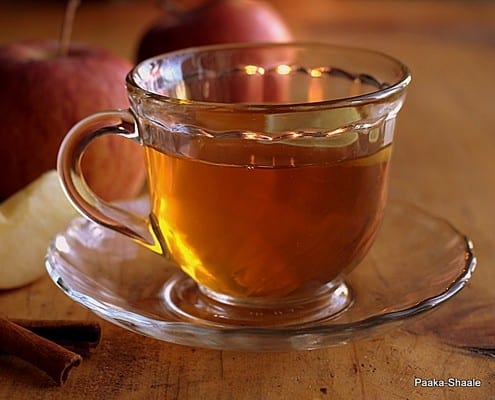 Since it is winter in my part of the world, I wanted to drink something that was hot, comforting and of course healthy. And this drink seemed to fit the bill perfectly. Hot apple cider is a perfect drink for a brisk winter's day.
This recipe is adapted from an old tarla dalal magazine. The spices used in this drink not only impart an irresistible flavour and fragrance, but they also add warmth to the apple juice, making it a source of delicious comfort on a cold cold day!! All it takes is some very basic ingredients and a few minutes to whip up this drink and voila!! Your house will start smelling like christmas again.

Ingredients
Apple juice- 2 cups
Cloves- 2
Cinnamon sticks- 2" long
Brown sugar or honey- 1 tsp
Lemon juice- 2 tsp
Instructions
Combine the apple juice along with the cloves and cinnamon and bring to a boil.
Strain the juice and discard the cloves and cinnamon.
Add the lemon juice and honey. Mix and serve immediately.
Notes
If using packaged apple juice, then use a juice that is free of artificial flavours and sweeteners. For an alcoholic version, you can add a table spoon of brandy
Nandita Nataraj
Nandita was born, bred and spread in India, but right now lives in Tanzania where her quest for simple and exotic pleasures of food led to the creation of the blog Paaka-Shaale. She believes that food is not just a means to feed a body. But it is also meant to appeal the mind and satiate the soul.