It seems the French are willing to drop their façade of culinary superiority for a select few British exports. One of them is lemon curd.
By Ruby Moukli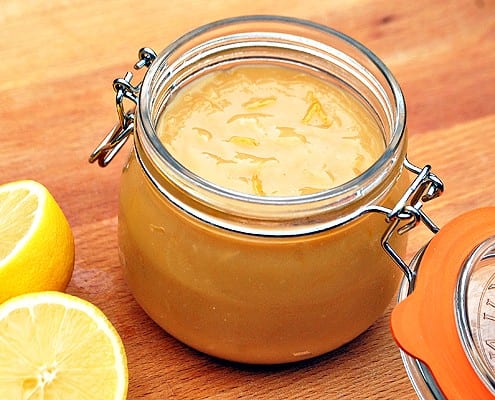 Last summer we visited friends in Provence. France being the self-styled gastronomic capital of the world, you wouldn't think there'd be anything they'd want from England, would you. Well it seems the French, my friends at least, are willing to drop their façade of culinary superiority for a select few British exports. One of them is lemon curd. (Another is Pimm's, but that's another story.)
Eager to feed their fancy, I set about finding the very best that England has to offer. Now, there is plenty of fantastic lemon curd to be had in these parts, even organic and locally-made. But the best lemon curd I've ever tasted was my Nan's, so I dug out her recipe and made some for them.
Nanny's recipe, like most, is very simple. I've made a few changes over the years, which I hope she won't mind. Hers called for 3 lemons and I add 1 to make 4. And she used white sugar, which allows that vibrant yellow colour we've all come to expect. I don't have white sugar in the house, opting instead for demerara, so my curd has brown undertones, which I think make it look like spreadable gold. Unrefined sugar also rounds out the flavour a bit, giving it a slight hint of caramel. Finally, I suspected Nan strained her curd (although she claims she didn't), to make it lovely and pure, but I just don't bother (see note 3 below).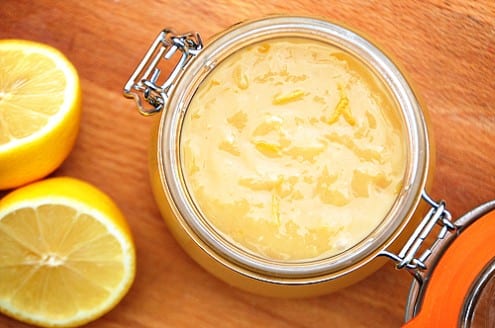 The result is what I call 'rustic' lemon curd. Clearly homemade and all the more delicious for it. It's wonderful spread on toast, in tarts, gluing together a stack of English pancakes or sandwiched in a lemon sponge cake. Or you can do like me and eat it straight out of the jar by the spoonful. It's like having a jar of sunshine in your fridge that you can dip into whenever you need a lift. And, if this soggy British so-called 'summer' is anything to go by, I'm going to be making a lot more before the season's out.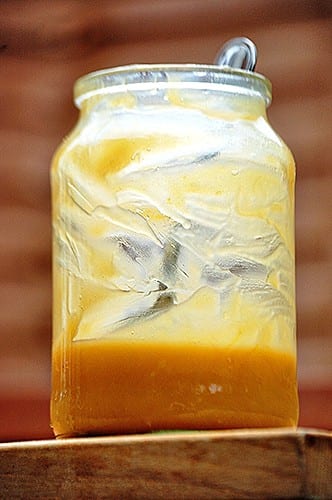 A Bite of Britain: Rustic Lemon Curd
Makes approx. 750 ml (24 oz or 3 cups)
Author:
Ruby Moukli (adapted from Mary Brown)
Ingredients
6 oz butter (3/4 cup or 170g)
1 Lb brown sugar (2¼ cups or 450g)
4 lemons (zest and juice)
4 whole eggs, beaten
Instructions
Zest the lemons, then juice them, retaining both the zest and the juice.
Mix together the butter, sugar, zest and juice in a double boiler until the sugar has melted.
Temper the eggs by slowly whisking in a tablespoon at a time of the hot mixture until you've added about 5 tablespoons, then slowly pour the egg mixture into the saucepan, whisking as you go.
Cook over gentle heat, stirring constantly, until the mixture is thick (about 5 minutes). Remove from heat and let cool until no longer steaming.
Pour into sterilised jam or Kilner jars and keep refrigerated. Use within 1-2 months.
Notes
1. If you (like me) don't have a proper double-boiler (bain-marie), don't fret. Just put about 2 inches of boiling water in a large saucepan over medium heat, and then put a smaller saucepan into it, so the smaller pan is being heated by the water boiling under it. 2. Try doubling the recipe and giving some away. It makes a great gift, especially in winter months (think Xmas) when a jar of golden sunshine is very welcome. 3. If you're making this for a gift, you might like to strain it before letting it cool. This will remove any bits of cooked egg (white flecks) that inevitably turn up, despite your best tempering efforts. I skip this for several reasons. One, I'm too lazy. Two, I think the flecks prove it was homemade and three, straining it also removes the zest, which I think is fantastic left in. 4. You can make this recipe with just about any citrus fruit. Lime (6 limes) and grapefruit (1 and think pink!) work especially well, but I am keen to try kumquat!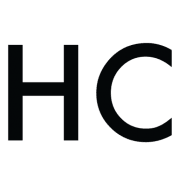 Ruby Rasa
Curious about her British mother's seemingly bizarre love of cheese & onion sandwiches, Ruby moved to England and discovered an island full of people eating them. She now lives among them, works as a freelance writer and photographer and yes, occasionally enjoys a good cheese & onion.